Lin-Manuel Miranda: A Review of Broadway's Most Captivating Creator Yet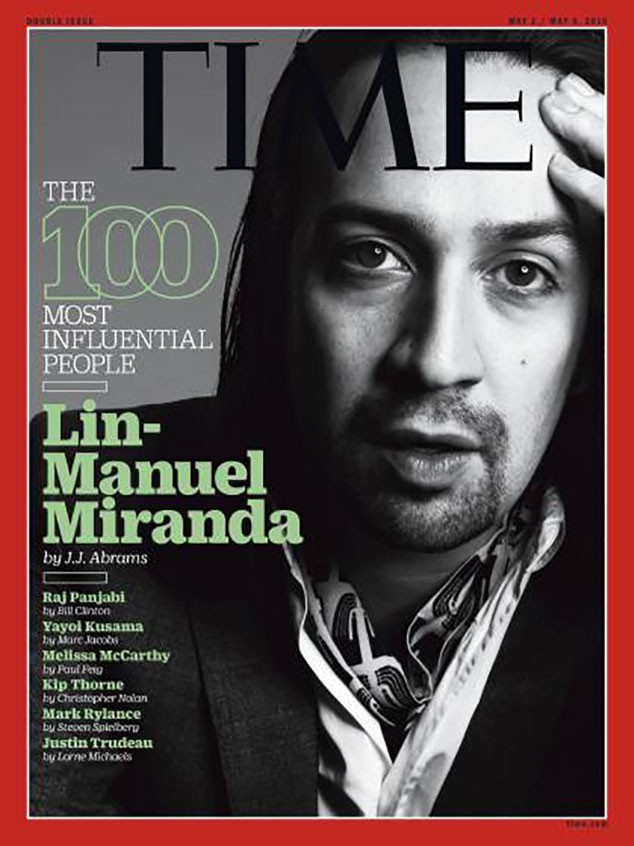 As the confirmation of a Mary Poppins live-action adaptation starring Lin-Manuel Miranda spiraled through the media Tuesday, theater's most captivating creator yet is finally destined for the Hollywood spotlight. 
Cast as new character Jack, 36-year-old New York City native Miranda may seem like an industry newcomer to those strictly interested in film and television. While he has a handful of movie and series credits to his name—including stints on House and Modern Family—Miranda isn't typically thought of as a movie star along the West Coast.
Instead, the composer and rapper has seen meteoric success on the stage as the man behind several of Broadway's modern masterpieces. Does the sold-out show Hamilton ring any bells? President Obama called it "phenomenal."
Nearly a decade ago, the Puerto Rican aspiring star was playing a bellman on the final season of The Sopranos and making money as a substitute teacher. As fate would have it, he would go on to make his Broadway debut a year after the HBO appearance in the lead role of In The Heights, a show he wrote the earliest draft for as a 19-year-old college sophomore.
Fast forward to July 2015 and Miranda's newest work is the most unattainable ticket in the Big Apple, his schedule packed with performances at the White House and rounds of Wheel of Freestyle on Jimmy Fallon's Tonight Show couch. 
However, with his dressing room as his primary office and a humble public demeanor, the dedicated Miranda seems like the last rising star to flaunt his seemingly endless success. So, we'll do him the honor instead. Here are the highlights of one of Hollywood's most impressive resumés:
1. His music can be heard in Star Wars. 
 When the franchise returned to the silver screen in December 2015 with Star Wars: The Force Awakens, Miranda climbed onboard as a composer for the film.  Remember Maz Kanata's Cantina? The actor wrote the melodies for that scene. 
2. He is a Pulitzer Prize winner. 
After receiving his second nomination for the Pulitzer Prize for Drama, Miranda was honored with the accolade in 2015 for Hamilton, joining fellow writers Jonathan Larson (of Rent) and Tennessee Williams.
3. He has freestyled with President Obama. 
While Obama is already a fan of his show, we're pretty sure the actor earned the Commander-in-Chief's personal seal of approval when he freestyled for him at the White House's Rose Garden. "That's going viral," the president told him after he finished—and sure enough, it did. 
Dimitrios Kambouris/Getty Images for Tony Awards Productions
4. Hamilton is not his first Broadway show. 
While In the Heights launched Miranda's Broadway career, he contributed to far more shows, including writing translations for the 2011 revival of West Side Story, and composing for Bring It On: The Musical. However, the rapper still credits In The Heights with changing his professional life. 
"With In the Heights, I went from being a substitute teacher to being a writer, from not having a career in this world to having one," he told Rolling Stone. "I don't think anything will ever touch that."
Eight years after it made it's Broadway debut, Miranda is producing it for the silver screen, The Hollywood Reporter confirmed. 
5. He was named one of TIME's Most Influential People of 2016. 
 The magazine ranked the star on its annual list alongside Oscar winner Leonardo DiCaprio and Facebook creator Mark Zuckerberg. 
"Knowing the man, experiencing his exuberance and dazzle up close, is as delightful as the show itself," director J.J. Abrams wrote about Miranda in the issue. "His wit would be intimidating if not for his natural and infectious charm. Somehow he is as generous, collaborative and lovable as he is innovative and brilliant."
6. He broke the Tony Award record. 
If 2015 hadn't offered Miranda enough success, he welcomed 2016 with a record-breaking 16 Tony Award nominations, including nods to him for Best Book, Best Performance by a Leading Actor and Best Original Score. The show received the most nominations of any Broadway production in history.