Madeline Kahn: "Why Are You Laughing?"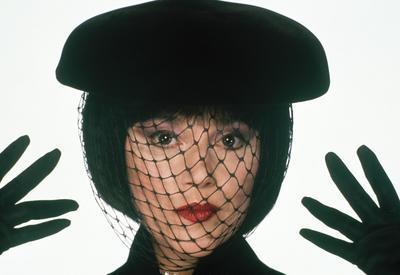 The
best comic performers are the ones who never seem to work too hard to get a
laugh, the ones who are deadly serious but ever-so-slightly cockeyed or bent,
and Madeline Kahn was a delightful example of this throughout her sadly
circumscribed and shortened life and career. In William V. Madison's
painstakingly researched, very touching new biography of Kahn, she is always
asking her colleagues and her friends, "Why are you laughing?" because she
herself didn't quite understand why she was funny.
Daniel
Sullivan, who directed Kahn in the play for which she won a 1992 best actress
Tony, Wendy Wasserstein's "The Sisters Rosensweig," called her comic effects
"clueless on purpose." The extremely reserved and even somewhat prudish Kahn
worked by instinct, and her helplessly comic instinct brought her to a point
where all she had to do was walk on stage and the audience would start laughing
before she even opened her mouth. She was a boon for any movie, TV special or
stage play because she could get laughs with any kind of material. Kahn was
someone who "said things funny, not someone who said funny things," said her
friend Lily Tomlin.
She
was born Madeline Wolfson in 1942, and her father left her mother Paula when
she was three years old. She took her last name from her stepfather, Hiller
Kahn, before he also fled from the devious and grandiose Paula, who was very
skilled at manipulating her daughter and making her feel insecure. "I always
had the feeling that she was a little affected in the way she spoke," said
Hiller of the young Madeline, "as though there were someone who told her that
she should be careful about choosing her words and the way she formed sentences."
A frustrated performer, Paula sent her daughter away to school early, which exacerbated
the abandonment issues that would plague Kahn for most of her life. Kahn said
that she became an actress because she wanted to make her fantasies real, but privately,
without an audience watching, and this explains the curious self-enclosure of
her performances, the sense of outraged privacy that was her funniest mode.
Kahn
did a Ruth Draper monologue to get into Hofstra College on a scholarship, and
she worked as a singing waitress in a German restaurant, trilling operetta
material with her flexible soprano voice. Soon she was doing two shows a night,
six days a week at Upstairs at the Downstairs, a club in Manhattan where she first
built her reputation as the young grande dame of sketches and spoofs. "If she
wanted material to be comedic in her hands, it would be," said Tomlin, who was
recommended to work in the club by Kahn. "She has that kind of musicality to
her voice—her inflections…It was the way she might ruminate over something
while she was talking."
Perhaps
to keep an already messy love life at bay, Kahn moved back in with her mother
Paula in 1967 and stayed with her for a while. She sang an intense and risky
Cunegonde in a few performances of Leonard Bernstein's "Candide," and her
"Glitter and Be Gay" can be heard live on YouTube, though you won't be able to
see why everyone is laughing so hard at her. "She juggled her breasts!" said
the conductor, Maurice Peress. "She was outrageous…for the 'topper' she put the
last of her jewels, a big ruby, in her bellybutton." And she did this outré
shtick all while singing one of the most demanding songs ever written for a
soprano.
Kahn
did a controversial musical called "Promenade" with a book by Maria Irene
Fornes, and people began to notice how special and specialized she was as a
performer. She sang Musetta in a production of "La Boheme" but chose not to
pursue opera seriously, and Madison, a former editor of "Opera News," writes
insightfully and engagingly about her singing voice and what might have been.
Kahn endured the Danny Kaye vehicle "Two by Two" on Broadway, where the star
belittled her and sexually harassed her, and she was not happy that her first
role in a feature film was the dowdy and adenoidal Eunice Burns in Peter
Bogdanovich's "What's Up, Doc?" (1972). Both that film and Bogdanovich's "Paper
Moon" (1973), where her sexy and quietly desperate Trixie Delight won her an
Oscar nomination for best supporting actress, showed the skill with which she
could get laughs, and they also showed her range. In each of those Bogdanovich
movies, Kahn steals them by minimizing her effects, by reducing, by not
"trying" in the expected performing sense. Her style was to withdraw, to
suggest, and even to attempt to disappear before the laughter got too loud.
She
got another Oscar nomination for her Lili Von Shtupp, a hilarious parody of
Marlene Dietrich, in Mel Brooks's "Blazing Saddles" (1974), gaining a measure
of comic immortality with her rendition of the song "I'm Tired," an endlessly
re-watchable routine, laidback and yet filled to the brim with unexpected
little details. It was Kahn's idea to grandly rest her hand on nothing but the
air as she does around three minutes into "I'm Tired," and it was also her idea
to break into the ecstatic Victor Herbert chestnut "Ah! Sweet Mystery of Life"
when the monster makes love to her in Brooks's "Young Frankenstein" (1974).
Brooks
tells Madison that he thinks that Kahn and Gene Wilder must have had an affair
during the making of "The Adventure of Sherlock Holmes' Smarter Brother"
(1975), but Wilder himself insists that they didn't (they do have an intense
kind of sexual chemistry in that thin comedy). Madison quotes from a notebook
Kahn kept during the making of this movie to show how seriously she always took
her work. Here's a revealing, stream-of-consciousness fragment from the
notebook describing the way Kahn wants her character Jenny to sing a certain
song:
"A
little girl—precocious—"singing a song"—testing and then reveling in her voice;
+ getting off on the sexy parts—her chance to pretend she's a "woman"; One
would sneak out at night to sing this (even as the character who is playing
that she's an adult) and, Jenny who can be 5 again when everyone loved her."
Kahn
was very much a creature of the 1970s: cerebral, pre-occupied, neurotic,
sexually liberated but also guarded and scared. So many of her co-workers in
Madison's book speak about how frightened she often was; she was very easily
hurt and subject to panic attacks. Kahn did adventurous theater during that
decade, playing in David Rabe's "In the Boom Boom Room" and John Guare's "Marco
Polo Sings a Solo," but she came to considerable grief when she did "On the Twentieth
Century" on Broadway in 1978, leaving that big musical not long after it opened
amid a storm of rumors and counter-rumors. Madison clarifies these rumors for
his readers, carefully shooting down the story that a drug habit was responsible
for Kahn leaving the show and instead letting us see that she was unhappy in
her personal life and also worried that singing the very difficult score eight
shows a week might ruin her voice. (Her co-star Kevin Kline is particularly
persuasive in defending Kahn against this drug rumor.) A bad relationship with
her director, Hal Prince, only made matters worse.
After
that debacle, nothing seemed to go right for Kahn for a long time. Her movies
in the 1980s grew steadily worse, even if in mid-decade she would snatch one
more bit of comic immortality with her celebrated "Flames…flames…on the side of
my face…" bit in "Clue" (1985), which Madison reveals was an improvisation
(kudos to Martin Mull for keeping a straight face behind her):
Kahn
did a short-lived sitcom in 1983-84 called "Oh Madeline" and returned to the
stage in Garson Kanin's "Born Yesterday" before winning the Tony for "Sisters
Rosensweig." In 1989, Kahn finally met a man she could trust, John Hansbury,
and she built a happy relationship with him, but challenging roles on film and
on stage were few and far between for her in the 1990s, unfortunately. And it
didn't help her spirits when her mother Paula, who had often done embarrassing
one-woman shows during Kahn's 1970s heyday, would randomly sue her and try to
get even more upkeep money.
Before
her time ran out, Kahn played in Eric Mendelsohn's "Judy Berlin" (1999), a
small independent movie shot in black and white where she showed for the first
time on screen the more piercing dramatic colors she was capable of. Mendelsohn
understood her deeply, and it shows in the way he films her. "It was as if she
had her nervous system mistakenly put on the outside of her body," he said, and
at one point he told her, "I can see just how hard it is to be you."
In
her best scene in "Judy Berlin," Kahn wanders down a deserted nighttime street
in Long Island as her character talks to herself about her crumbling marriage.
Kahn knew what an opportunity this was for her as an actress, and she attacked
Mendelsohn when he told her a take she had done was great. "It was terrible," she told him, "and I did it
on purpose, and you said it was
great." So often undervalued in her professional and personal life, Kahn was
sensitive to all kinds of inattention and threats of abandonment, but she dug
deep into herself and finally gave this scene in "Judy Berlin" everything she
had, even though she found the isolation of the character "overwhelming."
Kahn
died of ovarian cancer in 1999, and this was an occasion for much public grief.
"It was an honor to be with her," Hansbury tells Madison. "She was a great
lady. She couldn't tell a joke, though. But she was very sweet." Madison's book
carefully illuminates just how hard it was to be Madeline Kahn, personally and
professionally, and he ensures that those who love her can only love her more after
reading it.
Source:: http://www.rogerebert.com/balder-and-dash/madeline-kahn-why-are-you-laughing