Freddie Gray's spinal injury caused by head hitting back of police van, ABC reports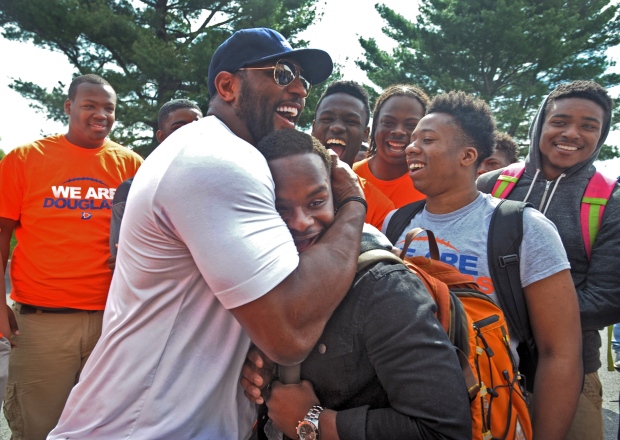 Former Baltimore Ravens NFL football player Ray Lewis hugs 17-year-old Azariah Bratton-Bey Jr., a senior running back on Frederick Douglass High's football team. The players visited two schools in downtown Baltimore in an effort to quell tensions caused by riots that ravaged the city. (Kenneth K. Lam/Baltimore Sun/Associated Press)
"I understand the frustration; I understand the sense of urgency," Batts said. "That is why we have finished it a day ahead of time."
State's attorney doing own investigation
Batts said police would keep probing at the direction of the state's attorney while Mosby stressed that her office is doing its own investigation.
"We are not relying solely on their findings but rather the facts that we have gathered and verified. We ask for the public to remain patient and peaceful and to trust the process of the justice system," her statement said.
People in other cities came out to protest Wednesday in a sign of solidarity with Baltimore and to highlight the issue of police brutality, especially against black men. (Andrew Kelly/Reuters)
Batts left it to Deputy Commissioner Kevin Davis to release yet another official timeline of what happened to Gray after his arrest nearly three weeks ago.
In all, the previously undisclosed stop now makes four stops between the time officers arrested Gray and his arrival at a police station, where he was found unresponsive. He was hospitalized in critical condition and died a week later.
Batts and Davis said nothing more about when or how investigators obtained the previously undisclosed video or learned about the additional stop. However, five of the six officers gave statements to investigators the day Gray was injured, and as recently as a week ago, the stop was not part of the official timeline, suggesting investigators learned of it later.
4th van stop not previously disclosed
Gray was arrested after he made eye contact with an officer and ran. Officers chased him down and handcuffed him behind his back. Bystander videos recorded police loading him, dragging his legs, into one of two metal compartments in the back of the van.
The family of Mr. Gray wants answers. I want answers. Our entire city deserves answers. We will remain vigilant on this path to justice.