4-month-old baby among Nepal's remarkable tales of survival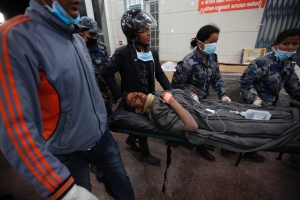 Survivor Rishi Khanal is carried on a stretcher after being freed by French rescuers. (Niranjan Shrestha/Associated Press)
Crowds cheered as he was carried away on a stretcher, dazed and dusty. He had been trapped under the collapsed debris of a seven-storey building.
Nepalese rescuers, supported by an American disaster response team, had been working for hours to free him. L.B. Basnet, the police officer who crawled into a gap to reach Tamang, said he was surprisingly responsive.
"He thanked me when I first approached him," said Basnet. "He told me his name, his address, and I gave him some water. I assured him we were near to him."
Tamang, 18, later told The Associated Press he was working in a hotel in the building when it began to shake.
"Suddenly the building fell down," he said. "I thought I was about to die."
All he had to eat while he was trapped was some ghee, or clarified butter, he said.
Survivor found amid Kathmandu wreckage1:35
'Please God, help him'
Nepalese photojournalist Amul Thapa smiled in spite of his hidden pain when he saw the scene he'll remember always: Rescue workers pulling a four-month-old boy from the wrecked home where he'd been trapped 20 hours.
Sonit Awal's chubby cheeks were caked in chalky, concrete dust. One tiny fist curled tightly shut, the other seemingly covering his face.
His nine-year-old sister was watching him when the earthquake collapsed many historic buildings in the town of Bhaktapur, just east of Kathmandu.
This woman was one of hundreds gathered staring intensely at the collapsed buildings where the teen was found. (Andrew Lee/CBC)
The children's parents were both away but the girl managed to escape unhurt. When Thapa, who works with the newspaper Kathmandu Today, first heard Sonit's cries, the baby was trapped under a wooden beam.
That beam "was supporting everything," the 26-year-old Thapa remembers. To move it would have meant to bring even more danger to the trapped child.
Thapa's own family in his hometown of Bhaktapur had suffered and his home had been destroyed but Thapa said when he heard the baby cry all he could think was, "Please God, help him."​
At 10 a.m. on Sunday, Nepalese army soldiers pulled out little Sonit.
"When I saw the baby alive all my sorrow went. Everyone was clapping. It gave me energy and made me smile in spite of lots of pain hidden inside me."
The photographer said the baby appeared to have suffered only a small cut over his brow.
Rescue near bus terminal
Police say a woman in her 20s has been rescued five days after Nepal's massive earthquake. 
 
A police official identified the woman as Krishna Devi Khadka and said she was rescued Thursday evening in an area near Kathmandu's main bus terminal. 
The official asked not to be identified because he wasn't authorized to speak to the media.