Where to fix chipped nail polish between shows at Toronto Fashion Week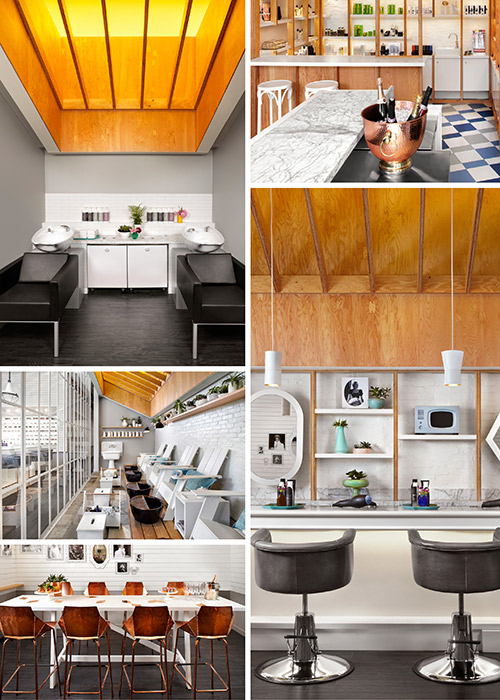 (Images courtesy of Her Majesty's Pleasure)
You're at World MasterCard Fashion Week and you're in desperate need of a blowout, a manicure and/or some Zen time – where do you go? All week we'll be sharing nail bars, salons and spas within easy walking/Uber-ing distance from David Pecaut Square.
Her Majesty's Pleasure
556 King Street West
Walking distance from David Pecaut Square: 12 minutes
Uber-ing distance from David Pecaut Square: 4 minutes
Nails[1] in rough shape? Her Majesty's Pleasure, a spot that's "equal parts spa, salon, café, boutique and bar," has you covered. If you're short on time, the Speedy Manicure service ($25) will have your nails filed, cuticles tamed and nails polished in 20 minutes. If your next show isn't for an hour, you've got time for gel polish. Whatever service you get, add on the scalp and shoulder massage ($15), which, in a word, I would describe as heavenly.
READ MORE
Why Sid Neigum is the Canadian designer to watch right now
3 do-not-wear-to-work beauty looks from Paris Fashion Week
The best nails from NYFW F/W 2015
[2][3][4]
Similar Posts:
You might also like
About Victoria DiPlacido
Rather than feeling overwhelmed when walking into a Sephora, I am decidedly zen. The beauty biz is my happy place. Whatever product or treatment promises dewy, glowing skin—retinoids, acids, oils, hydrating cloth masks—I want to know more. (Good thing I'm on the beauty team.) What stands out to me? If it's Beyoncé-backed, I'm in. Punny or tongue-in-cheek product names (OPI wins at this game: their Bastille My Heart nail polish is a personal favourite) don't hurt, either. But nothing makes me happier than discovering a life-changing product so I can share it with ELLE readers in print and online.
References
^ Nails (www.ellecanada.com)
^ Why Sid Neigum is the Canadian designer to watch right now (www.ellecanada.com)
^ 3 do-not-wear-to-work beauty looks from Paris Fashion Week (www.ellecanada.com)
^ The best nails from NYFW F/W 2015 (www.ellecanada.com)
Source:: http://ellecanada.com.feedsportal.com/c/34164/f/621200/s/44b3f49c/sc/8/l/0L0Sellecanada0N0Cblog0C20A150C0A30C230Cbest0Eplace0Efix0Ebroken0Enail0Eshows0Etfw0C/story01.htm