Where to dine between shows at Toronto Fashion Week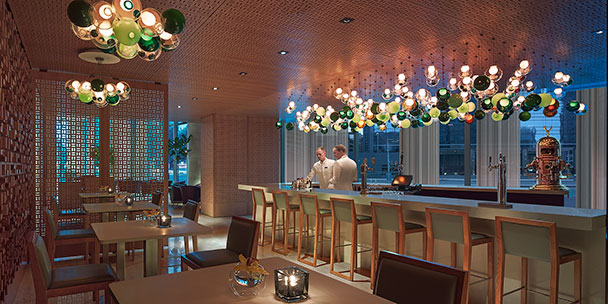 Dine in style at the Shangri-La Hotel. (Photo courtesy of Shangri-La Hotel)
By Anita Ehui
Let's face it, between Instagramming the runway shows, street style stalking outside the tents and taking epic selfies to document the whole experience, a quick pick-me-up between shows is a necessary survival tactic during Toronto Fashion Week Fall 2015[1]. You NEED a place to relax, refuel and recoup. How can you expect to take in the pure genius of Canada's top fashion designers[2] without some savoury sushi, strong coffee and a little tequila? Here are the top 5 places to grab a bite and a bevvy between shows.
1. Keep calm and carry on with a sip and a scone. First stop: high tea! Before you do anything else, head to the lobby lounge of the Shangri-La Hotel (188 University Ave.) for traditional teas and tantalizing treats. Grab a seat by the grand piano and soak up as much serenity as you possibly can before the fashion frenzy begins.
READ MORE: Canadian fashion models to watch this season[3]
2. Have a quick sushi session. Settle your rumbling stomach after the first couple of shows with a bite at one of Toronto's chic Asian fusion restaurants. Our top recommendation? Blowfish (333 Bay St.): Sit pretty amongst the amazing decor while you nosh on a Cali roll or two.
READ MORE: 10 secrets to surviving fashion week[4]
3. Cheers to a fashion fiesta! 1 tequila, 2 tequila, 3 tequila, 4? (Caution: Better to stick with 1 shot, or you'll have double vision at the next show!) In addition to a ridiculously huge selection of tequila, El Caballito (220 King St. W.) offer cheap eats on Tuesdays – enjoy tacos for as low as $3.50 each. Then head back to the tent across to street to take in the last looks of the day.
4. Get your java jolt. Running low on fashion mojo? "You can do it," said coffee. When you're feeling fatigued, stroll over to the coffee aficionado fave, Sam James Coffee bar (150 King St. W.), located underground in the PATH. Just don't forget to take a snap of your latte art for IG.
READ MORE: The 8 best juices in Toronto[5]
5. Have a light bite at the Lightbox. If you are a diva on a dime, strut over to the O&B Canteen in the TIFF Bell Lightbox  (330 King St. W.) and enjoy its upscale comfort food at an affordable price. Perfect for a grab-and-go snacks or a light lunch before the shows. We love the Broccoli Kingdom Salad with Granny Smith apple butter and mustard vinaigrette. Yum!
READ MORE:
Your insider's guide to Toronto Fashion Week Fall 2015
[6]What the ELLE Canada editors are wearing for Toronto Fashion Week Fall 2015
[7]What you don't want to miss at Toronto Fashion Week Fall 2015[8]
Similar Posts:
You might also like
References
^ Toronto Fashion Week Fall 2015 (www.ellecanada.com)
^ Canada's top fashion designers (www.ellecanada.com)
^ READ MORE: Canadian fashion models to watch this season (www.ellecanada.com)
^ READ MORE: 10 secrets to surviving fashion week (www.ellecanada.com)
^ READ MORE: The 8 best juices in Toronto (www.ellecanada.com)
^ Your insider's guide to Toronto Fashion Week Fall 2015 (www.ellecanada.com)
^ What the ELLE Canada editors are wearing for Toronto Fashion Week Fall 2015 (www.ellecanada.com)
^ What you don't want to miss at Toronto Fashion Week Fall 2015 (www.ellecanada.com)
Source:: http://ellecanada.com.feedsportal.com/c/34164/f/621200/s/44b595dc/sc/14/l/0L0Sellecanada0N0Cblog0C20A150C0A30C230Cwhere0Eto0Edine0Ebetween0Eshows0Eat0Etoronto0Efashion0Eweek0C/story01.htm