Wheeler's three points lead Jets in 5-2 win over Sharks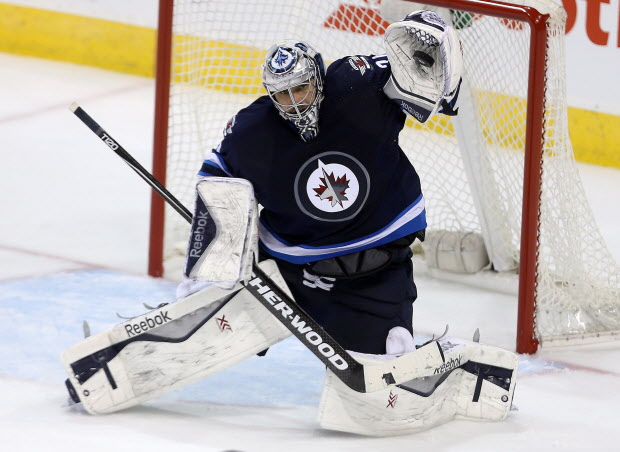 WINNIPEG – Blake Wheeler scored twice and added an assist to help the Winnipeg Jets reclaim an NHL playoff spot with a 5-2 victory over the San Jose Sharks on Tuesday.
The Jets mounted a 3-0 lead in the first period on goals by Adam Lowry, Mark Scheifele and Andrew Ladd. Wheeler scored his first of the game in the second period and another in the third.
Scheifele and Drew Stafford had a pair of assists and Ladd also contributed a helper for Winnipeg (35-23-12), which was starting a three-game homestand.
Joe Pavelski scored twice and Joe Thornton assisted on both for the Sharks (34-28-8), who were starting a seven-game road trip.
Ondrej Pavelec made 38 saves for the Jets in his first consecutive starts since late November.
Antti Niemi started his sixth straight game for the San Jose, but was replaced by Alex Stalock after letting in three goals on eight shots. Stalock made 12 saves.
The Jets' 82 points gave them the second wild-card spot in the Western Conference, one point ahead of idle Los Angeles.
San Jose, which is five points behind the Kings, travels to Toronto Thursday and Winnipeg hosts St. Louis the same night.
The Jets are now 5-1-3 in their last nine home games. They have seven more home games in their final 12 games of the regular season.
The crowd at MTS Centre got to cheer early, and then often, after the puck dropped.
Lowry scored his eighth goal of the season from behind the goal-line with a shot that bounced off Niemi and into the net at 1:10 of the first.
Scheifele and Ladd added power-play goals at 9:39 and 13:01 for the 3-0 gap.
Ladd tipped in defenceman Jacob Trouba's shot from near the top of the faceoff circle for his 24th goal of the season, which ties him for the team lead in goals with injured centre Bryan Little.
Michael Frolik assisted on the goal in his 500th NHL career point.
Pavelski scored at 1:06 of the second period off a rebound from a Joe Thornton shot.
Wheeler made it 4-1 after a great wrap-around effort by Stafford. The puck went under Stalock and Wheeler poked it into the net at 7:05.
Wheeler then added his 22nd goal of the season when a pass from Stafford across the front of the net deflected off a Sharks' stick into the air and Wheeler batted the puck past Stalock at 9:12 of the third.
Pavelski recorded his 34th goal of the season when he tipped in a Brent Burns' shot from the point at 17:35.
Wheeler extended his point streak to five games with five goals and four assists.
Source:: http://www.canada.com/sports/hockey/Blake+Wheelers+three+points+leads+Jets+victory+over+Sharks/10897954/story.html