Watch This Broadchurch Season 2 Clip to Remind Yourself Why You Should Be Watching This Amazing Show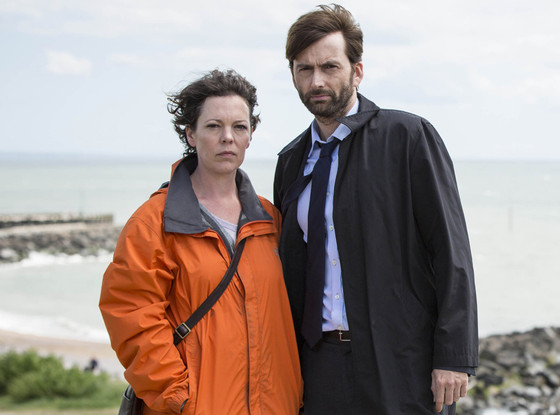 ITV/Kudos
Guys, we are so sick and tired of you not watching Broadchurch. Seriously, every single day you spend not watching Broadchurch, undoubtedly one of the best dramas you will watch with your eyeballs, is a day wasted.
Broadchurch (season one currently streaming on Netflix) stars Doctor Who alum and extremely attractive man David Tennant as Detective Inspector Alec Hardy. And if you thought he was sexy as the Tenth Doctor, just wait until you see him all brooding and bearded and speaking with his thick, Scottish brogue. Swooning is imminent.
NEWS: David Tennant is joining Marvel's new TV series as a villain! 
Anyway, season one is fantastic and you will probably watch it all in one day, which leads us to tonight and the start of season two on BBC America. We promise the exclusive clip below doesn't have any spoilers for season one, but you'll want to press play just to taste what amazing, delicious drama you'll be getting into.
As it turns out, Hardy has some secrets that he kept from his partner, Miller (Olivia Coleman), and he still has a big connection to the case that tortured him before he came to Broadchurch.
PHOTOS: More Scottish celebs to fall in love with!
By the by, we think it's important to mention that this season we are blessed with the addition of Agent Carter's James D'Arcy. 
(Note: Please do not confuse Broadchurch with Gracepoint. They tried to be the same, and they were not. Broadchurch is superior in every way and we promise you won't regret a single moment after starting the pilot episode.)
So if you're behind, catch up on season one on Netflix and then be sure to check out the season-two premiere of Broadchurch tonight on BBC America. Watch the full trailer for season two below, but season one spoilers are in it, obviously!
PHOTOS: Renewed or canceled? Find out the fate of your favorite shows
RELATED VIDEOS:
Source:: http://ca.eonline.com/news/631733/watch-this-broadchurch-season-2-clip-to-remind-yourself-why-you-should-be-watching-this-amazing-show?cmpid=rss-000000-rssfeed-365-topstories&utm_source=eonline&utm_medium=rssfeeds&utm_campaign=rss_topstories