Watch! Olivia Wilde is the face of H&M's Conscious Exclusive collection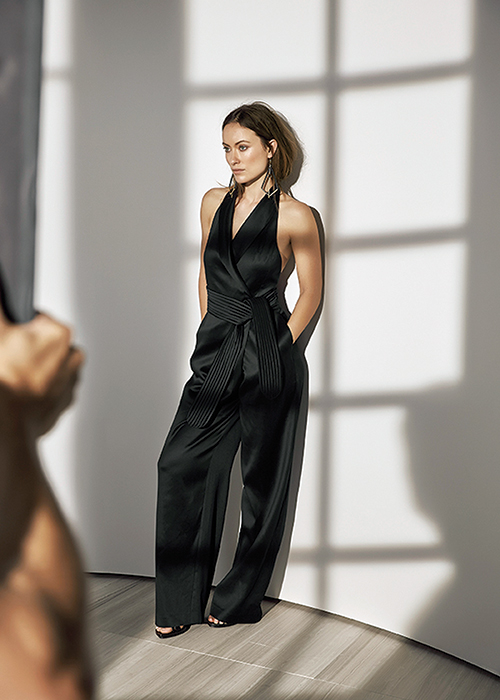 We can't resist this kimono-inspired jumpsuit[1] ($99, hm.com) modelled by Olivia Wilde.

H&M has nabbed actress and eco-supporter Olivia Wilde[2] to be the face of its latest Conscious Exclusive campaign. Made from earth-friendly materials like organic cotton, linen and silk, the pieces take inspiration from African, Indian and Asian cultures in both cut and details, including hand-drawn prints[3].
The collection arrives in 200 H&M stores on April 16, but you can get excited now (and start planning the pieces you'll line up for), by watching this behind-the-scenes video of the glam campaign shoot starring the ever-gorge Wilde.
[embedded content]
READ MORE:
Why the DVF wrap dress will always be a timeless staple[4]
10 designers to watch this season: Fall 2015[5]
Why a fashion girl can also be a feminist[6]
Similar Posts:
You might also like
About Charlotte Herrold
Ever since I picked up my first fashion magazine at age 12, I've been fascinated by how clothing can shape personality – and vice versa. Back then it was a pair of plaid "shorteralls" from a Delia's ad I pined over; and while I like to think my personal style has come a long way, I simply can't get enough of this '90s revival we've been experiencing! Kate Moss in a slip dress is still my idea of ultimate cool-girl style. Although I can fully admit to being a nostalgic (is there a 12-step program for that?), I'm constantly in search of what's new, what's cool and what's different – and nothing makes me more excited than sharing those finds in the style pages of ELLE Canada.
References
^ kimono-inspired jumpsuit (www.ellecanada.com)
^ Olivia Wilde (www.ellecanada.com)
^ cut and details, including hand-drawn prints (www.ellecanada.com)
^ Why the DVF wrap dress will always be a timeless staple (www.ellecanada.com)
^ 10 designers to watch this season: Fall 2015 (www.ellecanada.com)
^ Why a fashion girl can also be a feminist (www.ellecanada.com)
Source:: http://ellecanada.com.feedsportal.com/c/34164/f/621200/s/447310ce/sc/38/l/0L0Sellecanada0N0Cblog0C20A150C0A30C160Cwatch0Eolivia0Ewilde0Eis0Ethe0Eface0Eof0Ehms0Econscious0Eexclusive0Ecollection0C/story01.htm