Tyra Banks Chops Off Her Hair, Debuts New Pixie Cut: Check Out Her Fierce Look!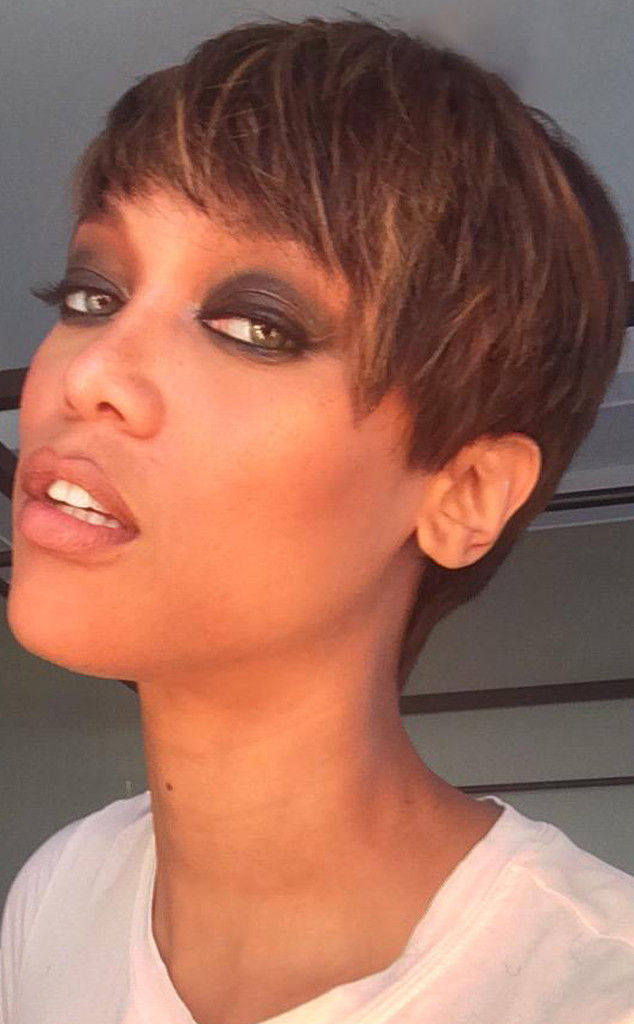 Twitter
Tyra Banks has found a way to really frame her smize for max effect.
The America's Next Top Model host debuted her new pixie cut today on social media, the big chop having apparently occurred just this afternoon.
"Snip #NotTooShort," Tyra captioned the first pic of her fierce new 'do, which—as you might have guessed—shows off her supermodel-caliber bone structure like nobody's business.
The professional poser turned TV host and businesswoman has traditionally sported a voluminous head of hair, wearing her long locks curly or straight and gleefully acknowledging the help she gets from wigs and weaves. In fact, in 2009, she kicked off season five of the talk show she had at the time by unveiling her real hair.
PHOTOS: Hot hair trends
Twitter
"Like I've worn weaves and wigs and pieces and clip-ons and clip-outs and clip-downs and around since I was 17, 18, and I wanted to show the real me," she said on Larry King Live after the big reveal. "I wanted to show the raw me, and I just got out of the shower—beat the face first of course, y'all—and then came out of here—on this stage, and this is me, you all. This is me."
Letting King touch her hair, she explained, "My natural hair texture is very kinky. You felt my real hair texture. This is straightened. This part is straightened. This part is not, inside…I felt it was my responsibility to show as much of my real hair as possible."
And now it's back to basics again.
pic.twitter.com/2WCG0oHSuC
— Tyra Banks (@tyrabanks) March 21, 2015
So this is quite the transformation!
"Is that my hair down there?" she coyly inquired in another tweet that accompanied a pic of her dressed to the nines, her newly exposed neck and collarbone reaping all the glory.
Is that my hair down there? pic.twitter.com/PFzVwu7eQ1
— Tyra Banks (@tyrabanks) March 21, 2015
Tyra follows in a long line of stunning celebs who went from super-long to super-short hair in one snip (or at least all at once), such as Beyoncé, Jennifer Lawrence, Gwyneth Paltrow (some years ago) and Anne Hathaway.
It's a pretty hot club and, so far, Tyra fits in just fine.
PHOTOS: Check out more famous pixie cuts
RELATED VIDEOS:
Source:: http://ca.eonline.com/news/638265/tyra-banks-chops-off-her-hair-debuts-new-pixie-cut-check-out-her-fierce-look?cmpid=rss-000000-rssfeed-365-topstories&utm_source=eonline&utm_medium=rssfeeds&utm_campaign=rss_topstories