Toronto Raptors' collapse, Amir Johnson's struggles could mean the team and player are heading for a split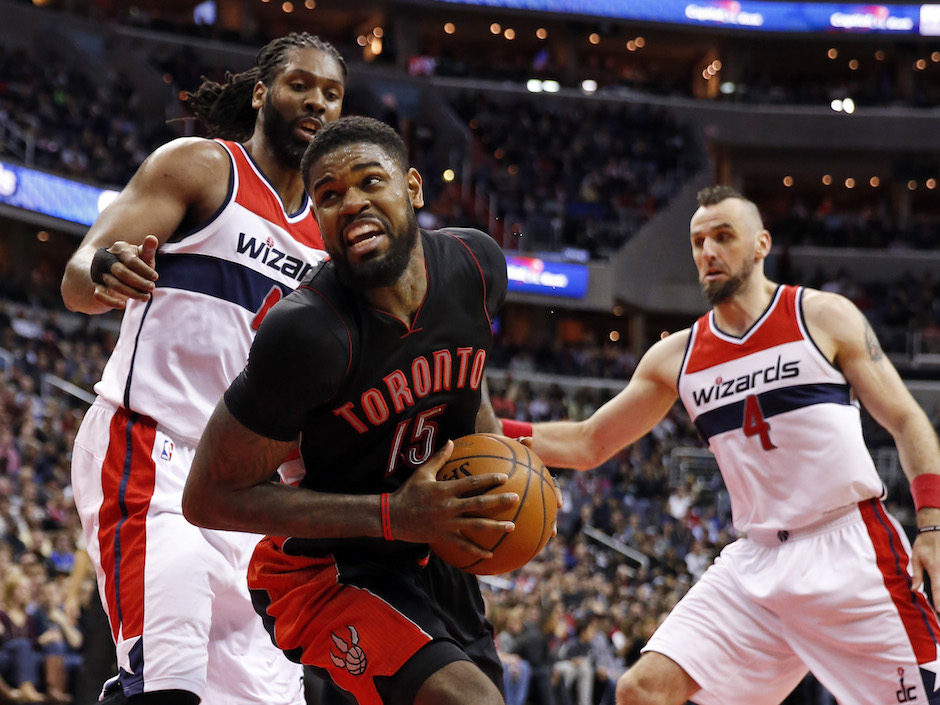 The Toronto Raptors' collapse — and we can stop affixing the word "recent" to it — has been so comprehensive that it has placed almost any major question you can think of about the team on the table. Should the Raptors' fortunes continue to sag through April, resulting in a second consecutive first-round exit in a weak conference, general manager Masai Ujiri will have to honestly confront those issues. In fact, it might not even matter if they win a series or not, depending on the nature of this hypothetical victory.
The queries are numerous: Can DeMar DeRozan be at the centre of an elite offence? Can Kyle Lowry hold up over the course of a season? Do the Raptors have an identity? Are Jonas Valanciunas and Terrence Ross worthy of long-term investments? Is Dwane Casey the right coach for this team? The list goes on and on, befitting a team that has lost eight of its last nine games and 17 of 31 in 2015.
Due to contractual considerations, Ujiri can afford to wait on answering most of those definitively. However, he will have to address Amir Johnson's place on the team more promptly, as the Raptors' power forward will hit free agency in July. More and more, it looks as if the six-year marriage between team and player is heading for a split.
There is still time for that feeling to change, just as there is time for the Raptors to find their mojo before the playoffs hit. So far this season, Johnson just has not been the player that Raptors fans are used to watching.
Judging Johnson by his box-score statistics has always been a silly way to judge his value, since Johnson's contributions lie more in setting screens and help defence than anything else. However, Johnson has not recorded a double-double since Jan. 18 — 23 games ago — and has not scored in double digits in the last 10 games. He is scoring and rebounding per minute incrementally less than he did last year, although a lot of that has to do with the Raptors' perimeter-oriented style and Jonas Valanciunas's improvement on the glass.
Johnson's worth, though, is not redeemed with a deeper look at the Raptors' numbers. That is new: From 2010-13, while the Raptors toiled in sub-mediocrity, Johnson routinely lifted up whomever he played with. One season, he had the best individual plus-minus of any player in the league on a sub-.500 team. This year, the Raptors have allowed points at nearly the same rate with Johnson on and off the floor, and the offence has benefitted with him on the bench. Worrisomely, the Raptors have been outscored with Johnson and Jonas Valanciunas sharing the court. The Raptors' other main frontcourt options have been more successful.
More than anything, the Raptors' collective woes work against Johnson staying in Toronto. As the Raptors have struggled, it has become clear that the Raptors do not have enough talent on the roster, as is, to create a legitimate contender. If Ujiri hopes to make a significant splash in free agency this off-season, he will likely have to sacrifice Johnson and Lou Williams to create enough space under the luxury tax to change the composition of the team. And it just so happens that in Patrick Patterson and James Johnson, the Raptors have enough options at power forward that are signed through next year that Johnson could become expendable.
That does not mean such a decision will be easy. Even in Johnson's first year in Toronto, then-Raptors point guard Jose Calderon called him one of his best teammates ever. As Johnson's tenure with the Raptors has gone on, he has gained a deserved reputation for filling in the cracks of flawed teams, all while embracing Toronto like few Raptors ever have. Ujiri has emphasized his belief in chemistry and culture, and Johnson is a vital organ of this team. That was always going to complicate putting a price on Johnson's worth, and that holds true, even as the team and the individual have faltered.
For now, it seems like the Raptors would have little to lose by giving Johnson's starting spot to Patrick Patterson. Johnson might thrive in a pick-and-roll offence with Greivis Vasquez — the Raptors could afford more of an interior focus on offence — and Patterson's shooting could create more space for Kyle Lowry and DeMar DeRozan to use. It is an approach that cannot hurt.
When it comes to Johnson, the present is a lot less complicated than the near future.
Source:: http://www.canada.com/sports/basketball/Toronto+Raptors+collapse+Amir+Johnson+struggles+could+mean/10874304/story.html