Toronto Fashion Week Fall 2015: Backstage with Hayley Elsaesser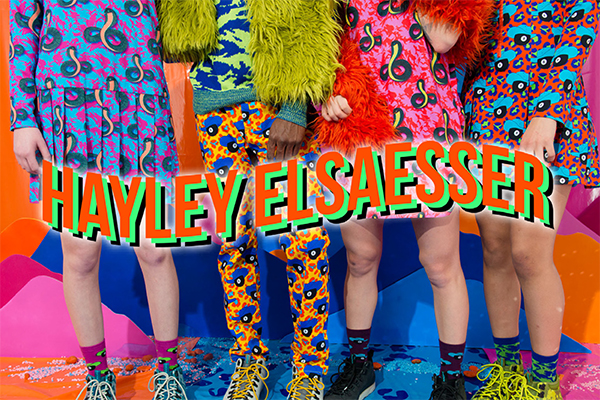 Photo courtesy of Mark Sommerfeld.
Ever since I attended Hayley Elsaesser's Spring 2015 runway show, I've been dreaming of her cosmic prints, sequined dresses and OTT accessories. When the calendar for Toronto Fashion Week Fall 2015[1] finally arrived, my name was first on the list for a front-row seat and a backstage pass to meet the up-and-coming Canadian designer[2] in person. With her jet black hair, yellow eye shadow and bold orange lipstick, she was impossible to miss among the chaos of models, photos and media backstage, where Hayley and I sat down to talk about her midnight cowboy collection. (You'll never believe what she told me in our one-on-one interview below.)
Check out our backstage Q & A with Hayley Elsaesser after the jump…
Photo courtesy of Jenna Marie Wakani.
What was the inspiration behind your Fall 2015 collection?
"It's called midnight cowboy. The inspiration is wild west meets disco with a little bit of samurai. It's a really crazy mix but that's what I love to do when I'm designing – have a few very different ideas and juxtapose them together to make them all work in one cohesive print."
What is the key piece?
"My personal favourite is the serpentine overalls – they're really crazy bright orange and green snake overalls. They aren't for the faint of heart but that's my brand so it's okay!"
How did you select the models? I noticed a lot of diversity on the runway.
"I wanted to have someone who everyone in the audience could relate to. There are different ethnicities, different sizes, different heights. There's someone who is 5'2 and 6'2. I had a transgendered model walking. I feel like it shouldn't be a rare thing anymore. It's 2015 – things are changing and in the fashion industry we need to make those changes too."
How did you select the music that played throughout the show?
"For the songs, I wanted to have a mixture – a little bit of disco and a little bit of country. "Jolene" is kind of my favourite song and then we added a little bit of modern hip-hop to tie it all together."
What is one secret no one else knows about this collection?
"The 8-ball print was actually inspired by my 8-ball pillow. One day I came home and I just threw one of my bucket hats on it and thought it looked really cute. And that's how the 8-ball cowboy hat came to be."
What are you doing backstage while the show is happening?
"I'm just making sure that everyone is wearing the proper outfits and giving everyone a once over. There's not much I can do at that point. Everything is organized so I relax and take it all in."
What do you love most about being a Canadian designer?
"I love how the Canadian industry is so supportive. When I was coming here from Australia, I was a bit worried about how it would be received because it's a particular aesthetic that is very outrageous, but I love how supportive Canada has been."
READ MORE:
Toronto Fashion Week Fall 2015: Your insider's guide[3]
9 Canadian fashion designers who are absolutely killing it for Spring 2015[4]
10 designers to watch this season: Fall 2015[5]
This is the one piece you need for Fall 2015[6]
Similar Posts:
You might also like
About Sarah Thompson
I like to think of myself as the country girl turned city slicker. True—I spent my childhood riding horses in a small town where cowboy hats and camo are the outfits of choice. Now, I ride subway trains to work in a much bigger city where my walk-in closet is filled with more popular trends. I have an obsession with anything pink and sparkly (#sorrynotsorry), and can always tell you which way is up with my keen sense of direction. Perhaps that's what has led me to Toronto and sharing fashion and beauty stories with you fine folks (and how I always find time for home). Coincidence? I think not.
References
^ Toronto Fashion Week Fall 2015 (www.ellecanada.com)
^ Canadian designer (www.ellecanada.com)
^ Toronto Fashion Week Fall 2015: Your insider's guide (www.ellecanada.com)
^ 9 Canadian fashion designers who are absolutely killing it for Spring 2015 (www.ellecanada.com)
^ 10 designers to watch this season: Fall 2015 (www.ellecanada.com)
^ This is the one piece you need for Fall 2015 (www.ellecanada.com)
Source:: http://ellecanada.com.feedsportal.com/c/34164/f/621200/s/44d5036c/sc/14/l/0L0Sellecanada0N0Cblog0C20A150C0A30C260Ctoronto0Efashion0Eweek0Efall0E20A150Ebackstage0Ewith0Ehayley0Eelsaesser0C/story01.htm