Toronto Fashion Week Fall 2015: 20 reasons why we love Canadian designer David Dixon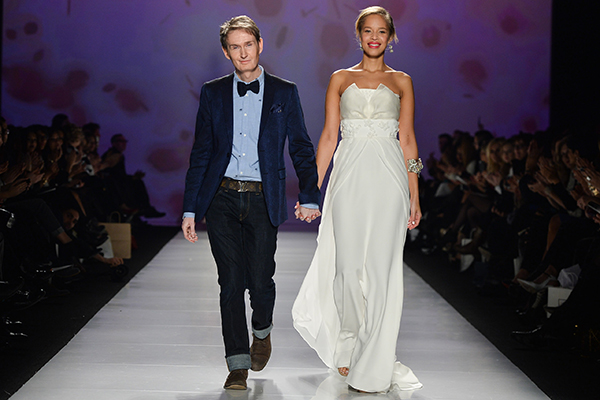 Photo courtesy of Getty.
Toronto Fashion Week Fall 2015[1] is in full swing, friends! It's only Day #2 and we're already obsessed with the street style poses, runway presentations and A-list celebrities hitting the tents at David Pecaut Square. However, the person we're talking about the most is David Dixon. Why? Because the Canadian designer's[2] label turns 20 this year #success. We're celebrating Dixon's anniversary with the top 20 reasons why ♥ him below.
We list the top 20 reasons to fall in love with David Dixon after the jump…
1. David Dixon was born and raised in Toronto. Bonus points for homegrown talent.
2. He discovered his love of fashion while watching an episode of The Love Boat as a child.
3. Dixon graduated from Ryerson University in 1993. Go, Rams, go!
4. His final project at Ryerson was a blue organza and silk ball gown that he shows off proudly to this day in his showroom.
5. Dixon became an apprentice for fellow Canadian designer[3] Alfred Sung.
6. He started creating clothes at Toronto Fashion Incubator in 1995.
7. Asserted his independence and founded his own line shortly after.
8. All of Dixon's designs are manufactured in Canada, making him an advocate for Canadian fashion.
9. Sells his clothes in fashion boutiques across Canada.
10. Sold globally in Germany, Hong Kong, Switzerland and other countries. (Who says Canadian designers can't make it big?)
11. Dixon was named City of Toronto Designer of the Year in 2000.
12. Created a collection of LBDs for Sears Canada (one of his favourite pieces to design).
13. Partnered with Mattel's Barbie to design a line of super cute dresses for the 11.5 inch tall style icon.
14. Canadian brides, prepare to swoon. Dixon debuted a bridal collection at Kleinfeld Hudson's Bay last year – David Dixon's White Label.
15. Designed a line of must-have kicks for Town Shoes. (Hurry – you can still buy them online!)
16. Dixon's evening gowns have been worn by A-listers such as Meg Ryan, Linda Evangelista, Coco Rocha, Nicole Kidman, Katie Holmes[4] and more.
17. One of his dresses was even worn by Prime Minister Stephen Harper's wife.
18. David Dixon's eponymous brand celebrates its 20th anniversary this year. #love
19. He has put on a runway show 40+ times at Toronto Fashion Week[5].
20. His latest runway show will take place tonight at 9 p.m. at World MasterCard Fashion Week. See you there?
READ MORE:
Toronto Fashion Week Fall 2015: Your insider's guide[6]
Toronto Fashion Week Fall 2015: What the ELLE Canada editors would never miss[7]
9 Canadian fashion designers who are absolutely killing it for Spring 2015[8]
Toronto Fashion Week Fall 2015: What the ELLE Canada editors are wearing[9]
Similar Posts:
You might also like
About Sarah Thompson
I like to think of myself as the country girl turned city slicker. True—I spent my childhood riding horses in a small town where cowboy hats and camo are the outfits of choice. Now, I ride subway trains to work in a much bigger city where my walk-in closet is filled with more popular trends. I have an obsession with anything pink and sparkly (#sorrynotsorry), and can always tell you which way is up with my keen sense of direction. Perhaps that's what has led me to Toronto and sharing fashion and beauty stories with you fine folks (and how I always find time for home). Coincidence? I think not.
References
^ Toronto Fashion Week Fall 2015 (www.ellecanada.com)
^ Canadian designer's (www.ellecanada.com)
^ Canadian designer (www.ellecanada.com)
^ Katie Holmes (www.ellecanada.com)
^ Toronto Fashion Week (www.ellecanada.com)
^ Toronto Fashion Week Fall 2015: Your insider's guide (www.ellecanada.com)
^ Toronto Fashion Week Fall 2015: What the ELLE Canada editors would never miss (www.ellecanada.com)
^ 9 Canadian fashion designers who are absolutely killing it for Spring 2015 (www.ellecanada.com)
^ Toronto Fashion Week Fall 2015: What the ELLE Canada editors are wearing (www.ellecanada.com)
Source:: http://ellecanada.com.feedsportal.com/c/34164/f/621200/s/44bf414a/sc/14/l/0L0Sellecanada0N0Cblog0C20A150C0A30C240Ctoronto0Efashion0Eweek0Efall0E20A150E20A0Ereasons0Ewhy0Ewe0Elove0Ecanadian0Edesigner0Edavid0Edixon0C/story01.htm