Toronto Blue Jays' Michael Saunders 'amazed' at how quickly he is recovering from knee surgery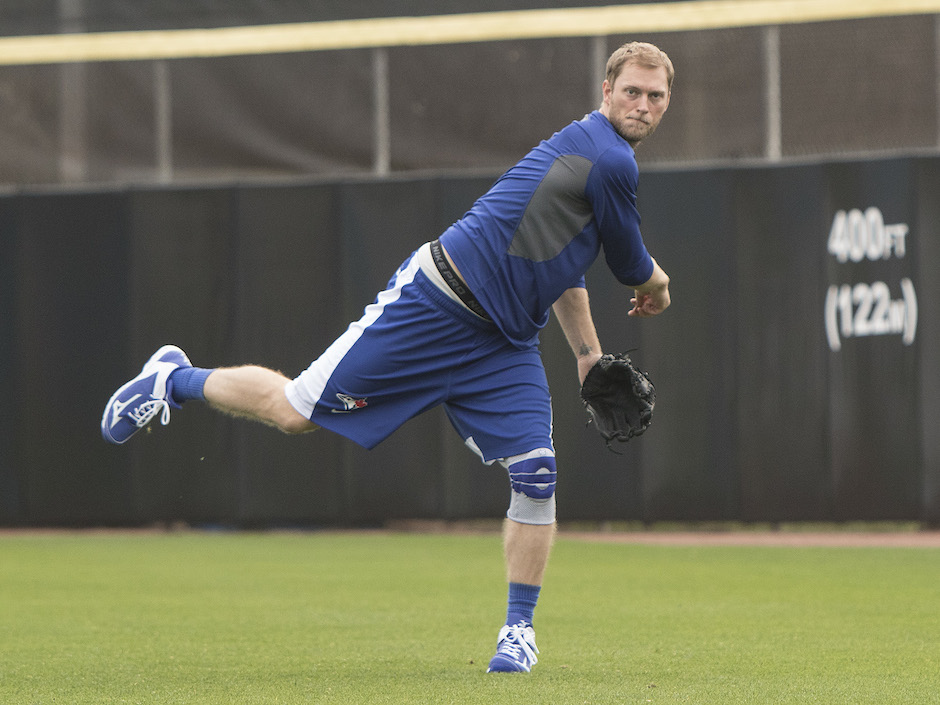 DUNEDIN, Fla. — Eight days ago, a surgeon removed 60% of the cartilage from Michael Saunders' left knee. Then Saunders got up and walked out of the operating room.
And on Friday, for the second straight day, he threw on flat ground, this time from 90 feet, landing on that left leg with every toss, and feeling no ill effects. The previous day, he threw from 75 feet.
His rapid recovery continues to astound him.
"When they told me I was going to walk out of surgery, I basically called B.S., considering the way I felt two days prior to it," the Blue Jays' left-fielder said. "But I walked out of surgery and I've felt amazed at the way my knee feels, considering everything. It's an amazing thing."
Within a few days, he expects to start hitting off a tee. He is a left-handed batter, so the torque on his knee from hitting will be different from the impact of throwing. Running will come last in his rehab, but if all goes well, he could start running in a week or so.
After the surgery, general manager Alex Anthopoulos said Saunders could be in the lineup by opening day in Toronto on April 13. But Saunders cautions that the process is day-to-day.
"So far, so good," he said. "The training staff are pushing me, but we're pushing each other. At the end of the day, I've got to listen to my knee, but we're headed in a good direction."
Saunders tore up the meniscus in his knee when he stepped on a sprinkler head while chasing a fly ball on a practice field. Repairing the damage might have forced him to the sidelines until the all-star break. But the damage was too extensive to repair. With the cartilage removed, his recovery period is much shorter.
"There's nothing in there now that needs to be healed, so now it's about controlling the swelling," which will subside naturally, he said.
"Everything feels stable, strong and healthy in there right now," he said.
Saunders, a native of Victoria, B.C., was acquired to replace departed free agent Melky Cabrera. The Jays traded pitcher J.A. Happ to Seattle to get Saunders, 28.
Source:: http://www.canada.com/sports/baseball/Jays+Saunders+amazed+quickly+recovering+from+knee+surgery/10867242/story.html