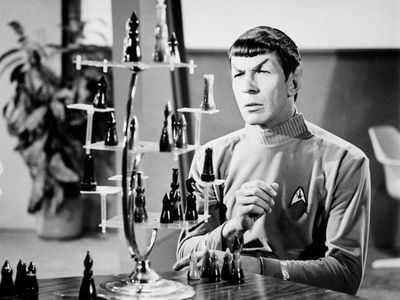 1.
"These Are Leonard Nimoy's Touching Final Words of Wisdom": Published by Cavan Sieczkowski at The Huffington Post. Related: "A Smithsonian Curator Reflects on Leonard Nimoy's Passing and Why 'Star Trek' Fans Loved Him," as reported by Natsha Geiling of Smithsonian.com. See also: Patrick Kevin Day of Hero Complex at The Los Angeles Times compiles a terrific video retrospective of Nimoy's career.
"You and I
have learned
The song of love,
and we sing it well
The song is ageless
Passed on
Heart to heart
By those
Who have seen
What we see
And known
What we know
And lovers who have
Sung before
Our love is ours
To have
And
To share
The miracle is this
The more we share…
The more
We have"
2.
"David Cronenberg on 'Maps to the Stars' and the Hardest Movie He's Ever Made": An excellent interview with the iconic filmmaker conducted by RogerEbert.com critic Simon Abrams for Esquire.
"It makes a crew very nervous if they feel that the work that they're doing is going to fall apart in their hands. That the work that they're doing isn't going to be used or that they're doing something for nothing. 'Videodrome' was almost a film that came together too quickly. It was a wonderful tax-shelter era in Canadian filmmaking, where you had the money before you even had the script. And that's all gone now. So it was disorganized in that there were some times where you were ready to shoot a scene where the special effects were actually not ready. And it was just because of the time, of the scrabble, of trying to catch up to what I was writing. So the crew—they're your crew operators. You want them to not be confused, and not feel that things are disorganized, and in disarray. It's a very bad feeling for a crew to have, and it gets around very quickly. I thought the best way to do it is to just come clean and say, 'Look, here are the problems I've been having, and the producers have been having. They're very straightforward, and we're on top of it. And we want you to understand that, and be included, and be the solution to it.' You know? That worked fine. That was the solution to it. Like any crew on a Formula One race team, there's lots of rumors, there's lots of technology, things can get out of control. And that's part of the leadership, that's part of directing, to maintain the integrity of the crew, and have them on your side. That was what that was about. That hasn't happened since because, as I said, it's very rare that the money comes in before the schedule. But it was my impromptu way of solving that problem."
3.
"UCLA Hollywood study: Audiences favor more diversity in movies, TV": Greg Braxton of The Los Angeles Times reports on the comprehensive report entitled "Flipping the Script" released by UCLA's Ralph J. Bunche Center for African American studies.
"Darnell Hunt, co-author of the Hollywood Diversity Report and head of the center, said the findings of the study can be summed up in two words: Diversity sells. 'What's new is that business as usual in the Hollywood industry may soon be unsustainable,' Hunt wrote in the report. Though white males in plum positions in front of and behind the camera have historically marginalized women and minorities in the creative process, 'evidence from this report … shows clearly that America's increasingly diverse audiences prefer diverse content created with the input of diverse talent,' said the report. The industry has continually resisted the trend, according to the report: 'The disconnect between this increasingly obvious fact and the stubborn fact of Hollywood's race and gender problem poses an interesting conundrum: How can we flip the script?' The UCLA report arrives at a time when the industry, particularly the Academy of Motion Picture Arts and Sciences, which oversees the Academy Awards, has come under fire for what many call a lack of inclusion of minorities. Several media outlets and observers pointed to the absence of minority talent in marquee categories at this year's Oscar ceremonies."
4.
"A Reality TV Retrospective": Lizzie Schiffman Tufano of Pacific Standard reflects on the programs kick-started by "The Real World" and "Survivor," which are currently celebrating their 30th seasons.
"The fixation with being catapulted from obscurity to celebrity mirrors cultural shifts, says Jerome Bourdon, a professor of television history and media studies at Tel Aviv University, who describes it as a chicken-and-egg problem—did we lose interest in the Old Guard of celebrities before or after we decided we ourselves deserved more spotlight? 'In the second generation of reality TV' following early game show models, 'we are talking about 'hyper-capitalist' shows,' Bourdon says. 'Very individualistic, need for exposure, quest for celebrity as the ultimate form of social success…. The shows impose ideas on participants, but also on [the] audience—that your best resource is yourself, your own image, and your capacity to control it.' That resonates with the new zeitgeist in which everyone maintains carefully curated social media accounts and perceives their identities as 'brands'—television stardom is suddenly not just aspirational, but attainable. This draws viewers in and keeps their attention. These same factors have driven a similar shift in how we consume television, according to Papacharissi. Whether you're voting for a 'Bachelor' contestant via text message or idly using hashtags while tuning in to a 'Housewives' marathon, viewers' voices matter, though it's hard for networks to discern what these behaviors mean."
5.
"What Amadeus gets wrong": BBC's Clemency Burton-Hill examines the distortions of truth and timeless brilliance of Miloš Forman's 1984 Oscar-winner.
"Arguably the finest movie ever made about the process of artistic creation and the unbridgeable gap between human genius and mediocrity, it has taken its place in motion picture history and is invariably described as a masterpiece. All this is despite the fact the film plays shamelessly fast and loose with historical fact, taking as its basis a supposedly bitter rivalry between Wolfgang Amadeus Mozart and his counterpart Antonio Salieri, court composer for Holy Roman Emperor Joseph II, that may have been nothing more than a vague rumour. Alex von Tunzelmann, writing in The Guardian, is one of the many historians frustrated by the glittering success of a film that is so inaccurate, historically speaking. She describes it as 'laughably' wrong – 'a deadly rivalry that never was, a dried-up bachelor who was actually a father of eight, and flops that were hits in reality' – and reckons nothing about the film can redeem 'the fact that the entire premise – that Salieri loathed Mozart and plotted his demise – is probably not true.' It was Alexander Pushkin who first seized on the idea that the alleged rivalry between these two Vienna-based composers might make good drama: in 1830 he published a short play called Mozart and Salieri, in which the latter murders the former onstage. The play was later set as an opera by the composer Nikolai Rimsky-Korsakov and has continued to grip the artistic imagination ever since."
Image of the Day
"Ida" director Paweł Pawlikowski poses with his leading ladies Agata Trzebuchowska and Agata Kulesza on the Oscar red carpet prior to winning the Academy Award for Best Foreign Film. Click here to view the panel discussion on "Ida" held at Columbia University last November and featuring the RogerEbert.com trio of Matt Zoller Seitz, Sheila O'Malley and Michał Oleszczyk, along with professor Stuart Liebman.
Video of the Day
Spock's death scene from Nicholas Meyer's superb 1982 classic, "Star Trek II: The Wrath of Khan," is arguably the most powerful sequence in any "Trek" picture, and now has added poignance in light of Leonard Nimoy's recent passing.
Source:: http://www.rogerebert.com/thumbnails/thumbnails-3215