This Is What Miley Cyrus and Kylie Jenner Would Look Like If They Morphed Into One Person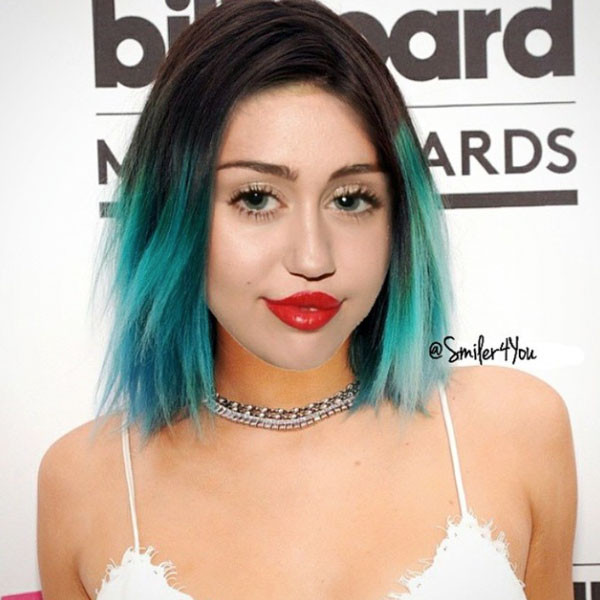 Instagram
Well, this isn't as bad as the morphed face of Miley Cyrus and Patrick Schwarzenegger (we still can't get that out of our heads!).
Continuing with her apparently new hobby, Cyrus posted a funny photo of herself morphed with yet another famous friend. This time, the celeb shared a snapshot of her face on Kylie Jenner's body, thus introducing the world to Mylie Jenner. She simply captioned the kinda-amazing-but-kinda-scary photo, "#MylieJenner #whiteandgold."
(Don't bring up that dress debate, Miley!)
The picture is of Kylie's red carpet photo from the Billboard Music Awards, where she flaunted her teal lob. Meanwhile, Cyrus' face seemed to have enlarged eyes and fuller red lips. Regardless, it seemed to catch the attention of Kylie herself—and she was a fan of it!
LOOK: Is This Miley Cyrus' Response to the Patrick Schwarzenegger Cheating Rumors?
Jamie McCarthy/Getty Images for EJAF, Frazer Harrison/Getty Images
A screenshot posted by a Miley Cyrus fan Twitter shows that Jenner not only liked the picture on Miley's Instagram, but also commented with an "lol" and heart emojis.
Aside from birthing Mylie Jenner (and pizza food babies), Miley's been on an Instagram roll today with posts about positive vibes and best friends. Her continuous photo posts come on the heels of reports that her beau was getting cozy with an unknown girl while vacationing in Cabo San Lucas for spring break.
Miley posted a strange (because why not?) photo of herself and best friend Cheyne Thomas wearing hairy, naked-body-mimicking outfits and captioned it: "da most biewteous thang in da whole wide world iz friendship. yiew choose dem outta all da billion trillion and beyond dey are da onez dat days seem toooo short with….
"Yiew wish dey could just go on foreva (that's why sometimes yiew skip da sleepin part) i am layin in da gra$$ lookin up at all da clouds and tryin to even get a lil solaaaa gaze action jusss bein still … & bein thankful. biewty is all around us and we izzzz so lucky to be on dis planet. (I mean seriously wtf are the chances we all meet da onez we love) Feeling supaaaa blisssssed or maybe I'm juzzzz stone."
She followed with some quote posts, a picture of herself and mom Tish Cyrus enjoying some margaritas and a photo of a woman shoving multiple hot dogs in her mouth with the caption, "mood."
Hmm.
PHOTOS: Inside Patrick Schwarzenegger and Miley Cyrus' romance
RELATED VIDEOS:
Source:: http://ca.eonline.com/news/636356/this-is-what-miley-cyrus-and-kylie-jenner-would-look-like-if-they-morphed-into-one-person?cmpid=rss-000000-rssfeed-365-topstories&utm_source=eonline&utm_medium=rssfeeds&utm_campaign=rss_topstories