"The Homestretch": A Review by Olivia Okocha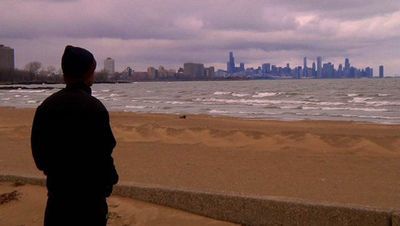 The following review was written by Olivia Okocha, a Chicago high school student, as part of Columbia College Chicago's Columbia Links journalism program for high school students. RogerEbert.com has partnered with the Chicago Urban League and Columbia Links to mentor these students and to give them a platform for their writing. Read more about the program here.
"The Homestretch"
Directed by Anne de Mare & Kirsten Kelly
3.5 stars
Homelessness is one of this country's biggest issues, but to see teens who are homeless in your hometown of Chicago is even more shocking. "The Homestretch," a documentary directed by Kirsten Kelly and Anne de Mare, introduces us to three of them and their journey to find a permanent place to live.
The film opens with one of the most startling facts: 19,000 kids are homeless in the city of Chicago, a bigger issue than anyone knew. It focuses on the lives of three of them: Roque, Anthony and Kasey.
Roque, the son of Hispanic immigrants, became homeless when his parents divorced. His father was not an American citizen, and when his mother remarried, she did want him to be a part of her new family.
What is very inspiring about Roque's story is that one of his teachers, Maria Rivera, welcomes him into her house and includes him as part of her family. The audience connects with Roque and the Riveras. This average public schoolteacher and mom helps him with schoolwork, social skills and his application to Northeastern Illinois University, where he currently attends college. We see the negativity of homelessness. Yet, there are people out there, like Maria Rivera, who play a significant role in trying to end this problem.
Anthony's story is truly unforgettable. He has a bubbly, enthusiastic personality, despite that he is going through so much. Anthony became homeless because his family emotionally and verbally abused him. He struggles to stay in school, find a home and gain custody of his child.
His perseverance through the darkest situations gives hope to others. At the end of the movie, his hard work pays off. He gains his GED and his very own apartment.
For Kasey, a girl, homelessness is twice as hard because of her homosexuality. Her mom does not approve and Kasey feels she is being emotionally abused in her own house. Kasey works through her family problems with her mother and grandmother and has interactions with a supportive school counselor. Her life is like a roller coaster. We even see her slip up with drugs and she has to be hospitalized. Eventually, she earns her own apartment. Stories like Kasey's are important to show because it reveals that being homeless is not just because you are poor, but that different factors are involved, like your sexuality.
The filmmakers of "The Homestretch" excellently sharpen the focus on teen homelessness in Chicago. The viewer is more aware of the issue and what can be done to decrease the number of minors on the streets, not only in Chicago, but nationally. They introduce organizations like The Crib, Night Ministry and the Teen Living Programs that help youth by giving them food and shelter. But these shelters can run only if they have enough funding. If not, they can shut down, just as The Crib temporarily does. The network for homeless teens is very fragile.
One of the most touching aspects of the film are the positive attitudes of the teens. They are going through so much, yet they are eager to share their stories and to show people how they live, all with a smile.
"The Homestretch" is a film that definitely succeeded in the way it presented the issue of teen homelessness. The movie had a unique angle to the filmmaking that made it emotionally effective to the audience. By following the featured teens and recording their daily lives, while letting them narrate their stories all on their own, the audience feels a connection to the teens and is able to relate with them on another personal level, which is very creative and enlightening.
"The Homestretch" allows us to follow the lives of homeless teens and witness how they cope and persevere. This was a truly a great and inspiring documentary that everyone should see, especially Chicagoans.
Source:: http://www.rogerebert.com/chazs-blog/the-homestretch-a-review-by-olivia-okocha