The 58 Most Important Things That Happened During the 2015 Awards Season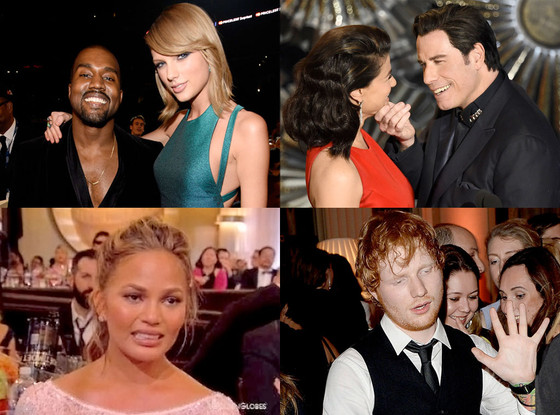 It's done. The sun has set on beautiful, rich celebs honoring other beautiful, rich celebs. Awards season has come to a close, and though we had so much fun covering all the action, we kind of feel like this:
It's fitting that a Lord of the Rings GIF sums up our emotions about the end of awards season, because the beginning of it calls for this LoTR GIF:
Anyway, let's recap all the most important stuff that happened during the 2015 season of the red carpet: 
People's Choice Awards
1. Chris Evans escorted Betty White to the stage so she could accept her Favorite TV Icon award, and we instantly became enraged with jealously. We weren't jealous of Betty White; we're talking about being jealous of Chris Evans! He got to be so close to Queen Betty White!
2. Hosts Allison Janney and Anna Faris were sparkly, but we wish they were allowed to emcee the event entirely in their Mom characters.
3. Ben Affleck gave a touching speech after accepting his Favorite Humanitarian award: "I realize a life lived just for yourself is not much of a life."
Christopher Polk/Getty Images for The People's Choice Awards
4. And Viola Davis threw mad shade at the New York Times critic who called her "less classically beautiful."
RELATED: Everything important that happened during the 2014 award season (starring Emma Thompson)
Golden Globes
5. Tina and Amy hosted for the final time, which means we probably won't watch the Golden Globes anymore.
6. But we might watch it if Bill Hader and Kristen Wiig host, because their celebrity impressions bit was a highlight of the night.
7. Benedict Cumberbatch photobombed the s–t out of Meryl Streep.
8. Jeremy Renner made a joke about JLo's "globes." 
9. Jessica Chastain reacted like this to Tina and Amy's Bill Cosby joke.
10. Chrissy Teigen's cry face became an Internet meme, but she took it like a champ.
11. Jennifer Aniston could not keep her hands off Kate Hudson, and no one blamed her one bit.
12. Paul Rudd and Jeff Goldblum sat at the same table and it quickly became the only table that mattered. Then Twitter stared campaigning for a buddy cop movie starring the two of them.
Twitter
13. Tina Fey took down George Clooney in the best way possible with this zinger: "George Clooney married Amal Alamuddin this year. Amal is a human rights lawyer who worked on the Enron case, was an advisor to Kofi Annan regarding Syria and was selected for a three-person UN commission investigating rules of war violations in the Gaza strip. So tonight, her husband is getting a lifetime achievement award."
RELATED: 39 photos of your favorite celeb in their best early-2000s Golden Globes fashion
Critics' Choice Awards
14. Host Michael Strahan decided to just take his pants off. If we had a dollar for every time we just wanted to rip our pants off then we could afford to not have a job and thus, we could be pantless at home all the time.
Christopher Polk/Getty Images for The People's Choice Awards
15. Reese Witherspoon took a selfie with an iPad which pains us because everyone knows taking selfies with an iPad is one of the worst things a human can do. 
Christopher Polk/Getty Images for The People's Choice Awards
16. Jared Leto peeked at the Best Supporting Actress winner because he DGAF.
17. And Emily Blunt and John Krasinski were the epitome of everyone's relationship goals.
RELATED: 21 things you probably forgot happened at the 2014 Oscars
The Grammys
17. Beck won Album of the Year over Beyoncé and Kanye almost pulled a Kanye.
18. And Beyoncé fans were ready to burn the music industry to the ground over this "snub."
19. Prince deigned to appear at the Grammys and people lost their s–t. He also dropped the sassiest side-eye in history.
20. Kanye West and Taylor Swift made up and are now besties who brunch.
Larry Busacca/Getty Images for NARAS
21. Kristen Wiig stole the show during Sia's performance. 
22. Taylor Swift danced. 
23. A lot.
24. Meanwhile, Pharrell plotted her death from a couple seats away.
25. And someone told Sir Paul McCartney to sit down, and was probably fired and/or maimed soon after.
RELATED: The 16 most important audience moments from the 2015 Grammys
The Brit Awards
26. Taylor won her first Brit Award (for International Female Solo Artist) and was very excited about it.
27. Madonna didn't listen to Edna Mode regarding capes and took a nasty spill during her performance.
28. But she got up and finished the song like a damn pro.
29. Kim Kardashian and Taylor danced side by side as Kanye performed.
30. And Ed Sheeran got hella crunk at the after party.
David M. Benett/Getty Images
Screen Actors Guild Awards
31. Emma Stone accidentally tripped Naomi Watts when the Birdman cast went up to accept the win for Outstanding Performance by a Cast in a Motion Picture.
32.Sofía Vergara may or may not have thrown serious shade at Julianna Margulies.
33. Orange Is the New Black finally ended Modern Family's four-year winning streak and took home the award for Outstanding Performance by an Ensemble in a Comedy Series. And they celebrated in the best way possible: Meryl Streep style!
Christopher Polk/WireImage
34. Frances McDormand was bored.
35. Rashida Jones had the best response ever when a reporter asked why she looked so tan.
36. And we found out that Michael Keaton's son is super foxy.
Kevork Djansezian/Getty Images
RELATED: Our favorite Oscars comeback stories, from Mickey Rourke to Michael Keaton
British Academy Film Awards
37. Stephen Fry calledPatricia Arquette "Rosanna Arquette" and she reacted with grace like the queen she is.
38. James McAvoy was disgustingly adorable with his wife on the red carpet. 
Anthony Harvey/Getty Images
40. Tom Hiddleston tried and failed to use a selfie stick, and we loved him more for it.
41. Stephen Fry translated Benedict Cumberbatch's name as "red hot public school totty" and Keira Knightley found it rather amusing.
42. Chris Evans and Henry Cavill dared to walked onstage together when they knew what it would do to ovaries around the world.
43. The Internet's two favorite men posed together and no one was ever the same.
David M. Benett/Getty Images
The Academy Awards
44. David Oyelowo's reaction to the "Glory" performance summed up everyone's emotions during that song.
ABC
45. Chris Pine also cried, but he did so with only one, single man tear.
ABC
46. Everything was awesome.
ABC
47. Meryl Streep was so onboard with Patricia Arquette's moving speech about gender equality.
ABC
48. Channing Tatum liked his Lego Oscar a little too much.
ABC
49. Eddie Redmayne had the most endearing reaction to his big Oscar win.
ABC
50. Benedict Cumberbatch kissed his pregnant wife and our hearts grew 300 sizes. We'll be dead soon from the engorged muscle but it doesn't matter because look how cute they are!
51. Scarlett Johansson also got a kiss. But it was from John Travolta. And it was the opposite of Benedict's smooch.
52. And he got even creepier later in the evening.
ABC
53. Seriously, what was going on with him?!
54. Ben Affleck whispered something into Jennifer Lopez's ear and it's currently the biggest mystery in the world, especially since the dress color question has been solved.
Getty Images
55. Host Neil Patrick Harris stood on stage in nothing but his underwear because "acting is a noble profession."
ABC
56. Lady Gaga slayed her Sound of Music tribute and got to hug Julie Andrews.
ABC
57. Benedict Cumberbatch just wanted the camera guy to leave him alone so he could enjoy his booze.
ABC
58. And finally, Oprah was there and she single-handedly won the Academy Awards.
ABC
And that was the 2015 awards season. It felt like it went on for eons. We're pretty sure we aged quite a bit since the Golden Globes:
Until next year, guys. 
PHOTOS: Stars partying at the 2015 Oscars!
RELATED VIDEOS:
Source:: http://ca.eonline.com/news/630640/the-58-most-important-things-that-happened-during-the-2015-awards-season?cmpid=rss-000000-rssfeed-365-topstories&utm_source=eonline&utm_medium=rssfeeds&utm_campaign=rss_topstories