Team Canada's Morris wins Brier semifinal, meets Northern Ontario for title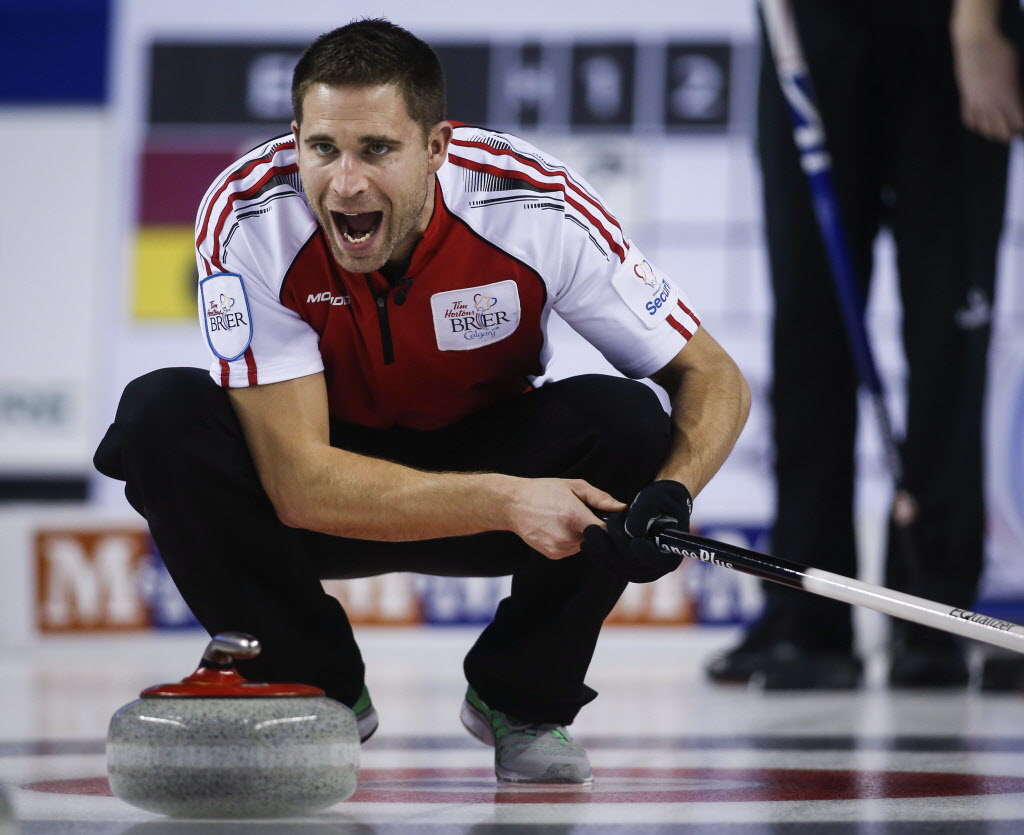 CALGARY — The first Team Canada at the national men's curling championship is a win away from keeping the Maple Leaf on their backs for an extended run.
John Morris' foursome will face Northern Ontario's Brad Jacobs in Sunday's championship game of the Tim Hortons Brier.
Canada beat Brad Gushue of Newfoundland and Labrador 8-6 in Saturday's semifinal.
It was the seventh win for Canada since Morris demoted himself to third and handed skipping duties off to Pat Simmons midway through the preliminary round.
"The keys weren't fitting into the keyholes early in the week and we switched it up," Morris said. "That's the lineup we needed.
"It just seemed like everything started coming more naturally. Pat's been a great leader out there."
Trailing 6-5 coming home with last-rock advantage, Simmons took out Newfoundland's shot stone frozen to the corner of one of their own counters.
With two biters on the back of the rings, it was a three-pointer for the win in front of 10,448 at Scotiabank Saddledome.
"It's one of those you just try not to overthrow and you don't want to be too wide there," Simmons said. "It's a pretty straight spot. It worked out good."
It was a hard day's work for the Glencoe Club foursome from Calgary. They edged Saskatchewan's Steve Laycock 8-7 in an extra end in the earlier Page playoff game between the third and fourth seeds.
Jacobs topped the preliminary round with a 10-1 record. His Sault Ste. Marie team won a Canadian title two years ago and Olympic gold last year.
After opening 2-3, Canada went 5-1 in the round robin after making the switch to earn the fourth and final playoff berth with a 7-4 record.
Curling Canada added a defending champion to the Brier field for the first time this year.
So in addition to representing Canada at the world men's curling championship in Halifax later this month, Sunday's winner earns an automatic entry into next year's Brier in Ottawa.
Simmons, second Carter Rycroft and lead Nolan Thiessen won last year's Tim Hortons Brier in Kamloops, B.C., with Kevin Koe at skip.
Koe left to form a new team that represented Alberta this week, but they finished out of the playoffs. His former teammates recruited Morris last April to skip them in Calgary.
Gushue's St. John's team went 9-2 in the preliminary round. They lost the Page playoff between the top two seeds 7-5 to Jacobs and dropped to the semifinal.
Gushue has reached the playoffs eight of the dozen times he's skipped Newfoundland, but continues to be the Olympic gold medallist who has yet to win a Canadian title.
He was devastated after Saturday's loss. The skip had chances to score three with his final stone in the sixth and ninth ends and settled for deuces in both.
The 34-year-old broke down after the game and left a media scrum for a few moments to collect himself, but returned to speak to reporters.
"I'm surprised, shocked, disappointed, upset that we're not playing tomorrow," Gushue said. "I felt like the last 11 years, there's been a monkey on my back when I look at how we got eliminated in the playoffs over the years.
"I felt this was our year. I really did. The guys played well enough. I missed some shots last night and tonight that I normally make and that's kind of disappointing."
Gushue will face Saskatchewan on Sunday for the bronze medal, which he called "dumbest game in curling."
The loser of the semifinal in the Page playoff once received the bronze medal at the Brier without having to play for it, but a bronze-medal game was introduced in 2011.
"We'll come out and play hard — maybe hungover — but hard," Gushue said.
A final that doesn't involve Manitoba, Alberta or Ontario is rare. Sunday's game marks just the fourth time in that last 35 years that at least one of those team isn't playing in the championship game.
This year's victor also earns a combined $75,000 in prize money and sponsorship money for wearing crests. They're eligible for up to $144,000 over a two-year period from Sport Canada as well.
Second place is worth $55,000, the bronze $45,000 and fourth $35,000.
Among the other bonuses, the Brier champ gains automatic entry into this year's Home Hardware Canada Cup of Curling and next year's World Financial Group Continental Cup of Curling in Las Vegas. This year's winner also qualifies for the 2017 pre-trials for the next Winter Olympics.
© Copyright (c) Postmedia Network Inc.
Source:: http://www.canada.com/sports/Team+Canada+Morris+wins+Brier+semifinal+meets+Northern+Ontario+title/10871419/story.html