SXSW 2015: Studios and Indies Collide in Austin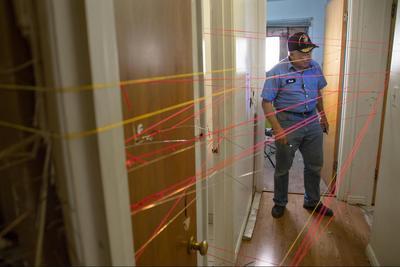 The 2015 South by Southwest Festival took some early lumps
for seemingly giving in to a studio takeover of the film portion of their
festival. It was a bit of a trumped-up charge aimed at some heavyweight sneak
previews courtesy of Judd Apatow and Paul Feig, whom nobody would have accused
of mainstreaming when they debuted "Freaks and Geeks" back in 1999. Times have
certainly changed for them, and this year's programmers did not so much roll
with the big wigs as they did work to produce an exemplary lineup of studio and
independent fare—if you knew where to look. Therein lies the trick in a festival
with over a hundred films: your fest experience is only as good as the choices
you make.
In my festival preview, I praised Noah Pritzker's "Quitters" and Charles Hood's
"Night Owls," and I heard
those sentiments echoed on the ground in terms of films getting festival buzz.
Adam Pally and Rosa Salazar were singled out for their terrific chemistry in
Hood's verbal, almost theatrical, back-and-forth. Though my favorite
documentary of the fest was Mark Craig's "The
Last Man on the Moon," which tells the story of astronaut Gene Cernan,
SXSW preferred my second favorite: "Peace
Officer" by Brad Barber and Scott Christopherson won both the Audience
Award and the Grand Jury Award in Documentary Competition. As the debate grows
over departmental accountability of the police force, their film evenhandedly looks
at two uneasy truths: 1.) Cops are being forced to arm themselves to combat
increased aggression; 2.) Dated tactics and laws may unnecessarily put them on
the razor's edge with itchy trigger fingers. If Gene Cernan was a symbol of a
time in history where our dreams of reaching for the stars faded, then former
lawman Dub Lawrence is one for today—a model for truth and not hysteria in the
wake of smoky gunfire.
Four more documentaries focused on nostalgia that ran the
gamut from the sweet to the sour. Jeffrey Schwartz, whose last film was "I
Am Divine", takes on the story of another of John Waters' stable of
contributors in "Tab Hunter
Confidential." Tab's tale is the stuff of American dreams as well as
nightmares. The matinee idol who seemingly could do it all, rising from
B-pictures to "Damn Yankees!," as well as a singing career and his
own TV show, also held a secret that was waiting to be exposed by the gossip
rags of his era. Hunter had a much more prosperous career than most regardless
of their orientation, so his story feels more like a traditional rise-to-fall
narrative. Nevertheless, it is still an interesting Hollywood story for the
rich history that preceded his days in mere cult films.
Though the film opens with the declaration of NFL-wannabe
Michael Sam, Malcolm Ingram's documentary "Out
to Win" reminds people that gay athletes, both open and closeted, go
back decades, and not just in the U.S. To its credit, the film does not
sidestep the issue of whether or not Sam (the Defensive Player of the Year) is
truly worthy of an NFL roster or if would have just been another name in a
draft pile without the publicity he created by his admission, particularly
after his biggest misstep in nearly being part of an Oprah-sponsored reality
show that went completely against his assertion that he wanted to be thought of
as a football player first. Success breeds acceptance as luminaries such as
Billie Jean King and Martina Navratilova could tell you, even after
experiencing their own controversies. Bookending the film with Queen's
satirical anthem to sports fandom "We Will Rock You"/"We Are the
Champions" feels a bit ironic for a film that is more about celebration
than criticism, but fits when you consider Michael Sam's words: "Great
things can happen when you have the courage to be yourself."
While hardly closeted, Gore Vidal was considered one of the
great liberal intellectuals of the 1960s. Which makes it all the more
disturbing how over the course of his televised debates featured in Robert
Gordon & Morgan Neville's "Best
of Enemies" with conservative William F. Buckley Jr. he would be
not-so-subtly reminded of what a heathen he is underneath the rhetoric. (Count
how many times Buckley prefaces a comment by mentioning Vidal wrote "Myra
Breckinridge.") The film only uses the bastardization of
point/counterpoint as a footnote to this story, but it is a sad reminder of how
such mores, politically and socially, have really not changed that much.
One of the most anticipated films from my initial preview
lived up to expectations, but not in the manner I actually expected. Jeremy
Coon & Tim Skousen's "Raiders!"
documents the period from 1982-89 when three young boys inspired by Steven
Spielberg's masterpiece set out to remake "Raiders of the Lost Ark"
shot-for-shot. This section of the film is not unlike behind-the-scenes stories
we have seen before from the wonder of the project's inceptions to the
production problems that force the executives to get involved. Or, in this
case, their parents. But as the film moves on we discover that the boy's
growing pains were not unlike those of a great band torn apart by ego and
jealousy. The final 20 minutes are equal parts shocking and triumphant (you
will want to stay through the end credits).
Sunday night at SXSW certainly stoked the flames of the dissenters
who were disappointed in the fest's seemingly wrong-headed direction from the
days when films like "Knocked Up" and "Bridesmaids" were
shown as "work-in-progress" sneak previews months ahead of their
theatrical release. So it began with Apatow's latest film, "Trainwreck", which is actually his best work since his
2007 smash with Seth Rogen and the actress who laid the groundwork for claims
of his films being a misogynist boy's club. Whether or not you believe in those
petty and somewhat ill-founded claims, giving stand-up comedian Amy Schumer both
writing and starring duty could seem like either a reaction from Apatow or just
having another inspired eye for comic talent. Schumer stars as a woman
instilled with the horrors of monogamy from her divorced father only to find
herself breaking her own rules when the right guy comes along in the form of
Bill Hader's sports surgeon (allowing for a great LeBron James cameo). Schumer
is the true star here, and, coupled with winning chemistry with Hader and
Apatow's knowing touch to blend almost non-stop comedy with actual human feeling,
she is going to find new fans everywhere when the film opens on July 17.
Paul Feig's "Spy"
which followed his "Freaks & Geeks" compatriot, is more of a
goofy lark than a truly memorable comedy, but it is certainly funny enough
thanks to a cast who seem to be practically making up scenes as they go along.
Melissa McCarthy runs the gamut of her career arc from a sweet wallflower of a
CIA analyst (shades of her work on TV's "Gilmore Girls") to
foul-mouthed, ready-for-action agent. Paired with a great cast, including her
"Bridesmaids" co-star Rose Byrne, Bobby Cannavale, Allison Janney and
Jude Law, the film actually could have used even more Jason Statham in what may
be his best work to date, knowingly sending up and dismantling the image of the
007 persona as well as his own career.
Speaking of which, Sunday's "night of independent
cinema" (that some of us dubbed it) was capped off with the worst-kept
secret of the day when Universal doubled down on their festival gifts by
putting together a midnight screening of their forthcoming blockbuster, "Furious 7." The franchise
that has pretty much worn film critics down over the years with their
popularity and increased lunacy finally gets the director it needed all along
in James Wan. He knows how to craft and edit an action sequence (even one that
defies all logic and rules of physics) in such a way that all you can do is
throw your hands up and submit to its energy and nuttiness. The film also
nicely handles Paul Walker's passing during production and gives his fans and
his family an exit they will applaud.
The horror genre is getting a lot of great press in theaters
right now with the arrival of last year's Toronto fest discoveries, "It
Follows" and "Spring," but the Midnight selections at Sundance
and even this year's SXSW have been mostly uninspired. But there still were
some standouts. The Audience Award for this year's Midnighters lineup was "Turbo Kid", a kind of Cannon
Films-like post-apocalyptic actioner from filmmakers François
Simard, Anouk Whissell, Yoann-Karl Whissell. Despite its goofy amount of
extreme bloodshed, it manages to maintain real heart and appeal to fans of this
cultish period of cinema. Karyn Kusama's "The
Invitation" is more of a slow burn drama that wants to hide its
secrets under the veil of a growing paranoia at a dinner party that may be a
front for a cult. Or is it just another self-help group hoping to create an
intervention for the estranged couple that suffered a personal tragedy? Putting
a film like this in the Midnighters section may be its own spoiler alert, but
the film does a nice enough job in building tension and mystery that even
without its dynamite climax and chilling final shot, it would have worked as a
drama about grief and forgiveness.
That is a word not in the cards for the bullied girl at the
center of "Unfriended",
which utilizes the newest variation of the found footage milieu (telling a
story entirely through online communication) to tell a sinister story of
revenge. Better than practically all of the cheaply-made "just put down
the camera" horror tales, Levan Gabriadze's tightly constructed creeper
maintains a relentless pace through 70-some minutes that most films of its type
save until their final five. For something a little less tense, Todd
Strauss-Schulson's "The Final
Girls" takes a "Pleasantville"-like approach to putting a
group of friends inside the loop of an '80s slasher film. The strong cast
includes Alia Shawkat ("Arrested Development"), Nina Dobrev
("The Vampire Diaries"), Thomas Middleditch ("Silicon
Valley"), Adam Devine ("Workaholics") and Taissa Farmiga as the
odds-on favorite to be the eponymous "final girl" (i.e. the virginal
heroine who dispatches the bad guy). As a whole, the film has a tendency to
sometimes be too clever (and other times just short of clever), but Devine is
really funny as the horned-up jock character, the mother-daughter relationship
works, and any spoof that manages to work in one of the funniest and one of the
most heartfelt stripteases ever captured in a non-exploitive manner earns many
points in my book.
SXSW's big winner though was Trey Edward Shults' family
drama, "Krisha." Like
"Peace Officer," the film won both the Grand Jury Prize as well as
the Audience Award and those are well-deserved honors. Taking place over a
Thanksgiving gathering, the titular Krisha returns to join her family after
what seems to be a period of estrangement. While she is welcomed in, there is underlying
tension from her relatives, some who ignore; others who confront the past head
on. Her son (played by Shults) does not seem to know how to act, but clearly
harbors some deep resentment. What unfolds turns Shults' film into identifiable
family horror, and the results are unnerving and soaked in sadness. The
extension of his own short film (which premiered at last year's SXSW) is a
beautifully-shot ensemble piece that exemplifies the kind of balance between
storytelling and experimentation that independent cinema could use more
of. South by Southwest for years has
been a festival that has celebrated the balance between small and large budgets,
and the films that find their way out of Austin each year make it out for a
reason.
Source:: http://www.rogerebert.com/festivals-and-awards/sxsw-2015-studios-and-indies-collide-in-austin