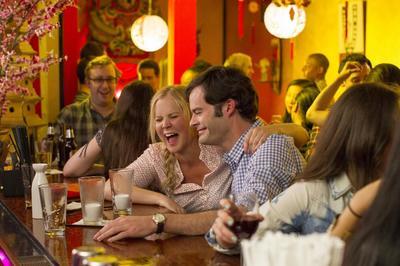 For those of us who see the calendar year not in seasons but
in film festivals, the annual South by Southwest event is the unofficial start
of Spring. Especially if one is traveling to Austin from Chicago where the
groundhog's shadow looms a little longer. Sunny skies and a lack of jackets are
often found during the eight-day event, which once felt like the opening act to
the notable music festival that will begin mid-week but has become just as much
part of the Texas film scene. From the glorious old school palace that is the
Paramount Theatre to the famed Alamo Drafthouse, this is just a sample of what
is on my schedule, and what I hope attendees will find room for on theirs.
It may sound unfashionable to kick off a festival list with
a major studio offering, but Judd Apatow, as director and producer, has had
some major successes such as "Knocked Up" and "Bridesmaids"
with early previews at SXSW. Whatever one may think of Judd Apatow's last two
offerings ("Funny People" and "This is 40"), the prospect of
giving Amy Schumer her own vehicle is just too exciting to ignore, even at a film festival. "Trainwreck" which Schumer also wrote, stars the comedian
as a woman still bucking the fashionable trend of monogamy that her father once
debased as old-fashioned when she was a child. As anyone who has seen her
stand-up work (her special "Mostly Sex Stuff" is a must-catch) and
her show, "Inside Amy Schumer" on Comedy Central, she is one of the
best comic voices working today, which makes even a Q&A after the movie a
must-attend. But with support from greats like Bill Hader, Tilda Swinton and Brie
Larson rounding out the cast, I'll be there front and center for the whole
package.
For years, film lovers have heard the story of Chris Strompolos,
Eric Zala, and Jayson Lamb who took it upon themselves to do a shot-for-shot
remake of Steven Spielberg's Raiders of the Lost Ark." Started in 1982
their version received its hometown premiere in 1989 with all but a single
scene recreated. Jeremy Coon & Tim Skousen's "Raiders!" is a documentary about that journey and the
reunion that brought the friends back together to fulfill the completion of
that missing scene. Having never seen anything but press releases about this
story over the years and having an affinity for the progress of amateur
filmmakers both real ("American Movie") and fictional ("Son of
Rambow"), this doc calls out to the Spielberg in all of us.
J. Davis' "Manson
Family Vacation" is a modern day comic thriller about a pair of brothers
whose dedication lies with altogether different families. Jay Duplass
(co-creator of HBO's "Togetherness" with brother Mark) takes a
leading role here in front of the camera and it will be interesting to see just
how far Davis is willing to go with the premise. Hopefully at least as far as Antoine
Bardou-Jacquet's "Moonwalkers",
which takes the conspiracy theory put forth in Rodney Ascher's fascinating
documentary about "The Shining" to its unnatural conclusion. What if
someone (other than Stanley Kubrick) was actually hired to fake the Apollo 11
moon landing? He may look like Rupert Grint from Harry Potter, but the CIA
agent in charge is played by Ron Perlman. As the lead in what is described as a
"riotous, high-tempo action-comedy?" Count me down.
That should be especially fun for those who can suspend
their disbelief long enough after seeing Mark Craig's wonderful "The Last Man on the Moon."
It tells the true-life tale of astronaut Gene Cernan and the path he took
through NASA's space program to earn the title of this very personal
documentary. Space junkies like myself should lap up the opportunity to see
some of the rare archival footage on display here and to see yet another point
of view of this remarkable period in American history.
For those of us that enjoy a little fiction mixed in with their
science lessons, there are a pair of intriguing titles just waiting to stir the
imagination. Alex Garland, who penned Danny Boyle's "28 Days Later"
and "Sunshine", makes his directorial debut with "Ex Machina." The plotline about a young man subject to a
test in exploring the boundaries between man and machine (with a feminine
mystique) may owe a bit to Spike Jonze's masterpiece "Her", but
better to shoot for the moon than to end up like the disastrous retread
"Chappie". Garland's film will hopefully be a welcome relief back to
sci-fi ingenuity. As could be Benjamin Dickinson's "Creative Control", which (filmed in black-and-white)
imagines how technological advances can be used to the advantage of those
coveting their neighbor's wife. Or, at least, their best friend's girlfriend as
an avatar. Dickinson, who also stars as the guy who wants Jessie's Girl, may be
sending viewers over for a side trip to the interactive portion of SXSW.
The modern state of technology and interaction suffered a
black eye with what came to be known as the Gamergate scandal as female video
game designers were verbally harassed and threatened on social media. Shannon
Sun-Higginson's documentary, "GTFO:
Get the F% Out", explores the misogyny of the gaming industry. As
someone who tries not to engage in lengthy debates at 140 characters at a time, I am hoping this film will clarify precisely what occurred and how it continues
to occur in a generation that is supposed to letting this type of behavior die
out. Will be fascinating to see if this can tie into the experience of watching
Scott Christopherson & Brad Barber's "Peace
Officer", which is the most level-headed treatment I have seen so far
in the growing debate over police use of deadly force. On one hand, it does shed light on extreme examples and their unnecessary consequences with the
aid of thorough investigation, but also empathizes with cops thrust into
dangerous situations that may not have required the need for nervous
trigger-fingers.
There are two more films I hope audiences will discover down
in Austin this week. "Night Owls" stars Adam Pally (of TV's late, great
"Happy Endings") as a guy who finds himself in a predicament when the one-night
stand he takes home tries to kill herself. In his boss' house. It sounds like a
disastrous recipe for a comedy (and comparisons to "The Apartment" are
inevitable) but the chemistry between Pally and Rosa Salazar (in a real
breakthrough performance) is palatable and never boring. Add in a very short,
but scene-stealing role for the amazing Tony Hale and Charles Hood's film could
be a standout among audiences at the fest looking for humor and a sparring
relationship in which they can believe.
For some more internal sparring, ticket and badge holders
alike should seek out Noah Pritzker's debut, "Quitters." It stars Ben Konigsberg as Clark, a teenager
whose family is going through a transition when his over-medicated mom (Mira
Sorvino) suffers a breakdown. Finding no need for his flawed, but well-meaning
dad (an excellent Greg Germann) nor the crush that doesn't return his affection
("Moonrise Kingdom"'s Kara Hayward) he seeks out his ideal version of
a home life. Rest assured this is not a more angst-ridden version of
"North." There is real pathos here in the middle of some very cutting
humor between characters who are either personally stung by Clark's urgency to
move on or envious of his pragmatism to know when something is not working.
Clark is not always an easy guy to like but neither was Max Fischer.
This is just the beginning of a schedule that will include films at midnight almost every night, which good or bad, go down a
little easier on the eyes with a full meal at the Alamo Drafthouse. A chance to
see "The Road Warrior" on
the big screen with George Miller in attendance will more than make up for
missing the 30th Anniversary reunion of Molly Ringwald and Ally Sheedy for a
showing of "The Breakfast
Club." Thanks to some astute scheduling and multiple showings, one can
spend all week missing films or making the wrong choice only to go one street
over to find the right one. When I return, I'll be sure to tell you all about
those best choices.
Source:: http://www.rogerebert.com/festivals-and-awards/sxsw-2015-preview