Suspect with loaded .357-magnum rammed police cruisers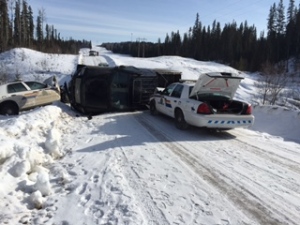 It started as a report about an impaired driver.
It ended with a Grande Prairie man facing 36 charges after police caught a suspect in a stolen pickup truck with a loaded .357-magnum handgun, a high-powered rifle, a flare gun altered to shoot shotgun shells, 33 grams of methamphetamine and several stolen chainsaws.
Whitecourt RCMP officers were dispatched last Thursday to a complaint about a possible impaired driver whose truck was parked in the middle of Old Blue Ridge Highway, between Whitecourt and the hamlet of Blue Ridge.
It was 6:20 a.m.
Officers located the truck and soon found themselves in an altercation with the 29-year-old driver, who escaped and sped off.
The stolen truck flipped over after it rammed two police cruisers parked to block the road.
Five kilometres from that scene, officers re-located the truck and set up a perimeter before calling in a helicopter and police dogs.
The driver again sped off, narrowly missing officers on foot and in cruisers. The truck smashed into one unoccupied police truck then rammed two unoccupied police cruisers parked to block the road. The suspect's truck rolled and the driver slipped out and ran for the trees, where he was chased down by a police dog and arrested.
Police say the pickup truck and the snowmobile in the back were both stolen.
"Our officer's assessment of the situation, coupled with a swift and measured response, protected them from a potentially fatal situation," chief superintendent Brenda Lucki said in a news release.  "It became clear very quickly that this individual was not going to surrender easily."
The man arrested now faces 36 Criminal Code charges, including: assaulting a police officer, evading police, resisting arrest, possession of stolen property, illegal possession of firearms and ammunition, mischief, breach of recognizance (and probation), and driving while disqualified.
Source:: http://www.cbc.ca/news/canada/edmonton/grande-prairie-man-charged-after-ramming-rcmp-cruisers-1.2978977?cmp=rss