Stamkos scores two goals, Lightning beat Canadiens 4-2 in Atlantic Division showdown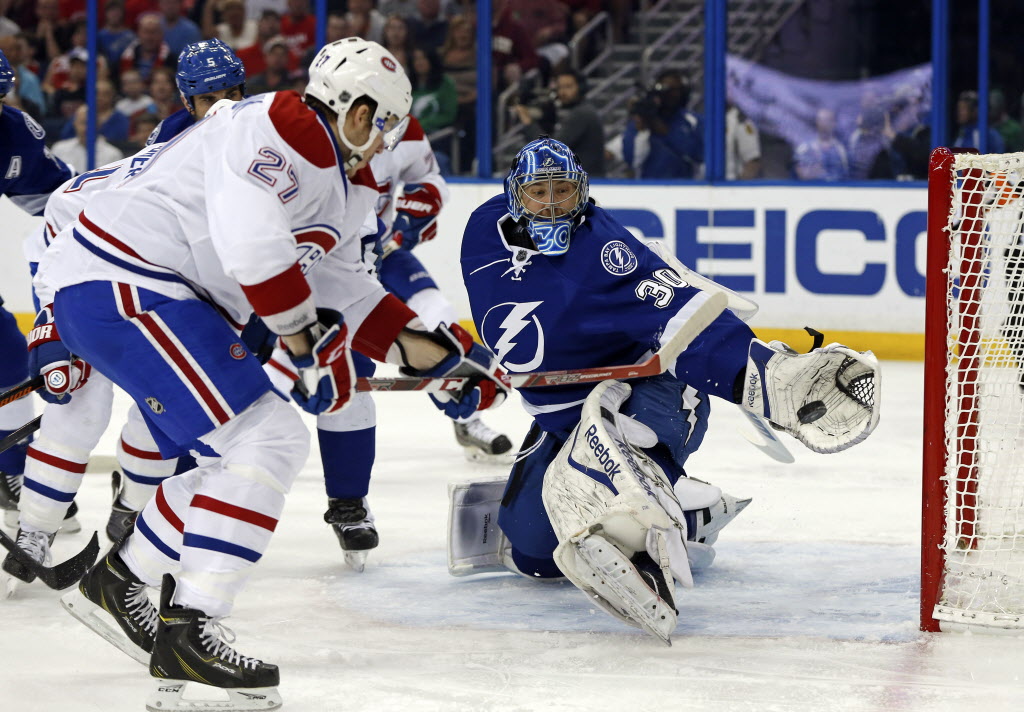 TAMPA, Fla. — Steven Stamkos had two goals and added an assist and the Tampa Bay Lightning beat the Montreal Canadiens 4-2 Monday night in a matchup of the Atlantic Division's top teams.
Both have 93 points, but Montreal has played one fewer game.
Valtteri Filppula and Victor Hedman also scored for the Lightning, who have outscored Montreal 16-5 in winning all four games between the teams this season.
Montreal, which lost for the sixth time in eight games (2-4-2), got goals from Tomas Plekanec and Pierre-Alexandre Parenteau.
Stamkos secured the win with his 39th goal, an empty-net power-play goal with 1:05 to play.
Filppula opened the scoring during a power play at 10:07 of the first when his right circle shot was redirected by a sliding Montreal defenceman Andrei Markov past Carey Price.
Max Pacioretty made an ill-advised pass from neutral ice back into the Canadiens zone that Stamkos stole and made it 2-0 from the right circle with 4:02 left in the first.
Hedman put the Lightning up 3-0 after skating alone down the slot 2:45 into the second.
Plekanec tied Larry Robinson for 23rd place on the Montreal goals list with 197 after a power-play tally at 11:10 of the second.
Parenteau cut the Montreal deficit to 3-2 just 34 seconds into the third from the low slot after Plekanec stole goalie Ben Bishop's pass behind the net.
The Canadiens had P.K Subban's drive hit the post and Pacioretty's breakaway shot stopped by Bishop during a six-minute stretch after Parenteau's goal.
Montreal centre Brian Flynn left with an upper body injury and didn't return after getting high-sticked by Brenden Morrow at 2:21 of the first.
NOTES: Chicago senior adviser Scotty Bowman, who coached the Canadiens to five Stanley Cups in the 1970s, was at the game. Montreal has won two NHL titles since Bowman left. … Montreal D Alexei Emelin (shoulder) returned after missing 12 games … Tampa Bay LW Ondrej Palat (lower body), D Braydon Coburn (lower body) and C Cedric Paquette (upper body) are out of the lineup. … Canadiens C Torrey Mitchell (upper body) and D Nathan Beaulieu (flu) didn't play.
© Copyright (c) Postmedia Network Inc.
Source:: http://www.canada.com/sports/Stamkos+scores+goals+Lightning+beat+Canadiens+Atlantic+Division/10894969/story.html