So long, 'City of Champions?' Councillors considers new welcome signs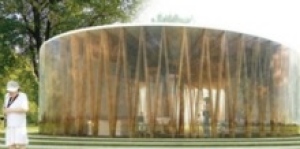 People arriving in Edmonton could be greeted by new welcome signs within the next year or two, according to Coun. Michael Oshry.
He said the seven "City of Champions" signs stationed around the city are tired and outdated, and should be replaced as quickly as possible.
"You just need something that's modern and interesting and sort of shows the city on the trajectory we're on now, which is a sort of an exciting, growing place to live," he said.
Councillors are considering allowing citizens to design the signs with an open competition.
Borden Park (Images supplied by City of Edmonton)
The city held a similar design competition for the Borden Park Pavilion, where they received 139 submissions.
Depending on whether the city approaches architects or allows anyone to submit a design, the cost of finding a design could be anywhere between $5,000 and $90,000 dollars.
The cost of the signs themselves is yet to be determined, but Oshry said the city should set a budget before it proceeds any further. 
City staff said the new signs should be funded through community fund raising, similar to the "Light the Bridge" campaign which raised  $2.5 million to purchase and install 50,000 LED lights on the High Level Bridge.
Another option is to allow advertising on the signs.
But before the city starts soliciting designs for roadside billboards or works of art, Oshry said it needs to determine its brand.
"They don't have to be extravagant, they don't have to be expensive and they don't have to be over the top artsy. I don't look at this as art, I look at this as signage and branding," he said.
The signs are structurally sound, and do not need to be replaced, according to city staff.
Councillors will debate options for the new signs on Monday.
What do you think the new signs should look like? Send us your drawings, photoshops, gifs, or whatever else you can think of to WebEdmonton@CBC.ca. 
Source:: http://www.cbc.ca/news/canada/edmonton/edmonton-s-city-of-champions-signs-could-be-replaced-1.2984006?cmp=rss