Simmons improves to 6-0 at world championship with win over Japan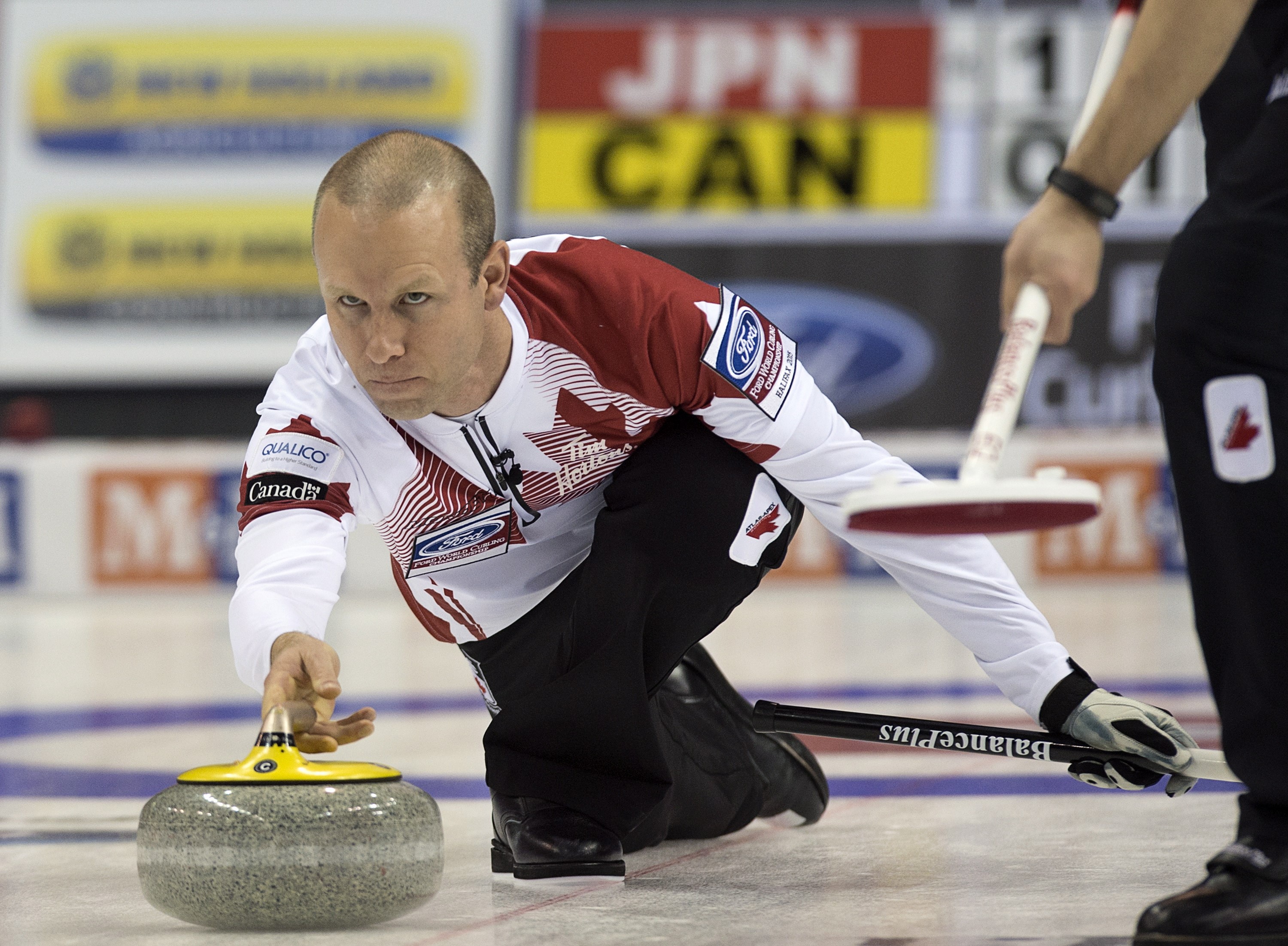 HALIFAX — Canada's Pat Simmons kept his perfect record intact at the Ford world men's curling championship Tuesday with a 7-4 win over Japan's Yusuke Morozumi at Scotiabank Centre.
Simmons scored a deuce in the seventh and stole another point in the eighth end. The ninth was blanked and Canada ran Japan out of rocks in the 10th.
Canada improved to 6-0 after 10 draws of round-robin play.
"We had some heat on them when we did have hammer," Simmons said. "We didn't get in too much trouble, we managed to stay away from that. It was a good battle."
Defending champion Thomas Ulsrud of Norway held off Finland's Aku Kauste 8-7 to move into a second-place tie with Switzerland at 5-1. Ulsrud will meet Simmons on Tuesday night in a battle of medal favourites.
In other afternoon games, Scotland's Ewan MacDonald defeated American John Shuster 6-4 and China's Jialiang Zang topped Jiri Snitil of the Czech Republic 8-7.
Japan was alone in fourth place at 4-3. Sweden's Niklas Edin was 3-3 while the Czech Republic and Finland were 3-4.
Simmons kept the pressure on Morozumi early in the game after the teams exchanged singles over the first two ends. Canada was sitting four in the third and forced Morozumi to hit a nice draw for a piece of the button and the single.
A Simmons draw for three gave Canada a 4-2 edge after four ends. Morozumi was light with his final throw in the eighth and it proved costly as Canada stole a single for a lead that wasn't threatened.
Canada shot 85 per cent as a team while Japan came in at 71 per cent. Japanese second Tetsuro Shimizu struggled at just 57 per cent, easily the lowest individual percentage of the 32 curlers on the ice in the afternoon.
Canada and Norway were expected to be contenders this week and they have delivered so far. Sweden and Scotland were also pegged as early favourites but have been mediocre.
Switzerland and Japan have taken advantage and could be in the playoff mix. The top four teams at the conclusion of round-robin play Thursday night will advance to the Page playoffs.
Swiss skip Marc Pfister defeated Kauste 8-7 in the morning draw.
"We're 5-and-1, that's amazing for such a young team in our first time at the world championships," Pfister said. "I think it's a great performance from our whole team."
Japan dumped Italy 8-1 in the early draw while Scotland recorded its first victory with an 8-6 victory over Russia's Evgeny Arkhipov.
"It's nice to get a win on the board," MacDonald said. "We were a bit sharper there and managed to make a nice run of ends around the middle and that got us some momentum."
China, the U.S., and Italy's Joel Retornaz were 2-4. Scotland was 2-5 and Russia was last in the 12-team field at 1-5.
Attendance was 1,889 for the afternoon draw and 1,117 in the morning. The venue holds 10,500 for curling.
The playoffs begin Friday and the medal games are scheduled for Sunday.
Canada finished fourth last year in Beijing and hasn't won gold since Glenn Howard took the 2012 title in Basel, Switzerland.
Source:: http://www.canada.com/sports/Simmons+improves+world+championship+with+over+Japan/10935399/story.html