Scott Stinson: Steve Nash's understated retirement announcement marks the end of his remarkable career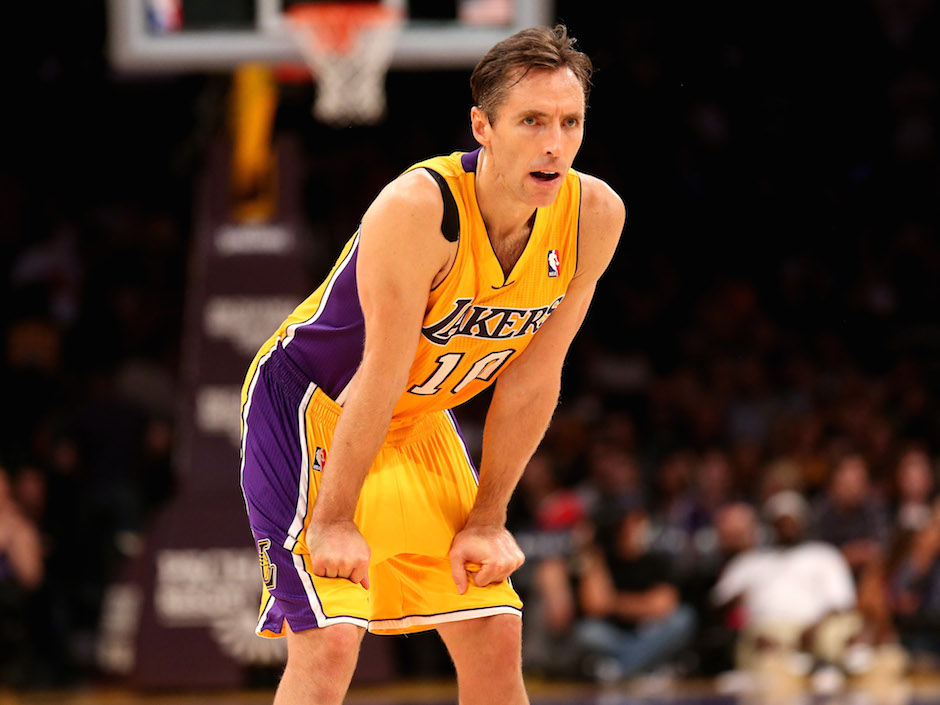 It will take some time to fully appreciate the greatness of Steve Nash.
The career of the best basketball player Canada has ever produced — and there is more distance between him and whoever is second on the list than the distance between second and 20th — ended, officially, on Saturday when Nash, 41, posted a retirement letter online.
"I am so thankful," he wrote in an essay on the Players Tribune. "I've learned so many invaluable lessons about myself and about life. And of course I still have so much to learn."
The final act of his playing career was such an unqualified disaster that it's easy, today, to overlook the years that preceded it. But give it time, and basketball will purge its collective memory of Nash in L.A. Laker purple and gold, where he signed in 2012 to be the last piece of the latest super team, and was instead a limping emblem of all that went wrong with that experiment. He played only 65 games over two seasons in Los Angles, and intended for this to be his 19th and final season in the National Basketball Association, but a pre-season injury — he aggravated his chronic back woes lifting a suitcase — put him out for the season and, it turns out, for good.
The struggles of the sunset phase of his career, though, should soon become little more than the awkward postscript — think Gretzky in St. Louis — to the brilliance of the 16 seasons that preceded it. There are the obvious accomplishments — two-time MVP, eight-time all-star, third all-time in assists — but more than that the legacy of Steve Nash is the NBA game that is being played today. It is a game in which up-tempo, creative offence is prized, which was the very style of play that Nash pioneered in the modern era.
Type "Steve Nash changed the game" into your search engine of choice and see how many players and coaches have said it. (Set aside some time.)
The good teams in today's NBA put an emphasis on efficiency, and in his prime Nash was an unbelievably efficient offensive player. A true pass-first point guard, he was an excellent three-point shooter, almost automatic from the foul line, and could routinely spend three quarters getting his teammates open shots before taking the game over in the fourth. And while Canada tends to overdo it with the image of our athletes as heroic warriors, there's no denying that Nash was a particularly tough nut. A nerve condition in his back left him always needing to take extra caution with his body, so even at the height of his career one of the lasting images of Nash is of him lying next to the bench when he came out of the game. It made for quite the dichotomy: he was either on the floor, slashing through the defence and dribbling with something like controlled abandon, or he was prone, resting up for the next burst.
Nash's retirement letter was predictably selfless. He thanked former coaches Don Nelson and Mike D'Antoni, and former teammates such as Dirk Nowitzki, Michael Finley and A'mare Stoudemire. Jay Triano, who coached Nash on the Canadian national team, and who Nash brought back to that job when he took over as general manager, was also mentioned.
"His love for the game and competitive nature was always infectious," Nash wrote. "I never had more fun playing for anyone. Representing Canada in the Olympics was the best experience of my career, and he got us there."
Though the timing of Nash's announcement was unexpected — mid-March is an odd time to make any sort of pro basketball announcement — the substance of it was not a surprise. He was in Toronto a month ago for a sponsor event and did not sound like someone who was plotting a return to the court. "It's tough," he said in an interview. "I still wanted to play, but my body wouldn't let me. It just … sucks."
He spoke instead of figuring out how he was going to spend the rest of his time — he has a lot of business and charitable interests, has made films for ESPN, and has the Canada Basketball job heading into a crucial Olympic year — while admitting that the injury problems had the unexpected benefit of giving him extended time with his children for the first time in his career. His twin daughters are 10, and his son, four. "It's exhausting," he said, then laughed a little. Exhausting in a good way, he clarified.
As Nash looked back on his career, he wrote that he had one regret: the lack of a title in Phoenix. His Suns teams won more than 50 games in a season five times, and more than 60 twice, but never made it farther than the Western Conference finals, which they did three times.
"It will always hurt that Phoenix Suns fans didn't get the championship they deserved during our run," Nash wrote. "Yes, we had some bad luck but I always look back at it and think, I could've made one more shot, or not forced a turnover, or made a better pass. But I don't regret anything. The arena was always sold out and rocking. It was the time of my life."
And so, Steve Nash, legend, puts an end to his career with an understated announcement that arrives like a sudden no-look pass. "I will likely never play basketball again," he wrote. For that, we are a little bit poorer. But enriched by the play that came before.
Source:: http://www.canada.com/sports/basketball/Scott+Stinson+Steve+Nash+understated+retirement+announcement/10909756/story.html