Schlemko scores shootout winner in Flames debut as Calgary beats Boston 4-3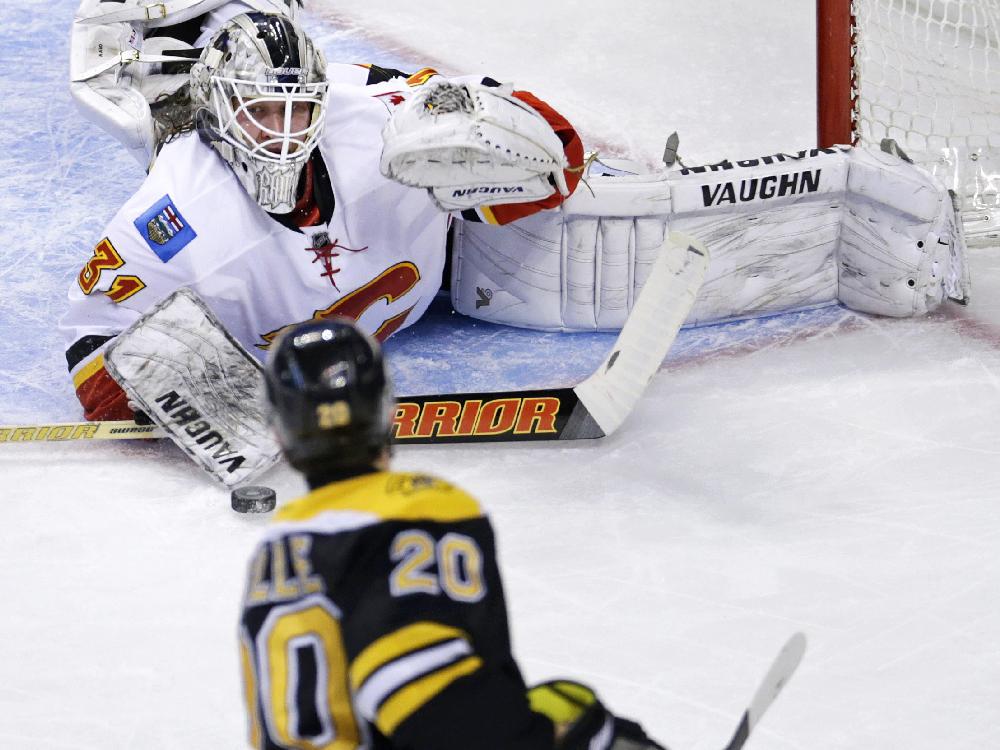 BOSTON — They had lost four straight games in this rink.
In the past three of those setbacks, they hadn't scored a goal — being outshot 16-0 in the process.
In other words, the Calgary Flames had nowhere to go but up at TD Garden.
Sure, they may have seen their goal-less drought here reach an incredible 209:25.
But, in a drastic change of fortune, the Flames prevailed in a shootout, shading the Boston Bruins 4-3 in National Hockey League action Thursday.
In the eighth round of the shootout, David Schlemko, with flair, provided the decisive conversion.
In the third period, with the scored tied 2-2, Johnny Gaudreau had drawn a tripping when Bruins defenceman Matt Bartkowski stuck his stick into his spokes.
On the power play, Gaudreau, set up by Dennis Wideman and Kris Russell, rifled a wrister past goalie Tuukka Rask at 4:59.
That lead, however, was relatively shortlived.
Because at 11:40, Loui Eriksson — camped out to goalie Karri Ramo's left — coerced a sharp-angle shot into the Calgary cage to square the count.
The Flames' seven-game road trip continues Friday in Detroit.
This one, though, was a nail-biter.
Deadlocked after one period — with Brad Marchand and Sean Monahan trading goals.
Deadlocked after two periods — with Milan Lucic and Jiri Hudler trading goals.
C-NOTES: Flames RW David Jones was hurt blocking a shot in the first period. With a lower-body injury, he did not return … Calgary scratches — D Corey Potter, C Matt Stajan, LW Michael Ferland, D Mark Giordano (biceps), D Ladislav Smid (upper body), C Paul Byron (lower body).
scruickshank@calgaryherald.com
Source:: http://www.canada.com/sports/Schlemko+scores+shootout+winner+Flames+debut+Calgary+beats+Boston/10865498/story.html