Scanlan: Sens Army holds on for dear life as roller-coaster ride nears its end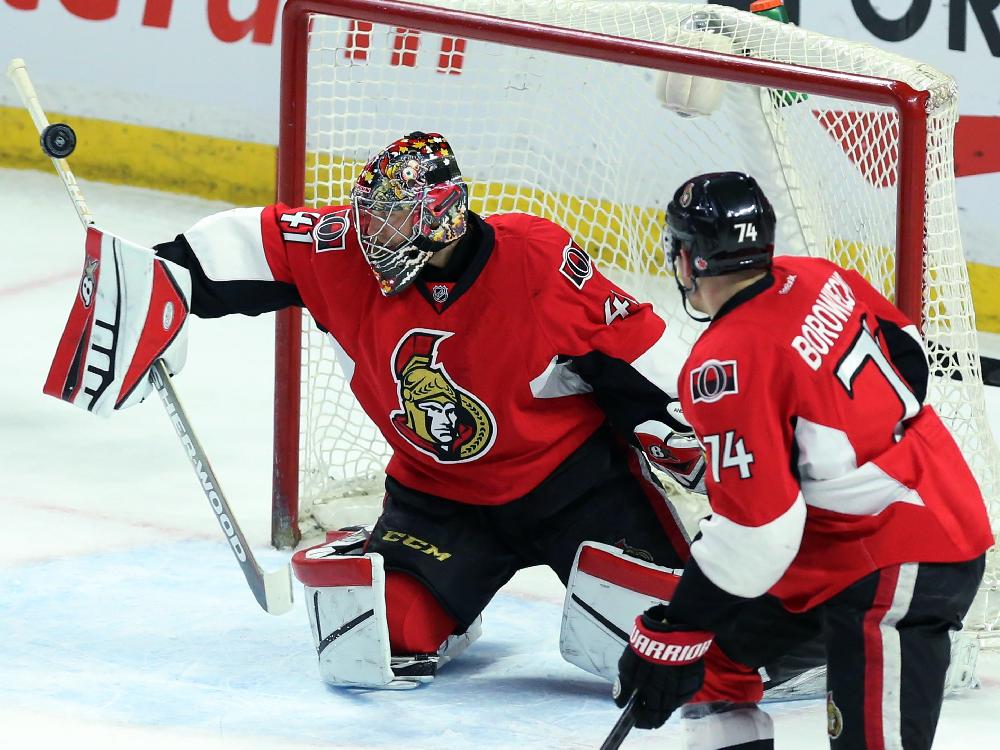 Many more weekends like this and Sens Army will be in therapy.
Always, there is a to and fro to the long hockey season. The pendulum swings between extremes — the feeling that a team stinks, the coach should be fired, or the team is great, rising to its proper prominence. And when it's all over, the peaks and valleys settle out to some realization that the team is a contender or it's not.
Even given all that, the ride of the 2014-15 Senators has been more tumultuous than nearly all that have gone before. This is a team that is hard to read, as to its true ability. The coach, Paul MacLean, was indeed fired, and a team long ago written off rebounded to surge all the way to a playoff spot, however briefly, late last week.
This put the ever-nervous Ottawa fan base on edge — dare they dream of a postseason run? — heading into a game on Saturday against the deplorable Toronto Maple Leafs. A simple win against the Leafs, losers of seven straight and 36 of 44, would lift the Senators back into eighth, able to control their destiny. Of course, as only the Leafs can when the Senators are involved, they spoiled the fun, roaring back from a couple of two-goal deficits to win in overtime.
The loss was a kick in the gut, not just because it was the Leafs but because the Senators had already been humbled the previous game by the New York Rangers. What happened to the expected bounce-back?
The fan base was suitably riled, expressing their outrage on Twitter. And when Senators head coach Dave Cameron dared scramble his lineup and lines for Sunday's critical match with the Florida Panthers, last week's genius was branded a dunce on social media. This, before the puck was dropped for the twi-night event.
Whether it was the lineup or the Leaf plague or the lack of Hamburglar karma (Andrew Hammond, injured earlier in the week, backed up Craig Anderson Sunday), the Senators have lost some of their mojo. That was never more evident than during their listless 4-2 loss to Florida, a game that didn't seem to snare the urgency of the home team until the third period, when the Senators pumped 11 shots at the Panthers' third-string goalie, Dan Ellis.
The captain himself, Erik Karlsson, used that very word, "mojo", in a post-game diatribe. "It's frustrating to see we can't get that mojo going that we had before," Karlsson said.
The captain was angry. The captain lashed out, suggesting his team had "failed to show up" in the past three games and looks like "we don't deserve" (crap)" based on the effort shown.
I don't mind this rare outburst from Karlsson, who hasn't uttered much headline material this season. For the most part, it's his play that has merited headlines — Sunday's power-play goal was Karlsson's 20th of the season, marking a second-half surge in his personal game that has put him back in the conversation for the Norris Trophy as top defenceman.
If Karlsson feels his team needs to be called out, that's his job. It's why he wears the C. But when we all get a day to step back from this, Karlsson included, we may agree that the Senators appear to have hit a wall, whether physically or mentally. They're not so much quitting as losing their spark.
As Cameron said in his post-game address, his team has played "a lot of Game 7s" lately.
That the ancient warrior Jaromir Jagr, that old Senators killer, would be the author of two of Florida's goals, including the game-winner, was just as poignant as the Leafs upset Saturday. The winning goal was a classic, a wraparound that used every inch of No. 68's extraordinary reach.
"The last time I did it was 1994," Jagr said. "It was probably because I went to church before the game. I surprised myself."
Senators faithful might do likewise, resort to prayer, what with the Boston Bruins now three points up on Ottawa. The Senators have seven games left to Boston's six. Cameron might even hear from Father Muldoon, the local pastor who once urged him to start Hammond in net.
 Anderson played well enough, but now has a 1-2-1 record in the only four starts he's made since Jan. 21, when he injured his hand. For whatever reason, maybe just the timing of a team streak running its course, Anderson has not been privy to the drive this group had when Hammond was playing.
This Lost Weekend was carried out by a Senators team that bears but a slight resemblance to the one that wreaked havoc on the Western Conference a few weeks ago, sweeping California and getting three of four points against Minnesota and Winnipeg.
That group was so full of life and energy, with the Hamburglar doing his thing, they could do no wrong.
Their task is to get it back, sometime between here and Detroit, Michigan, their next stop. It won't be easy, but a single win, somehow, would do wonders to calm turgid waters.
wscanlan@ottawacitizen.com
@hockeyscanner
Source:: http://www.canada.com/sports/hockey/Scanlan+Sens+Army+holds+dear+life+roller+coaster+ride+nears/10930242/story.html