Sarah Silverman Reveals Boyfriend Michael Sheen's Name for His Penis (and It's Not Master of Sex!)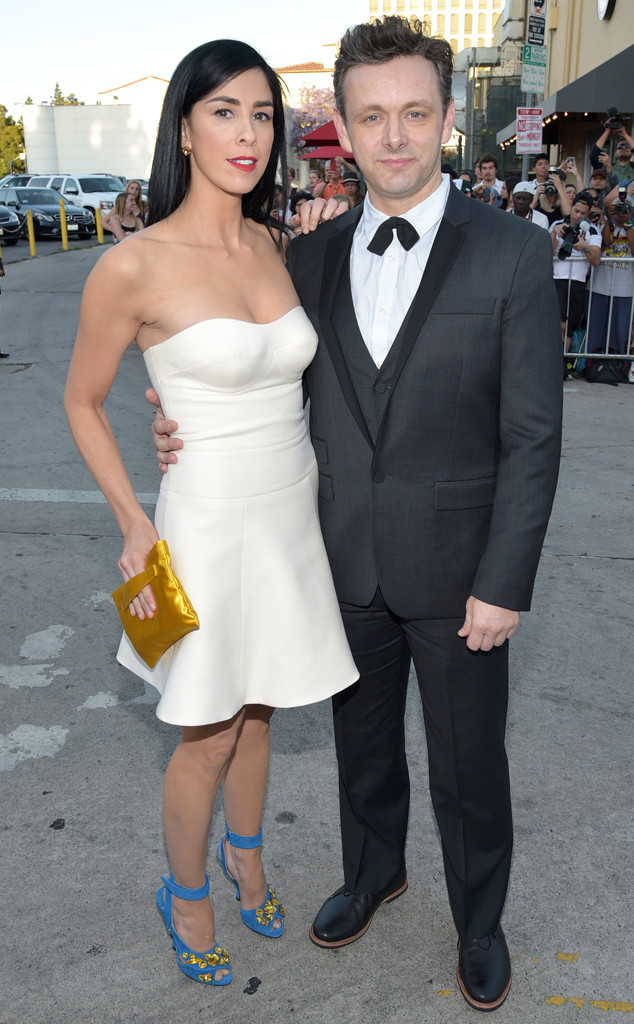 John Shearer/Invision/AP
Fun fact: Michael Sheen has a name for his penis!
And while it would be kind of amazing if he chose to give his male member a moniker after his Showtime series Masters of Sex (because duh, how perfect would that be?), it apparently has nothing to do with his show.
But we do know what Sheen calls his penis, and that's thanks to his girlfriend Sarah Silverman, who shared the news on Twitter.
"My boyfriend named his penis," the comedian wrote. "He named it 'The Great Christine Baranski.'"
(Yes, Christine Baranski, the Emmy-winning actress.)
RELATED: Neil Patrick Harris swears he didn't stuff his undies at the Oscars
Why did he name it after The Good Wife star? Perhaps Sheen is just inspired by the accomplished thesp? Maybe because Baranski is a big deal and, maybe, so is his you-know-what? Or maybe, especially considering the source of this information, Sheen didn't name his penis that at all and this is all a joke?
Probably, but it's still fun to wonder.
Prior to sharing that little tidbit about her man's package, Silverman gave Sheen props for his political speech in Wales. "BEYOND BRILLIANT speech by @michaelsheen in Wales. Watch him tell politicians, 'BY GOD, BELIEVE IN SOMETHING!'"
The actor also took to Twitter to talk about the response he got:
The messages I've had today prove the last thing that's a problem with people of this country is apathy. Passion and compassion everywhere.
— michael sheen (@michaelsheen) March 2, 2015
It's been stunning to experience such strength of feeling and heartbreaking to hear how much people feel let down by what is being offered.
— michael sheen (@michaelsheen) March 2, 2015
All I said is what people everywhere are saying, regardless of their politics. People can't choose if what they want isn't on the menu.
— michael sheen (@michaelsheen) March 2, 2015
Thankfully, I have also been seen this week trying to peel an onion with a potato peeler, just to keep things balanced.
— michael sheen (@michaelsheen) March 2, 2015
Sorry, he didn't mention anything about The Great Christine Baranski.
PHOTOS: What would you name these celeb bulges?
RELATED VIDEOS:
Source:: http://ca.eonline.com/news/631322/sarah-silverman-reveals-boyfriend-michael-sheen-s-name-for-his-penis-and-it-s-not-master-of-sex?cmpid=rss-000000-rssfeed-365-topstories&utm_source=eonline&utm_medium=rssfeeds&utm_campaign=rss_topstories