Sarah Palin "Couldn't Be Happier" for Bristol Palin's Engagement, Reveals How Rascal Flatts Helped With the Proposal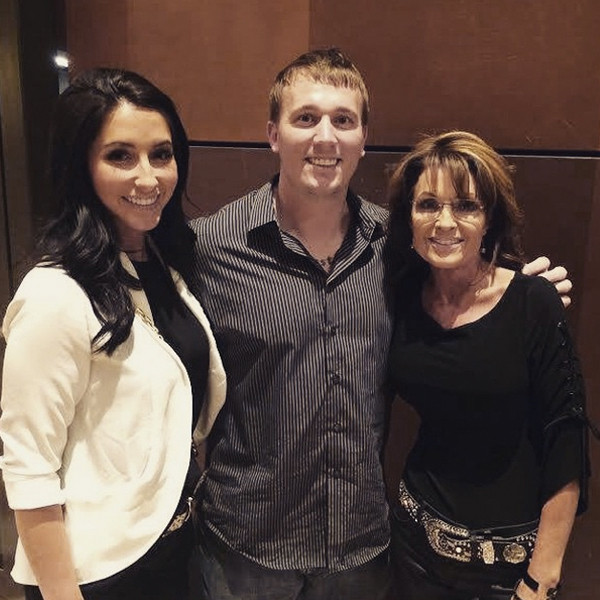 Instagram
Sarah Palin is a happy mama!
Just a few hours after news broke that Bristol Palin got engaged to Sgt. Dakota Meyer, the former governor of Alaska took to Facebook where she sounded off on the exciting news.
"Our families couldn't be happier for Bristol and Dakota. We're honored to welcome Dakota into our family," she wrote. "He's an American hero and patriot whose service to our country—like all his fellow Medal of Honor recipients—has been above and beyond the call of duty."
She continued, "Even more important is he's a good and kind man who loves Bristol and [her son] Tripp, and is loved by them."
The couple, who maintained a low-profile throughout their relationship, first met last year when Meyer was in Alaska filming an episode of Amazing America. 
CLICK: All the details on Bristol Palin's engagement 
Before any engagement announcement was held, Meyer made sure to ask both Bristol's dad and grandfather for permission before getting down on one knee.
Once they both said yes, Meyer turned to the popular country group Rascal Flatts for a little help. 
"Rascal Flatts dedicated a perfect song to them last night during their concert as Dakota proposed," Sarah explained. And yes, the song was in fact "Bless the Broken Road."
"God working behind the scenes to turn beauty from ashes," Sarah added. "Had tough circumstances in their lives not occurred, and had they reacted differently to those circumstances, they'd have never met. Dakota's story is told in the book Into the Fire."
PHOTOS: More fabulous celebrity engagement rings 
Instagram
While it's a little too early to start wedding planning, the newly engaged duo are ready to start their lives as husband and wife.
"I can't wait to spend the rest of my life with her and Tripp," Meyer wrote on Facebook while thanking strangers for their well wishes. "For the first time in a long time, I can honestly say the best is yet to come!"
Bristol added, "It's amazing to see what happens when you place everything in life in God's hands.  He really is good and His plans are so much greater than our own."
Congratulations to the happy pair!
PHOTOS: Celebrity weddings we can't wait for 
RELATED VIDEOS:
Source:: http://ca.eonline.com/news/635804/sarah-palin-couldn-t-be-happier-for-bristol-palin-s-engagement-reveals-how-rascal-flatts-helped-with-the-proposal?cmpid=rss-000000-rssfeed-365-topstories&utm_source=eonline&utm_medium=rssfeeds&utm_campaign=rss_topstories