Ryan Reynolds and Blake Lively Try to Recreate Britney Spears and Justin Timberlake's Unforgettable Denim Look!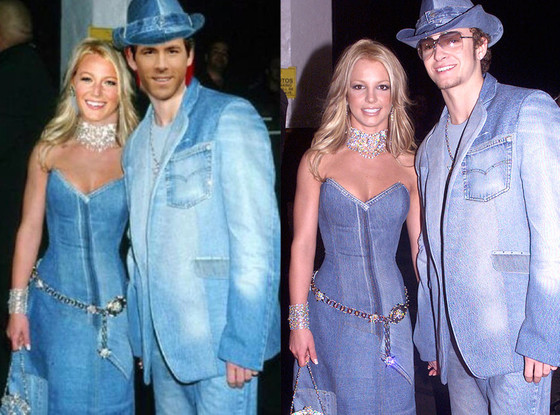 Twitter
Sorry Blake Lively, but your husband has some impressive Photoshopping skills as well!
Just a few days after the Gossip Girl alumna shared some LOL-worthy memes, her main man Ryan Reynolds decided to show off some skills of his own online.
Paying tribute to Britney Spears and Justin Timerblake's unforgettable 2001 American Music Awards ensemble, the actor decided to see what it would be like if he wore the same outfit.
With a little editing, cropping and manipulating, the results are pretty amazing.
"The night started exactly as planned," he tweeted. "But I take full responsibility for the denim condom. It was a mistake." Oh man, try to get this image out of your head.
PHOTOS: Blake Lively's pregnancy style
At least he didn't pull a Riff Raff! At the 2014 MTV Video Music Awards, the rapper joined Katy Perry to recreate the look from head-to-toe.
"I must admit my outfit is a result of my love for nostalgia and my Tumblr addiction," Perry wrote before stepping onto the carpet. "We're goin for da worst dressed today."
Regardless of the looks, we're just pumped to see Reynolds and Lively so active on Twitter.
From cryptic messages with secret emoji's to classic throwback pictures, we pretty much guarantee you'll fall in love with the twosome—if you haven't already—online.  
If only they didn't end more messages with XOXO. 
PHOTOS: Hottest celebrity couples on Instagram 
RELATED VIDEOS:
Source:: http://ca.eonline.com/news/635912/ryan-reynolds-and-blake-lively-try-to-recreate-britney-spears-and-justin-timberlake-s-unforgettable-denim-look?cmpid=rss-000000-rssfeed-365-topstories&utm_source=eonline&utm_medium=rssfeeds&utm_campaign=rss_topstories