RogerEbert.com to Host SXSW Panel on Film Criticism / ChicagoMade Happy Hour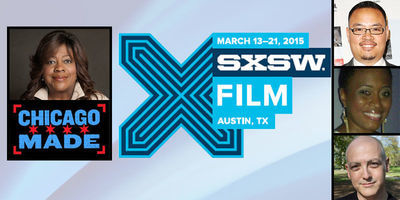 RogerEbert.com will be well-represented at this month's SXSW Film Festival, as its publisher, Chaz Ebert, hosts an hour-long panel, "The Future of Film Criticism: Diversify or Die," at 12:30pm on Saturday, March 14th. The panel is set to tackle the ever-evolving role of film criticism in the digital age, and the impact of diversity on the form and the art it analyzes. Ebert has hand-picked the panel's three guest participants: Justin Chang, chief critic at Variety magazine; Rebecca Theodore-Vachon, film/TV critic at The Urban Daily; and Matt Zoller Seitz, editor-in-chief for RogerEbert.com.
Ebert will also serve as one of the Ambassadors to ChicagoMade, a collaboration between The City of Chicago Department of Cultural Affairs & Special Events, CHOOSE CHICAGO and World Business Chicago, that aims to highlight Chicago's merits as an innovation center, a global business destination and a cultural hub offering diverse culture and technology makers. Chaz Ebert will host the ChicagoMade happy hour with Daniel X. O'Neil, Smart Chicago Collaborative Director, and Terry Howerton, TechNexus Partner, at the Austin Convention Center, 500 E Cesar Chavez St, Austin, TX, from 4 to 6pm on Sunday, March 15th at the ChicagoMade trade show booth #619.
In discussing the panel on diversity, Chaz said, "Roger lived to see the start of a seismic shift in the industry toward becoming more inclusive; I plan to see it through. The information age has changed everything. Roger embraced that and showed us the way. The SXSW Film Festival is the perfect forum for this important discussion. I'm delighted to be joined by Matt, Rebecca and Justin, some of the leading voices in the genre today who have their finger on the pulse of the industry. I look forward to a lively discussion and active audience participation."
Ebert also said she is proud that Ebert Digital can help showcase the amazing companies that have sprung up on Chicago's tech and cultural scenes. "Kanye's first gigs didn't sell out the United Center, Groupon was not worth billions the day it was founded, Siskel & Ebert started on one station before becoming international film critics, but from humble beginnings is how every great Chicago story starts, whether it is Pitchfork or Lollapalooza. I can't wait to see the fresh innovations being cooked up on the Chicago scene at SXSW."
To Attend "The Future of Film Criticism: Diversify or Die": Go to Room 16AB at the Austin Convention Center at 12:30pm Saturday, March 14th. For more information on the festival, visit the official SXSW site.
To join Chaz Ebert Sunday: Stop by the CHICAGOMADE happy hour with Daniel X. O'Neil and Terry Howerton at the Austin Convention Center ChicagoMade trade show booth #619 from 4 to 6pm, March 15th. For more info, click here.
Source:: http://www.rogerebert.com/chazs-blog/rogerebertcom-to-host-sxsw-panel-on-film-criticism-and-chicagomade-happy-hour