Rediscovered Lafleur, Lemieux photo a study of superstars and a teenager's hero worship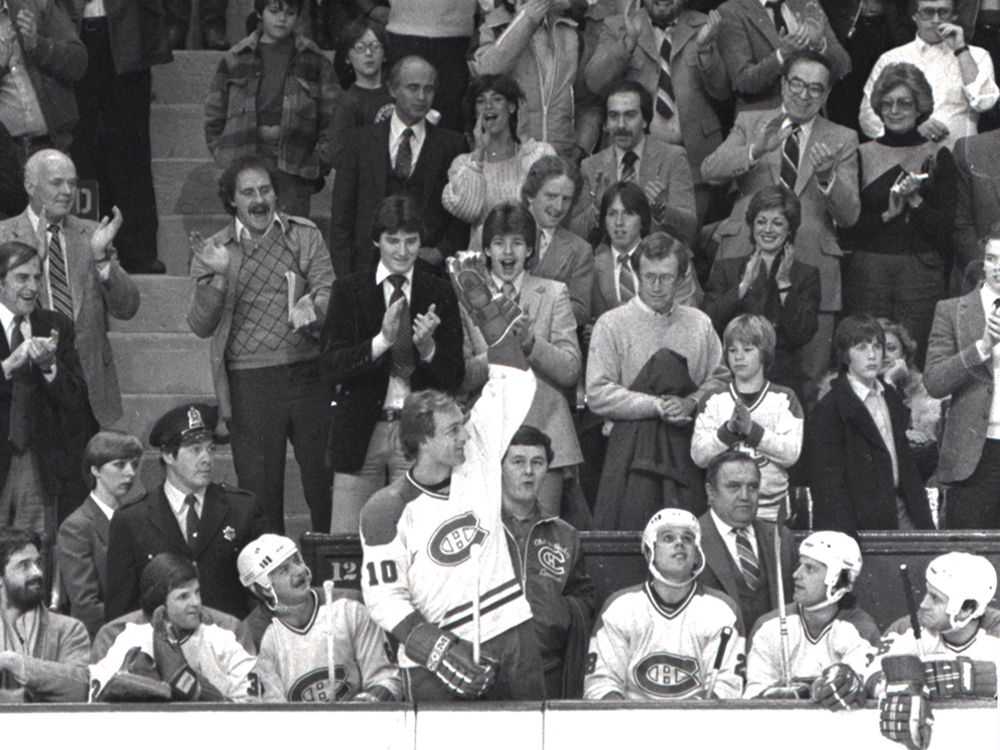 It is March 4, 1981, and Guy Lafleur is standing at the Canadiens bench, waving his gloved hand to thank the Montreal Forum crowd for its standing ovation.
Lafleur has just earned his 1,000th NHL point, scoring his 21st goal of the season 54 seconds into the third period on assists from Keith Acton and Larry Robinson, giving the Habs a 9-0 lead over the Winnipeg Jets in what would be a 9-3 victory.
For the Flower, his 1,000th point has come in his 720th NHL game. He is the 13th player to have reached that magical plateau and, at the time, is the fastest to have arrived there — 20 games more quickly than Marcel Dionne two months earlier.
The moment, captured on black-and-white film by award-winning Canadian Press photographer Doug Ball, shows a joyful Lafleur flanked by teammates Denis Herron, Pierre Mondou, Pierre Larouche, Acton and the late Doug Wickenheiser.
Behind them are a Forum usherette, as they were known in the day; a Montreal cop; Canadiens assistant trainer Pierre Meilleur; and head coach Claude Ruel. Back of them are dozens of fans, on their feet, cheering Lafleur in salute.
And in this front row behind the bench, on the aisle, wearing a sports jacket and a wide necktie, is 15-year-old Mario Lemieux, then a net-filling Midget Triple-A player for Montreal-Concordia who worshipped the ice on which Lafleur was skating.
Lemieux was not mentioned in the caption that Ball attached to his wire photo, an image that appeared in the Montreal Gazette the following day.
Super Mario-to-be was one of thousands of Lafleur-adoring fans at the Forum that night, in this photo just another star-struck young man in the crowd who was witness to history.
From microfilm, this is how the Montreal Gazette featured Guy Lafleur's 1,000th point in its editions of March 5, 1981. Behind Lafleur in a dark sports jacket is future NHL superstar and then-Lafleur worshipper Mario Lemieux, age 15, just leaving Midget AAA hockey in Montreal.
The Montreal Gazette published a tightly cropped, vertical-format version of this image the following morning. But look at this picture three and a half decades later, a much more detailed, wider-scope image discovered recently by its photographer, and so much about it is stunning.
It is remarkable how this shot came to be, and how it has again come to light 34 years after Ball froze the scene on Tri-X film with his Nikon F2.
Every morning on my Twitter account, I post details of a few moments in the rich history of the Canadiens, illustrating each with a vintage photo, digital newspaper clipping or video short.
On March 4, Lafleur's 1,000th point was the second of three events I featured, including a microfilm-archived story from the March 5, 1981 Montreal Gazette headlined "Lafleur gets 1,000th point as Canadiens bomb Jets."
Ball's cropped photo was displayed beneath the headline, within the game story written by the late Glenn Cole.
Shortly after 8:30 a.m. the morning I tweeted this, Canadiens owner Geoff Molson emailed to ask whether I could send him the photo, presumably a better version than the grainy microfilm image I had posted.
I replied that we didn't have the original, a pre-digital hard copy which would have been transmitted to our newsroom that night from CP offices in the Gazette (formerly Montreal Star) building on St. Antoine St., using the "laserphoto" wire technology of the time.
No problem, Molson emailed back, explaining that a fan in the background was the father of a friend.
And that's where the story ended — until Twitter follower Jaret Dicks of South Porcupine, Ont., a 41-year-old Newfoundland-born second-generation Habs fan, tweeted me three days later: "Is that Mario Lemieux in street clothes?"
Molson hadn't noticed, but he had picked out Paul Marchand, the father of his future good friend, Matthew.
I had studied Lafleur, his teammates on the bench and trainer Meilleur in his CH-crested track suit — and I never saw Lemieux.
But upon reading the tweet of Dicks, whose 9- and 6-year-old children love P.K. Subban and Carey Price, the "discovery" of Mario hit me like a bolt of lightning.
I immediately emailed the microfilm frame to Pittsburgh Penguins communications VP Tom McMillan, who was in Los Angeles for the Penguins game that night against the Kings, and to the team's communications director Jennifer Bullano, who was at home in Pittsburgh.
Lemieux, the Penguins owner, was in Los Angeles for the Kings' unveiling that night of a statue celebrating the career of Luc Robitaille, the Montreal-native Hall of Famer and a longtime Lemieux friend.
Lemieux was vaguely aware of a photo that had celebrated Lafleur's 1,000th point and was keenly interested in it. The Penguins staff receiving it by email, meanwhile, were blown away.
Surrounded by Winnipeg Jets, Canadiens star Guy Lafleur backhands the puck past goalie Michel Dion on March 4, 1981 at the Montreal Forum. The goal, coming 54 seconds into the third period of a 9-3 Canadiens victory, gave Lafleur his 1,000th career NHL point. The Jets defenders, from top, are Norm Dupont, Dave Babych and Dave Christian.
It is a classic shot of hero worship, but it is more than that. This is two superstars, one at an NHL milestone, the other having just finished his midget-class season, bound to become a major-junior sensation and, in time, another of the greatest players the game had ever seen.
Doug Ball, now retired in Oakville, Ont., had sent me a gracious email in December about my coverage of Jean Béliveau's passing and funeral.
With his address, I emailed Ball about his photo and, incredibly, he found a pristine, full-frame print of this image, which he had shot from across Forum ice in the walkway behind a row of fans at the glass.
The first two rows behind the Canadiens' Forum bench were Molson-family seats, Senator Hartland Molson usually using a pair of his four, and Geoff Molson's father, Eric, and Eric's brother, Stephen, holding six, behind the Senator.
Molson Brewery owned the team at the time, and guests of the Molson family would be given these prime seats on occasion; Lemieux and a Montreal-Concordia teammate, Jean Bourgeois, who is beside Mario in the photo, were ticket-holders that famous night.
It was Canadiens GM Marc Bergevin, who would play on Montreal-Concordia the year after Lemieux left, who identified Bourgeois and a few others in the photo.
Bergevin would join Lemieux in the NHL as a Penguins teammate in 2000-01 and 2002-04.
"Somehow, Mario was invited to that game," said Geoff Molson, who remembers family seats being distributed both by request and invitation.
Lafleur has no special recollection of the night or the fans' salute; when I put the print in front of the Flower a week ago, he identified late Forum vice-president Gerry Grundman and his wife, standing directly behind Lemieux, before he noted Mario.
To the right of Lemieux and Bourgeois in the image are Paul Marchand and his son, Matthew, who would become one of Geoff Molson's good friends. The boys didn't yet know each other, and Matthew in fact was cropped out of the published photo.
Nor does Lemieux exactly recall how he wound up at the Forum that night, in the front row, no glass separating himself from Lafleur, his favourite player.
Canadiens sniper Guy Lafleur (centre) is congratulated by teammates Keith Acton (left) and Bob Gainey on March 4, 1981 at the Montreal Forum after Lafleur had scored to earn his 1,000th career regular-season NHL point. Winnipeg Jets defenceman Dave Babych is at left.
The Ville-Émard native was already a brilliant forward, scoring 62 goals and 62 assists in 47 games with midget Montreal-Concordia in 1980-81, coached that season by current Canadiens assistant coach Clément Jodoin; among his teammates were Habs assistant coach J.J. Daigneault and radio analyst Sergio Momesso.
Lemieux would join the major-junior Laval Voisins that fall, in three seasons scoring 247 goals with 315 assists in 200 games before becoming a supernatural force in the NHL with Pittsburgh.
He is happily off the public radar today, choosing not to do interviews. But through McMillan, Lemieux recalls a few details of Lafleur's milestone night.
"Mario knew Guy had a chance at 1,000 points that night but it was just happenstance that he got the tickets. He didn't request them," McMillan related. "And he didn't meet Guy after the game. Nothing like that was arranged. He was just at the game as a fan.
"It's incredible to me that the player beside Guy on the bench is Pierre Larouche. Mario and Pierre didn't know each other at the time, of course, but they have been longtime best friends (Larouche also lives in Pittsburgh)."
Ball, a legend in Canadian photojournalism who was photo editor of the Montreal Gazette from 1984-87, shot countless Canadiens games for Canadian Press and takes special delight that his frame of Lafleur and Lemieux has resurfaced.
He recalled shooting Lafleur's 1,000th point with teenage CP freelancer Pierre Obendrauf, today a veteran Montreal Gazette photographer, and opposite United Press Canada news-agency rookie Ryan Remiorz, today a longtime Montreal-based CP shooter.
Obendrauf took a wonderful shot, snapped from higher in the stands, of Lafleur backhanding his historic goal past Dion, surrounded by Winnipeg's Dave Christian, Norm Dupont and Dave Babych.
(Playing for the Jets that night were Rick Dudley, today the Canadiens' senior VP of hockey operations, wearing No. 99; and Danny Geoffrion, the Boomer's son.)
Obendrauf was 19, still in school, working the game for free "just to get my foot in the door." He had no idea of the history he would shoot in what he believes was his first NHL game.
"Doug didn't tell me anything except to shoot Lafleur any time he got near the net," Obendrauf says today. "That game taught Ryan (Remiorz) and myself an important lesson: always read the game notes."
Canadiens defenceman Larry Robinson (left) gives teammate Guy Lafleur the puck with which Lafleur has just scored on March 4, 1981 against the Winnipeg Jets, giving Lafleur his 1,000th career NHL point.
In his 2005 book Life On A Press Pass, written with his photographer brother, Lynn, Ball recalls faking out Remiorz about going back to the office before game's end to soup film and make prints for the wires, pressed by newspaper deadlines.
Lafleur had a first-period goal and assist, up to 999 career points nine minutes into the game, and Remiorz was keeping a wary eye on the CP veteran.
Remiorz finally returned to the office of UPC to develop his film and get his game images on the wire, Ball having waited him out at the photo-lounge beer fridge, and Ball was in his spot to snap Lafleur's 1,000th point, including a celebration shot with Acton and captain Bob Gainey and an image of defenceman Robinson handing the Flower his milestone puck.
It's a story Remiorz "tells on himself," Ball jokes in his book.
The photographer will make prints now for Lemieux, Lafleur, the Canadiens and Penguins. Both teams will have copies, signed by both players, to be sold at their charity auctions.
Today, the Penguins' Tom McMillan interestingly compares Ball's photo to another iconic hockey image of two legends.
"You know the famous posed photo of a very young Wayne Gretzky with Gordie Howe?" he said, referring to the playful 1972 shot of Howe hooking the 10-year-old behind the ear with a stick.
"This (Lafleur-Lemieux) one could have a similar place in the history of hockey photography — except that it wasn't posed. It was pure and real, a teenager cheering his idol, discovered all these years later. It's really amazing."
dstubbs@montrealgazette.com
twitter.com/dave_stubbs
Canadiens legend Guy Lafleur photographed in the Bell Centre's executive offices of the team on March 12, 2015.
Source:: http://www.canada.com/sports/hockey/Rediscovered+Lafleur+Lemieux+photo+study+superstars+teenager/10899731/story.html