Red Bull Crashed Ice races delayed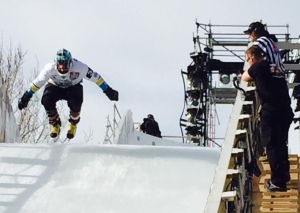 Instead of the competition heating up, it's the weather and that's bad news for the Red Bull Crashed Ice event in downtown Edmonton.
A competitor grabs some air as he makes his way down the Red Bull Crashed Ice track in downtown Edmonton Friday morning. (Lydia Neufeld/CBC )
Temperatures climbed to 12 C leaving organizers scrambling to cover part of the track in white billowing tarps.
On the event's Twitter page, organizers refused to attribute the delay schedule to the weather.
"Track areas which receive high sun exposure are covered to keep the ice in good condition for the race," organizers tweeted. "No meltdown." 
Nonetheless dozens of spectators unaware of the delay were lined up along the outside balconies of the Shaw Conference Centre waiting for the race.
Races are scheduled to resume at 6:30 p.m. Friday.
What you should know about the Red Bull Crashed Ice event
Is it really free?
Red Bull Crashed Ice is indeed free and open to spectators of all ages. No tickets required.
Where can I watch?
From Louise McKinney Park and the surrounding area, you'll have a great view of the finish line. You can also watch from below the Shaw Conference Centre on Grierson Hill Rd and in the surrounding green space. From Jasper Avenue, you'll have a view of the starting gate. Although none of the viewing areas capture the entire track, there will be large screens projecting the races live from every angle on Jasper Avenue, in Sir Winston Churchill Square and at various points of the track itself. Spectator zones are first-come, first-served. 
(Courtesy Red Bull Crashed Ice)
Where can I park?
There is no public parking on-site. The venue is a short walk from parkades in Edmonton's downtown core. Public transportation is recommended.
What can I bring?
Alcohol and chairs are not allowed on site. Dress for the weather.
What if I'm a couch potato?
Saturday's event will be streamed live at redbullcrashedice.com and shown on TV on Rogers OLN at 8:30 p.m. followed by a replay at 10 p.m. on Rogers Sportsnet. The French broadcast will air live on TVA Sports at 8:30 p.m.
Race schedule
Friday 
6:30pm-7:30pm: Field to be narrowed down from 64 to 32 skaters
8:30pm-9:30pm: Team competition qualifying round
10:00pm-11:00pm: Team competition head-to-head finals
Saturday
4:00pm: Gates open
7:00pm-10:00pm: Red Bull Crashed Ice Edmonton finals
Source:: http://www.cbc.ca/news/canada/edmonton/red-bull-crashed-ice-races-delayed-1.2994776?cmp=rss