Raptors can't deny LeBron, surging Cavs in 120-112 loss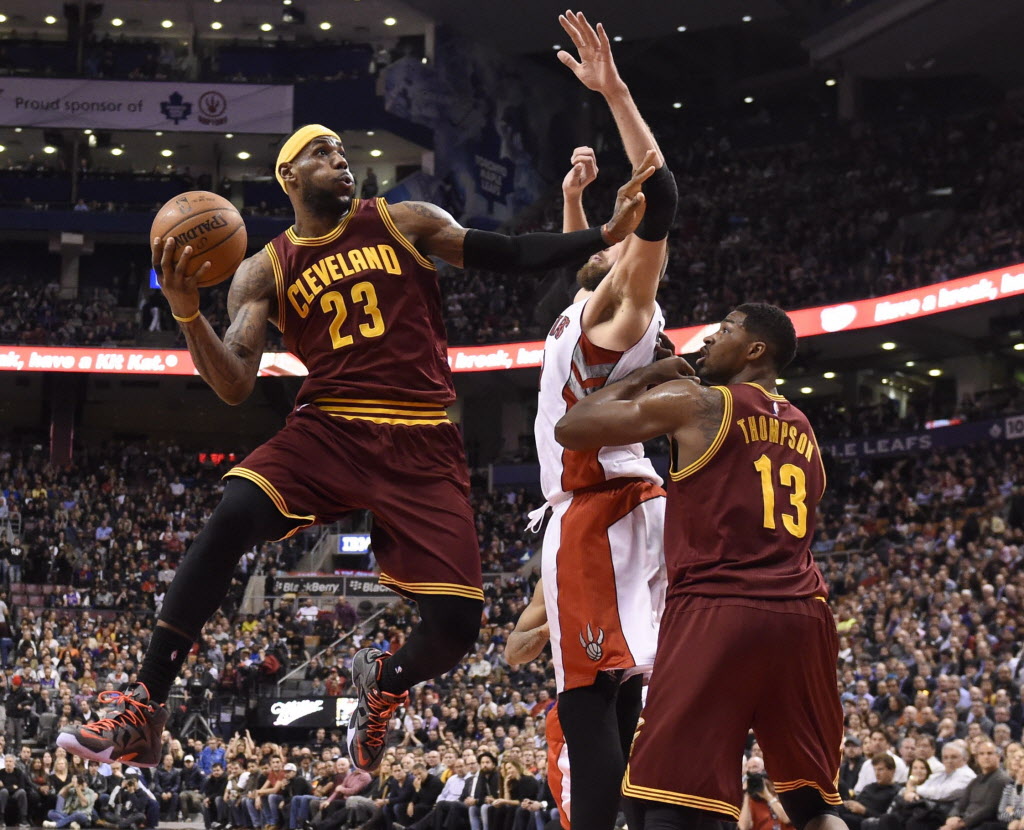 TORONTO — Late in the third quarter Wednesday night, Jonas Valanciunas wrapped his arms around a basket-bound LeBron James, hauling the Cleveland Cavaliers superstar down to the floor.
The Air Canada Centre crowd loved it, and coach Dwane Casey, almost as much.
The Toronto Raptors would go on to lose 120-112 to the Cavs after erasing a 19-point deficit, but Casey said the fight his team showed Wednesday night was something to build on.
"I was proud in the way our team fought and scrapped," Casey said.
Valanciunas scored 26 points and grabbed 11 rebounds and while his hard foul on James earned him a Flagrant 1 foul, it served to ramp up the crowd and inject some energy into his team.
"I definitely don't want him to hurt anybody, I'm not advocating that," Casey said. "But you've got to foul guys hard, especially James going to the rim. As strong as he is, if you pitty-pat him, he's going to dunk and get an and-1. It was a hard foul. It was a good foul, a smart foul.
"Probably should have fouled a few more times when he drove in there."
James had 29 points and 14 assists to lead the Cavs (39-24), while Kyrie Irving added 26.
Lou Williams had 21 of his 26 points in the fourth quarter — a Raptors record for points in the quarter — while DeMar DeRozan added 25 points for the Raptors (38-23), who rested all-star guard Kyle Lowry for the third straight night.
Terrence Ross finished with 12 points, while James Johnson added 11.
The Raptors, who were coming off a 114-103 win at Philadelphia on Monday that snapped a season-game five-game losing skid, trailed by as many as 19 points in the third quarter, but dug in their heels late in the frame to pull to within 84-74 heading into the fourth quarter.
Valanciunas fouled James with 19 seconds left, with the star driving to the rim for a sure dunk.
"I wasn't trying to hurt him, I was just trying to stop him from dunking the ball. Protecting the rim. Nothing personal," Valanciunas said. "I was just doing my job … An easy foul is not going to work with him."
James didn't view the foul in quite the same way.
"There's a lot of plays that just aren't basketball plays," he said.
Williams took over in the fourth, scoring 11 of the team's first 13 points and drilling a three to put the Raptors up 93-91 just under four minutes into the frame.
Ross hit a spectacular buzzer-beating three-pointer with 6:14 to play that had the Raptors up by one, but the Cavaliers, fresh off their 110-79 victory over Boston the previous night in Cleveland, took control down the stretch.
When James scored on a driving layup with 56 seconds left, it capped a 7-0 Cavs run and put the visitors up by nine points, guaranteeing their eighth victory in 10 games, and sending Raptors fans home unhappy.
Williams agreed that the Raptors can draw on the fight they showed Wednesday.
"We can use it just carrying on. Understanding that the schedule we have ahead of us is going to be a tough one," he said. "At this point, 60 games in, it's going to take a lot of fight when fatigue starts to jump on you. The games are coming really fast. You gotta have guys willing to step on the court and fight to the end."
DeRozan led the way with 12 points in a first quarter that saw Toronto shoot 48 per cent. They trailed the Cavaliers 28-25 heading into the second.
A driving layup by Irving late in the second capped a 12-2 Cavaliers run that gave that visitors a 48-36 lead. Another Irving driving layup with 10 seconds on the clock sent the Cavs into the dressing room at halftime leading 57-43.
The Raptors depart for a three-game road trip that will take them through Charlotte, Oklahoma City and San Antonio. They're back home to host the Miami Heat on March 13.
© Copyright (c) Postmedia Network Inc.
Source:: http://www.canada.com/sports/basketball/Raptors+deny+LeBron+surging+Cavs+loss/10862346/story.html