Poulter, Casey tied at Honda and facing a Monday sprint to the title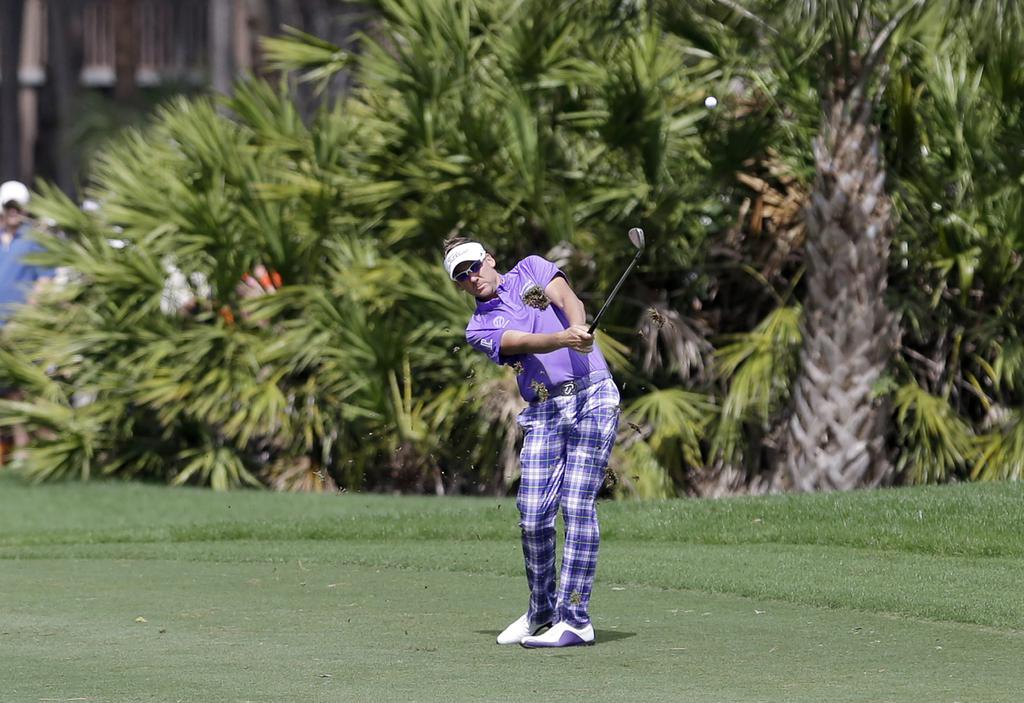 PALM BEACH GARDENS, Fla. — Ian Poulter lost command of the Honda Classic with two swings on consecutive tee shots in a wild final hour Sunday. He still had a share of the lead with Paul Casey heading into a sprint-to-the-finish at soggy PGA National.
Poulter was practically flawless in the rain-delayed third round Sunday morning for a 4-under 66 that gave him a three-shot lead over Patrick Reed (70) and Padraig Harrington (71). It was the first time Poulter has had a 54-hole lead on the PGA Tour.
The third round was washed out Saturday because of nearly five inches of rain that toppled a few trees, flooded bunkers and even created mounds of air bubbles on one green. After the third round ended Sunday, the players went right back out to play as many holes of the final round as the sun would allow.
Poulter kept his distance until a shank on the par-3 fifth hole, which has water guarding the left side of the green. His ball went so far right that it found water on the sixth hole, leading to double bogey.
On his next tee shot, Poulter pulled it into the water and had to two-putt from 65 feet to escape with bogey. Just like that, his lead was gone. And then he got it back on the par-3 seventh with a tee shot into 3 feet for birdie, just as Casey was polishing off a 31 on the front nine to join him at 7-under par.
The final round was suspended by darkness with Poulter on the eighth tee and Casey in the left rough on No. 10.
Not to be forgotten was Reed.
He was the first to catch Poulter with a three-shot swing on the fifth hole. Reed holed a 35-foot birdie putt from a valley to the right of the fifth green, and he had the outright lead when Poulter made his bogey on No. 6. But on the seventh, as Poulter was making his birdie, Reed took bogey from the left rough to fall one shot behind.
That all happened in a span of about 45 minutes, and perhaps it was a prelude of what awaited Monday.
Poulter's blunder not only left him tied, it expanded the possibilities.
Still very much in the mix was Phil Mickelson, who opened with a pair of birdies — one of them a two-putt from 8 feet on the par-5 third — only to give one back with a three-putt bogey at No. 6.
Mickelson was at 4 under with Jeff Overton, Brendan Steele, Russell Knox and Daniel Berger, the rookie from West Palm Beach whose final shot Sunday was a chip-in for birdie on No. 11.
Adam Hadwin of Abbotsford, B.C., was 2 over through 12 in the final round.
Harrington, who finished his third round by saving par after a second shot into the water on the par-5 18th, fell back by missing a 4-foot par putt and then taking a double bogey on the sixth hole. He was at 3 under.
Poulter has two PGA Tour victories, both of them World Golf Championships. He won the Match Play Championship in Arizona in 2010 for his first — and only — victory on American soil, and then beat a world-class field at the HSBC Champions in China at the end of 2012, where Mickelson, Ernie Els and Jason Dufner tied for second.
But that was his last victory. He tied for third at Muirfield in the 2013 British Open. He was runner-up in Turkey last year. This was his best chance to end the drought.
The real stars at PGA National on Sunday were the grounds crew members.
They worked through the night and used 12 pumps to get the water off the course and rebuild the bunkers. The course was filled with so much water that superintendent Lukus Harvey said the crew had to chase an alligator out of three fairway bunkers to clear out the water, and a few water moccasins became real-life hazards.
"Makes for an interesting night," he said.
Poulter made it an interesting finish to a marathon day Sunday. And now it becomes a sprint.
© Copyright (c) Postmedia Network Inc.
Source:: http://www.canada.com/sports/golf/Poulter+Casey+tied+Honda+facing+Monday+sprint+title/10853034/story.html