Philadelphia Eagles hurt Super Bowl odds by acquiring QB Sam Bradford, trading LeSean McCoy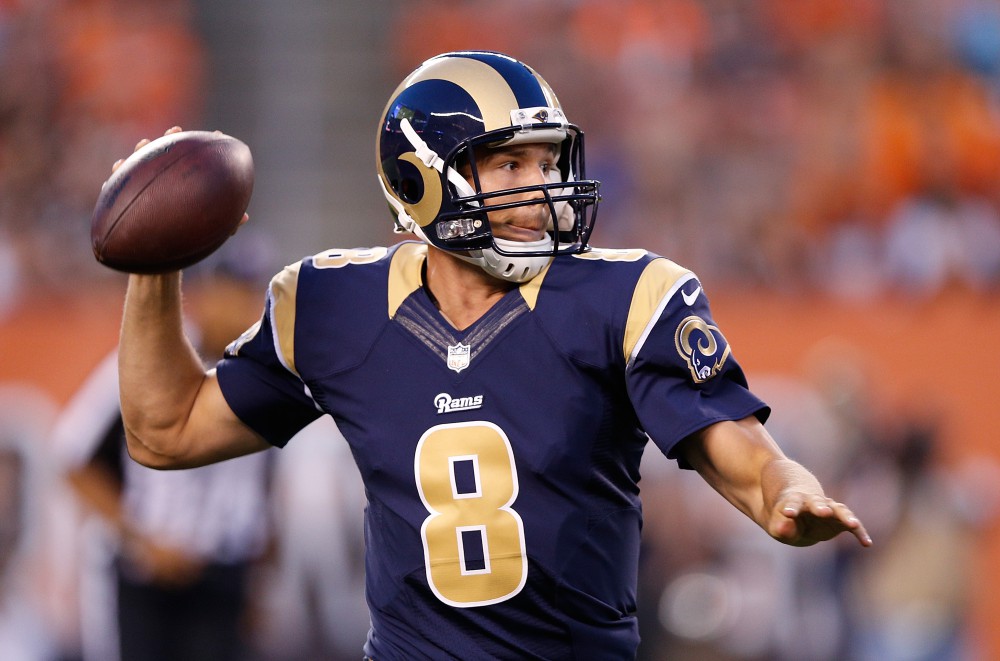 The Philadelphia Eagles' Super Bowl odds lengthened to 30-1 from 25-1 after the team acquired quarterback Sam Bradford and traded away Pro Bowl running back LeSean McCoy, according to SportsBook.ag.
Odds on favorite Seattle Seahawks, who last month came within one yard of their second-straight Super Bowl title, narrowed with their acquisition of Pro Bowl tight end Jimmy Graham. The Antigua-based online sports book immediately moved Seattle to 13-2 from 15-2, then lowered it again to 11-2 after heavy betting on Seattle.
The Seahawks and Eagles are among six National Football League teams whose odds were adjusted as bettors reacted to the flurry of trades and signings that ushered in the first official day of free agency.
"We're getting the news in real time, so are our bettors, and they're betting into markets that we're constantly updating," Peter Childs, Sportsbook.ag's head supervisor of risk management, said in an e-mail. "We welcome the action."
The Eagles on Tuesday dealt quarterback Nick Foles, the team's starter for the past two years, and two draft picks to the St. Louis Rams for Bradford and a pick. The Eagles were 14-4 in games Foles started under coach Chip Kelly; Bradford, the No. 1 overall selection in the 2010 draft, is 18-30-1 as an NFL starter.
Bradford, 27, who hasn't played since 2013 because of a knee injury, has one year at $13 million remaining on his contract. Foles, a year younger than Bradford, is owed $1.52 million in the final year of his rookie deal.
The Eagles also lost out when running back Frank Gore, who had planned to sign in Philadelphia, decided instead to join the Indianapolis Colts. Last week Philadelphia agree to trade McCoy to the Buffalo Bills for linebacker Kiko Alonso. Kelly took over player personnel decisions for the team in January.
"The Eagles basically lost their entire starting backfield in a matter of a week," said Childs, who called the the Foles- Bradford swap a "downgrade" for Philadelphia.
The Seahawks have been the betting favorite to win the 2016 Super Bowl since Seattle lost this year's title to New England on an interception with less than a minute remaining. Yesterday the defending National Football Conference champions added Graham, a three-time Pro Bowl selection, and a fourth round draft pick in exchange for center Max Unger and a first-round selection.
The Jets' odds at Sportsbook.ag moved to 75-1 from 100-1 after the team signed cornerback Darrelle Revis, who played for the team from 2007-2012.
The Colts' Super Bowl odds also narrowed, to 10-1 from 15-1, after Indianapolis added Gore, linebacker Trent Cole and defensive lineman Kendall Langford, with ESPN reporting it will also sign Pro Bowl wide receiver Andre Johnson.
The Eagles weren't the only team whose Super Bowl odds lengthened. The San Francisco 49ers, affected by departures and the unexpected retirement of linebacker Patrick Willis, moved to 40-1 from 25-1.
The Saints were raised to 40-1 from 30-1 after Graham's departure.
© Copyright (c) Postmedia Network Inc.
Source:: http://www.canada.com/sports/Philadelphia+Eagles+hurt+Super+Bowl+odds+acquiring+Bradford+trading/10880228/story.html