Patrick Schwarzenegger "Is Devastated" Over Spring Break Stories as Miley Cyrus Has the "Time of Her Life" at the Laugh Factory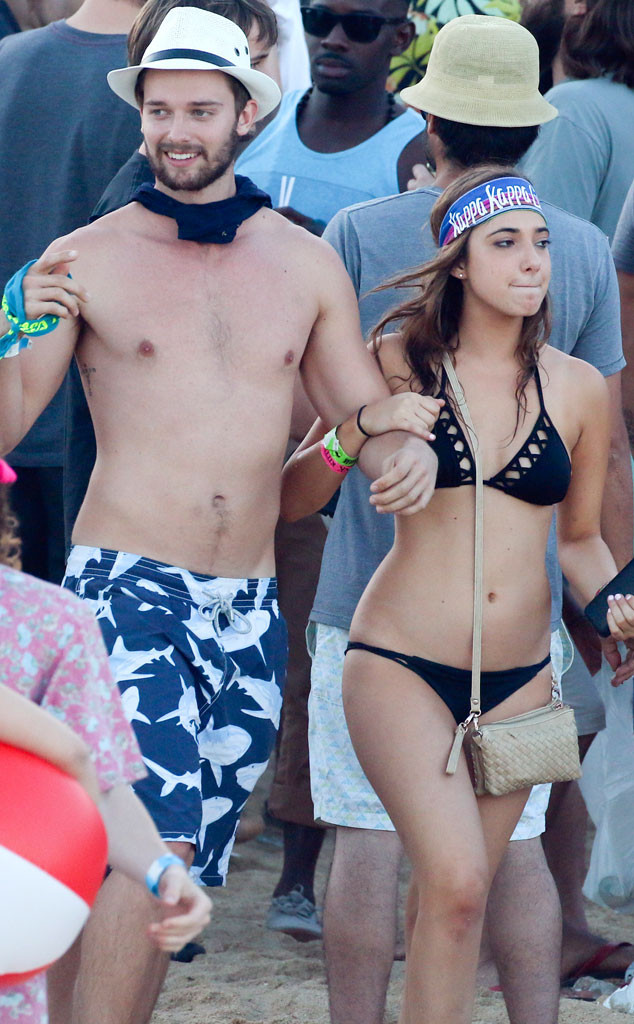 Clasos.com.mx / Splash News
It's safe to say this isn't the best spring break ever.
As Patrick Schwarzenegger continues to vacation with friends in Cabo San Lucas, Mexico, the University of Southern California student isn't feeling so hot after photos surfaced of him getting pretty close with a bikini-clad Kappa Kappa Gamma sorority sister.
A source close to the situation says that "Patrick is devastated" by how the photos of him and his gal pal are being played out in the media. The famous son of Arnold Schwarzenegger insists that he did not cheat on girlfriend Miley Cyrus and that he would never betray her trust.
"Omg. It's one of my best friends girlfriend…Would NEVER do anything against my GF…." he tweeted. "Girls have guy friends and guys have friends that are girls…"
PHOTOS: Miley Cyrus' most outrageous quotes 
Laugh Factory
Despite his words on Twitter, our source acknowledges that the pictures look "shady" but it is unclear how Miley is going to react to them when he gets back to Los Angeles.
Meanwhile, Cyrus appeared to be putting on a strong front when she stepped out Monday night to enjoy the comedy of Dane Cook onstage at the Laugh Factory in Hollywood.
Even with plenty of tabloid speculation regarding her relationship status, the 22-year-old was in great spirits while enjoying an evening filled with laughs. 
CLICK: This Miley Cyrus/Kylie Jenner hybrid will haunt your dreams
Instagram
"I thought she had the time of her life," owner Jamie Masada revealed to E! News exclusively. "She was having a great time and she really enjoyed it. If she did have something going on with Patrick, you could not tell because she was laughing so hard."
In an added twist, the last time the "We Can't Stop" singer came to the venue was with Patrick and his mom Maria Shriver back in January. They were there for another Cook appearance.
"She loved to laugh," Masada added of her most recent visit that included a group of people. "She has such an infectious laugh…I never seen anybody laugh so hard."
—Reporting by Ken Baker and Claudia Rosenbaum
PHOTOS: Inside Patrick Schwarzenegger and Miley Cyrus' romance
RELATED VIDEOS:
Source:: http://ca.eonline.com/news/636686/patrick-schwarzenegger-is-devastated-over-spring-break-stories-as-miley-cyrus-has-the-time-of-her-life-at-the-laugh-factory?cmpid=rss-000000-rssfeed-365-topstories&utm_source=eonline&utm_medium=rssfeeds&utm_campaign=rss_topstories