Pat Angnakak calls on MLAs to attend Nutrition North meeting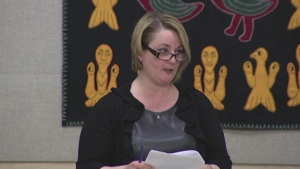 The Nutrition North advisory board will hold a public meeting about the controversial federal food subsidy program in Iqaluit next week.
Iqaluit-Niaqunnguu MLA Pat Angnakak, who spoke at length in the Nunavut legislature yesterday about the program, says she'll be there and is encouraging other MLAs to attend. 
She says that although Nutrition North is a federal program, the territorial government has a role to play.
"These upcoming hearings, which will be held in public, will be critical in ensuring that our federal parliamentarians have a clear understanding of why it is so vital that action be taken to address the problems with this federal program," she said.
When it comes to addressing the issue of food insecurity in Nunavut, Angnakak says it's not just about improving access to affordable food; poverty, unemployment and the limited infrastructure in the territory also have to be taken into account.
Iqaluit-Niaqunnguu MLA Pat Angnakak says she'll be attending the Nutrition North Canada Advisory Board meeting in Iqaluit on March 26 and she encourages her fellow MLAs to do the same. (FILE PHOTO)
"Put simply, it costs our families twice as much to feed their children than it does in much of the country."
The advisory board will hold its meeting Mar. 26 at Iqaluit's Anglican Parish Hall, from 7 to 8:30 p.m.
Source:: http://www.cbc.ca/news/canada/north/pat-angnakak-calls-on-mlas-to-attend-nutrition-north-meeting-1.2998581?cmp=rss