Often-ignored health issues of LGBTQ patients focus of U of A medical conference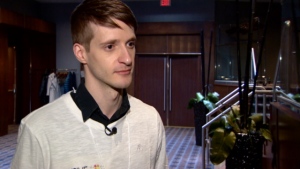 A student-run conference at the University of Alberta is examining the unique health issues faced by the LGBTQ community.
"Across all medical schools in North America, they devote about four hours to teaching on all LGBTQ issues," said Dr. Carys Massarella, who gave the keynote speech at the Inclusive Health conference in downtown Edmonton on Saturday.
"Which of course is nowhere near enough."
Dr. Massarella opened a clinic in Ontario that caters to transgendered patients, after finding many had trouble getting quality medical care.
Massarella, who is a transgendered woman herself, said there are still many misconceptions when it comes to the health of LGBTQ patients. She also said it was important for doctors to treat their patients with respect.
"Any time you raise awareness, you're going to get better care," she said.
The Inclusive Health conference was started by a group of medical students at the university who felt their curriculum was lacking in information on LGBTQ health. They designed the conference to appeal not only to healthcare providers, but also to other students and members of the public.
Ian Armstong, who helped organized the conference, says doctors need to know more about the treatment options available to LGBTQ patients. (CBC)
"Society has changed to make people more receptive and interested in these topics and recognize they are a problem," said Ian Armstong, one of the students who organized the conference.
"So, this is just the right time for that to happen."
As an example, Armstrong said many transgendered patients will have treatment options not available to others. He said with the amount of information medical students are expected to learn, information on LGBTQ patients doesn't get a lot enough time.
Panels at the conference covered topics like gender identity disorder and dealing with domestic violence in LGBTQ communities.
For many of the conference's attendants, it was a chance to learn more about issues that they have faced when seeking medical treatment.
"They will say I have no experience working with transgendered so I can't help you," said Marnie Panas.
"Even though the issue has nothing to do with being transgendered. So quite often there are those types of barriers where there really isn't an understand of needs."
The conference was sponsored by the U of A's medical faculty and the medical students' association.
Source:: http://www.cbc.ca/news/canada/edmonton/inclusive-health-conference-examines-health-concerns-for-lgbtq-patients-1.2977457?cmp=rss