Notre Dame dodges early exit with 69-65 win over Northeastern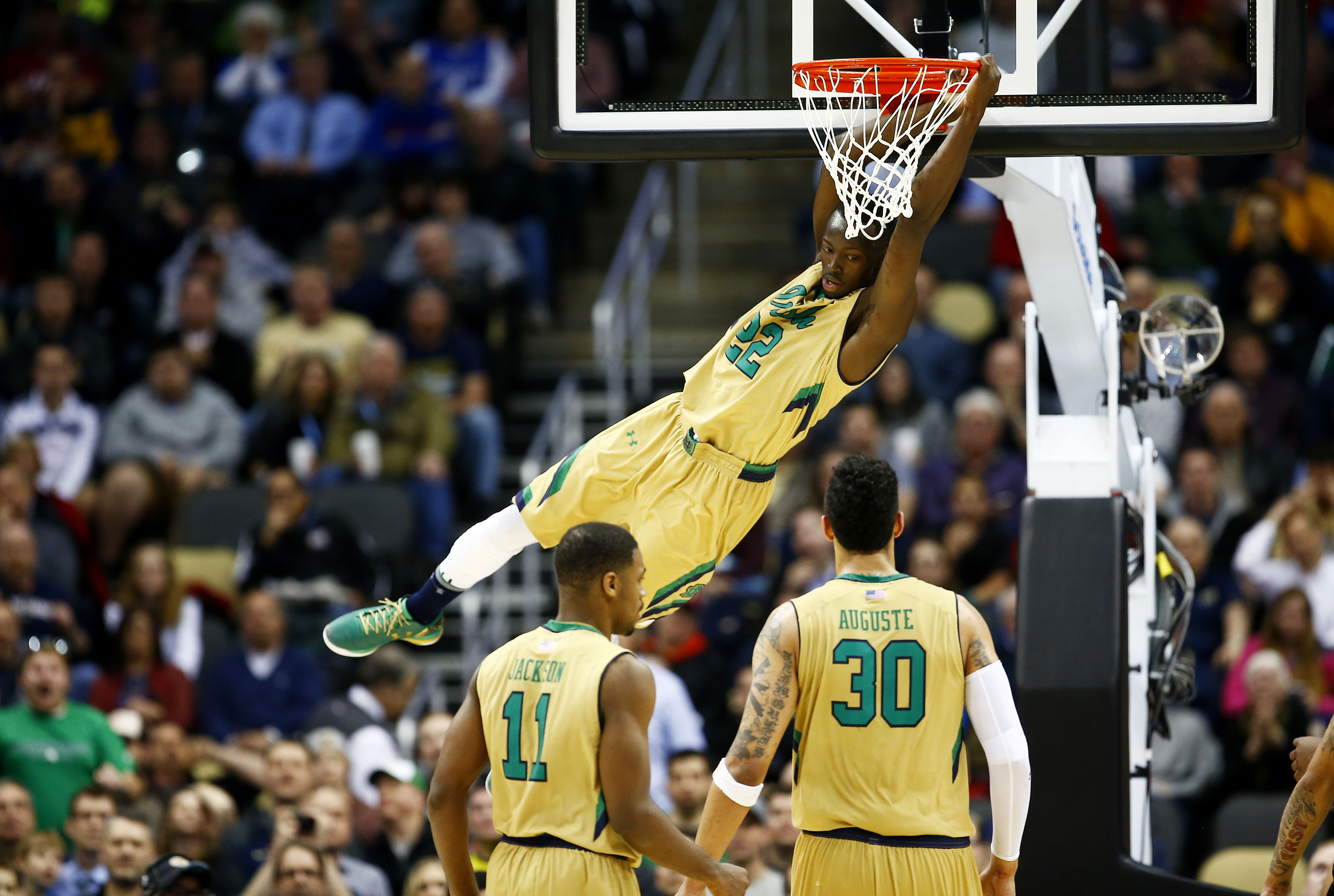 PITTSBURGH, PA – MARCH 19: Jerian Grant #22 of the Notre Dame Fighting Irish dunks against the Northeastern Huskies in the second half during the second round of the 2015 NCAA Men's Basketball Tournament at Consol Energy Center on March 19, 2015 in Pittsburgh, Pennsylvania. (Photo by Jared Wickerham/Getty Images)
PITTSBURGH — Zach Auguste scored 25 points, Jerian Grant added 17 and Notre Dame dodged a scare trying to erase its futile NCAA Tournament history with a 69-65 win over Northeastern on Thursday.
The Fighting Irish (30-5) will play the winner of Texas-Butler on Saturday.
Seeded third in the Midwest regional, the Irish returned to the tournament after a one-year absence determined to build off their ACC Tournament title and make a deep run in March.
The Irish have traditionally struggled in the tournament under coach Mike Brey. They made only one Sweet 16 since 2001.
Northeastern (23-12) gave the Irish fits and threatened to keep Notre Dame's March malaise going. Scott Eatherton had 18 points and David Walker 15.
SOUTH REGIONAL
William Lee scored the last four points for 14th-seeded UAB, and the Blazers upset ninth-ranked Iowa State 60-59 on Thursday in their opening game in the NCAA Tournament.
The Blazers (20-15) came in with the youngest team in the NCAA Tournament and with nobody having played in this tournament before. They wound up winning the program's first NCAA game since 2005 by notching the first big upset of this tournament.
The Cyclones (25-9) came in seeded third in the South Regional looking for a much longer run than a year ago when they reached the Sweet 16 without top scorer Georges Niang due to injury. But they just couldn't match the scrappy Blazers on the boards in a second half where the Cyclones couldn't hold onto a 55-51 lead with 3:13 left.
The Blazers, who outscored Iowa State 9-4 down the stretch, will play either SMU or UCLA on Saturday.
Source:: http://www.canada.com/sports/basketball/Notre+Dame+dodges+early+exit+with+over+Northeastern/10903406/story.html