Northern Ontario's Jacobs stays out front at Brier with sixth victory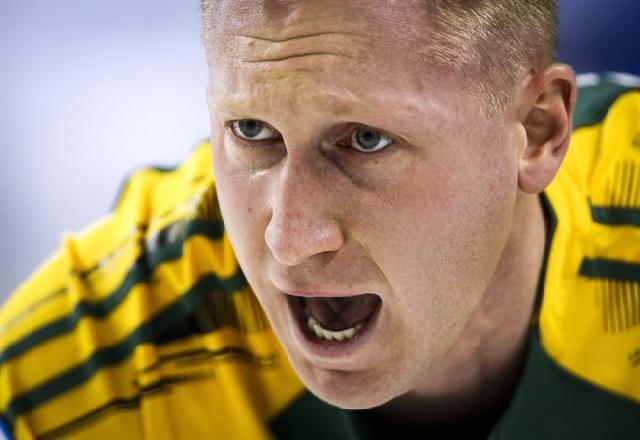 Northern Ontario skip Brad Jacobs yells during curling action at the Brier in Calgary, Sunday, March 1, 2015.THE CANADIAN PRESS/Jeff McIntosh
CALGARY – Northern Ontario's Brad Jacobs remains unbeaten after six games to top the standings at the Canadian men's curling championship.
The reigning Olympic champions hammered Prince Edward Island's Adam Casey 11-1 in the Tuesday afternoon draw.
Saskatchewan's Steve Laycock is alone in second place at 4-1. Brad Gushue of Newfoundland and Labrador is next at 4-2 after a 10-2 rout of New Brunswick's Jeremy Mallais.
Team Canada's John Morris doubled Jamie Koe of Northwest Territories 6-3 and Quebec's Jean-Michel Menard defeated B.C.'s Jim Cotter 8-6.
Alberta's Kevin Koe and Manitoba's Reid Carruthers are both 3-2 with games to play in the evening. Quebec, Team Canada and B.C. are tied at 3-3.
Ontario's Mark Kean is 2-3, while P.E.I. drops to 2-4. New Brunswick is 1-5 and the Northwest Territories is winless after six games.
The top four teams at the conclusion of the round robin Friday qualify for playoffs.
Source:: http://www.canada.com/sports/Northern+Ontario+Jacobs+stays+front+Brier+with+sixth+victory/10857949/story.html