Nina Dobrev: Why She's So Loving Playing Elena on The Vampire Diaries Right Now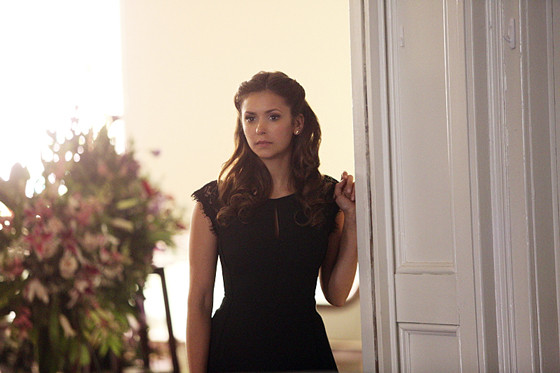 The CW
The Vampire Diaries can get rather dark at times.
So it's not often the stars of the show get to take a little break from all that angst and drama.
Fortuntely, Nina Dobrev is enjoying one of those breaks right now.
"Elena's sort of in this middle ground right now," Dobrev told me last night in Austin at the South by Southwest premiere party of her new horror comedy, The Final Girls. "Things are going really well with her and Damon. Everyone else around her is sort of falling apart, but she's for the first time keeping it together.
"It's fun for me to play her light like that because everything is so heavy on our show," she said, before adding, "But at the same time you always want what you don't have so as soon as I go light, I want to go dark again."
NEWS: Here are nine movies we're really excited to see at SXSW
It was announced last month that the hit series would be back for a seventh season in the fall.
"When I signed up for it, I definitely didn't anticipate this happening," Dobrev admitted. "I just wanted to get a job…I just wanted to be employed."
And employed she has been—many times over.
When she's not filming Vampire Diaries, Dobrev is making movies.
The Final Girls tells the story of a young woman (Taissa Farmiga) who finds herself and some friends transported into an '80s horror movie that starred her late mother (Malin Akerman)
"It was so much fun," said Dobrev, who plays one of the young woman's friends. "We shot in the middle of nowhere in Baton Rouge, where there isn't that much to do. Luckily, the group was so much fun and we got along so well, we made it fun not matter where we were. We were shooting at a summer camp. I felt like I was 15 again."
Farmiga said "it was the most fun" she's ever had on a project.
PHOTOS: Nina Dobrev's best looks
"It's the perfect combination," she said. "It's funny and it's sentimental. It's just a perfect mix."
Truth be told, Farmiga isn't a big fan od horror movies.
"They always come into my dreams," she said. "Things seep into my dreams. Life is too short. I can't deal with that."
So how did she film American Horror Story?
"What's so great about that show is off camera, it's so light," Farmiga said. "We were always joking like, 'Look I have a stake in me. Ha, ha, ha!'"
For more scoop live from SXSW, make sure to follow @marcmalkin on Twitter and Instagram.
PHOTOS: Pretty people in scary movies
RELATED VIDEOS:
Source:: http://ca.eonline.com/news/635746/nina-dobrev-why-she-s-so-loving-playing-elena-on-the-vampire-diaries-right-now?cmpid=rss-000000-rssfeed-365-topstories&utm_source=eonline&utm_medium=rssfeeds&utm_campaign=rss_topstories