Nick Jonas Delivers Alcohol, Crashes Party and Sings and Drinks With Fans—Check Out Pics and Details!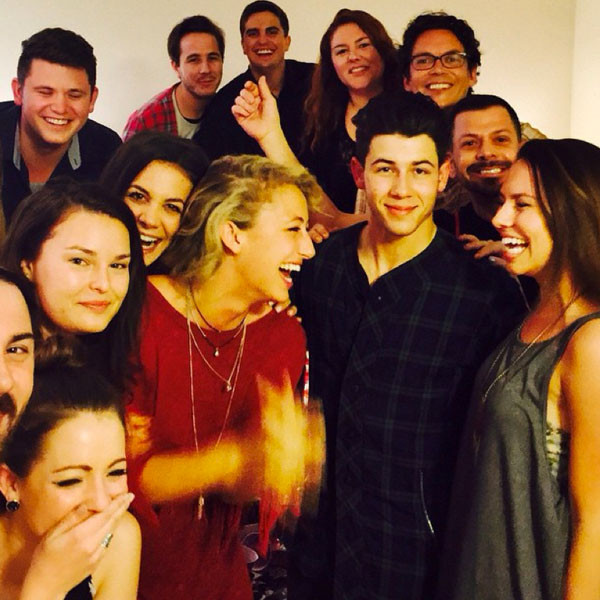 Instagram
Party on, Nick Jonas!
The 22-year-old pop star took on the job of delivery boy on Friday night, delighting a slew of Los Angeles customers who ordered alcohol through an app called Saucey, two days before he hosts the 2015 Kids' Choice Awards and performs at the 2015 iHeart Radio Awards. 
Of course, he didn't just drop the booze and run. Come on. It's Friday night!
He crashed a party where he (naturally) did shots with his new friends…(Don't worry, he wasn't driving the delivery vehicle—a Saucey driver took on the role of a Jonas Designated Driver that night, E! News has learned.)
…and gave them their own private mini concert.
PHOTOS: The top boy bands of all time
Jonas had hinted about his Friday night activities in a tweet.
E! News has learned that Jonas made about 10 alcohol deliveries over the course of four hours.
Claire Gendel, who resides in the home, told E! News she got a push notification from the Saucey app that said they had heard a rumor Jonas was making deliveries for the company in Los Angeles.
"We were running out of vodka anyways but I never thought he'd show up with my delivery, let alone perform in my living room!!!" she told E! News. "It was crazy! He poured everyone shots and took photos. He was super nice."
READ: Full list of nominees for the 2015 Kids' Choice Awards
"It was like a very weird and vivid dream that I've had since I was 14 coming true," partygoer Shannon McNulty said. "Literally, I don't think it's possible to have gathered bigger Jonas Brothers fans trying to play it cool."
"I just started laughing because I couldn't believe it was happening," she told E! News. "Also, I camped out at Disneyland to meet the Jonas Brothers once in high school and it was a very tragic, quick, emotional experience. This really brought things full circle." 
NEWS: What does Nick Jonas think about Zayn Malik leaving One Direction?
Jonas also serenaded other surprised customers, including Ellen Sweeney.
"Nick was SOOOO nice," she told E! News. "Super charming and down to earth. Great guy. And I was totally surprised. I ordered because I got the Saucey alert that he could be making deliveries last night and I LOVE him. And I was one of the lucky ones!!!!"
"He showed up and sang two songs—'Jealous' and 'Chains,'" she said. "And we each had a glass of wine and cheered and all that. After the songs, we chatted for a bit. He was so nice. It was insane!"
PHOTOS: Nick Jonas' hottest pics
RELATED VIDEOS:
Source:: http://ca.eonline.com/news/640643/nick-jonas-delivers-alcohol-crashes-party-and-sings-and-drinks-with-fans-check-out-pics-and-details?cmpid=rss-000000-rssfeed-365-topstories&utm_source=eonline&utm_medium=rssfeeds&utm_campaign=rss_topstories