NHL trade deadline winners, losers: New York Rangers, Winnipeg Jets, Montreal Canadiens among teams that scored big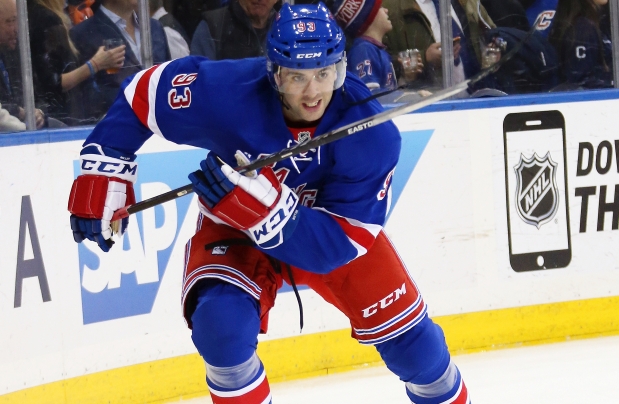 EDMONTON — Brian Burke, former general manager of the Vancouver Canucks, the Anaheim Ducks and the Toronto Maple Leafs and now president of the Calgary Flames, always looked at the folly of the wheeling and dealing at the trade deadline with a bemused look to go with the undone tie around his neck and would say "there's only one team that's going to have a Stanley Cup parade."
There's only one winner, and you can't tell until late June, and it's never been more so than right now with no juggernaut teams in the National Hockey League.
It's a wide-open race this season, and the Stanley Cup contenders were all at the trade table on Monday, betting with both hands, making deals while the pretenders and bottom-feeders were unloading today for tomorrow.
WINNERS
New York Rangers: The Broadway Blueshirts are all-in with defenceman Keith Yandle coming in from the Arizona Coyotes to run their power play. It cost them young forward Anthony Duclair, who shocked people by making their team at camp, only to sent to the world junior hockey championship, in which he starred for gold-winning Canada with now-Coyotes teammate Max Domi. Moved out John Moore (Arizona) and Lee Stempniak (Jets) to clear up money to resign first-line winger Mats Zuccarello, too. James Sheppard, acquired from the San Jose Sharks, can be an able fourth-liner.
Winnipeg Jets: GM Kevin Cheveldayoff usually only acquires players on waivers, but he swallowed hard and moved immature winger Evander Kane and got Tyler Myers, which gives them a terrific top four on defence to go with Dustin Byfuglien, Jake Trouba and Tony Enstrom. He also scored top-six winger Drew Stafford in that deal, although he is due to become an unrestricted free agent, along with depth forwards Jiri Tlusty from Carolina and Stempniak from the Rangers.
Montreal Canadiens: They were looking for a shutdown defenceman and they'd long been eyeing Petry, even if he might only be there for 20 league games and through the playoffs. The Habs were able to get him without giving up prospect Jared Tinordi. Nathan Beaulieu was never available. Adding winger Devante Smith-Pelly from the Anaheim Ducks brings a banger.
Arizona Coyotes: Had to move UFA centre Antoine Vermette because they had no stomach to give him $6 million a season in a new deal and got first-rounder from the Chicago Blackhawks. Acquiring farmhand blueliner Klas Dahlbeck in the deal may be a sleeper and a possible replacement for Zbynek Michalek, who went to the St. Louis Blues for prospect winger Maxim Letunov.
Detroit Red Wings: The Wings quietly got power-play point man Marek Zidlicky, who just turned 38, from New Jersey for a third-rounder in 2016, and with nobody knowing when winger Johan Franzen (concussion) might be back, they gave up two middling prospects to the Dallas Stars for Erik Cole.
Philadelphia Flyers: Loading up with draft picks, they got a second-round pick from the Hawks for Kimmo Timonen, who turns 40 on March 18 and hasn't played a minute all year because of a blood clot in his leg and lungs, and a first in 2015 from the Tampa Bay Lightning for fellow defenceman Braydon Coburn.
New York Islanders: Getting Michael Neuvirth from Buffalo to back up Jaro Halak is an improvement on journeyman Chad Johnson.
LOSERS
Vancouver Canucks: Trying to keep their playoff spot, they were only able to get winger Sven Baertschi, who didn't cut it in Calgary, when they needed a No. 2 centre because Nick Bonino is a No. 3. Baertschi cost them a second-round draft pick.
San Jose Sharks: They made lots of trades, but GM Doug Wilson was busy clearing out fourth-line people like Sheppard, Tyler Kennedy and Andrew Desjardins when this is a team that needs an overhaul.
Washington Capitals: They needed a right-winger to play with Alex Ovechkin and Nick Backstrom on the first line and didn't get one. Curtis Glencross is more suited to be a third-line, hard-on-the-puck guy. They needed a sixth D-man and got Tim Gleason, but he doesn't move real well in today's racehorse game.
Buffalo Sabres: They're doing what they have to do to finish with the best odds in the draft lottery, but trading their No. 1 goalie Jhonas Enroth to the Stars then Neuvirth to the Isles smacks of a tank job. They did get Kane, who could be a 35-goal scorer, a few weeks back, but they've now got Chad Johnson as their starter in net for 20 games.
ON THE FENCE
Chicago Blackhawks: They got a very versatile centre in Vermette who could be their No. 2, but they gave up a first-rounder for what easily could be a rental for a few months. And they reached out for Timonen from Philly, who can be a No. 4-5 defenceman and help with the powerplay. Great if they win, not so good if they don't get past the St. Louis Blues in a probable Round 1playoff matchup. No trade is going to make up for the loss of Patrick Kane, mind you.
Anaheim Ducks: GM Bob Murray traded James Wisniewski to the Islanders for a draft pick in 2010; now, he's retrieved him. The Ducks weren't on Wiz's list of teams he'd go to, but he's been there before. The Ducks wanted a right-shooting defenceman and actually traded one — UFA Ben Lovejoy (back to the Penguins for a younger Simon Despres who has term) — but Wisniewski can play. The Ducks are picking up $9 million the next two years on Wiz. The Ducks kept one of their most-asked for prospects Josh Manson but gave up a very good young centre William Karlsson.
St. Louis Blues: They got Michalek to be a No. 6 defenceman, but he has had a concussion problem and is not the shutdown player he once was. He's probably better than the titular No. 6 Ian Cole, though, who was off-loaded to the Penguins for Robert Bortuzzo, who becomes the No. 7. They got size on the back-end, but how they'll be is a question.
Nashville Predators: It hasn't looked like it right now because the Preds are losing games at home, a rarity all season long, but Cody Franson gives them a No. 4 D to go with Shea Weber, Roman Josi and Seth Jones, and Santorelli is a solid role player with fair hands. Trouble is they also gave up a first-round pick in June, and there's no guarantee they can afford to sign the UFAs Franson and Santorelli this summer. Franson is a longshot.
Los Angeles Kings: They needed a veteran defenceman to eat up some minutes with Slava Voynov's judicial problems and got Andrej Sekera from Carolina ahead of Anaheim, but it cost them a first-round draft pick. Maybe they feel they can resign the UFA defenceman with hard-nosed Robyn Regher's contract up July 1.
Calgary Flames: They managed to get two draft picks from Washington for UFA winger Curtis Glencross, but they tried hard but couldn't flip one of them to get a veteran defenceman who's even 60 per cent as good as captain/Norris Trophy candidate Mark Giordano, done for the season with a torn bicep tendon, and No. 5 D Ladi Smid (concussion) out. David Schlemko will help, but he's a depth waiver pickup.
Florida Panthers: They acquired Jaromir Jagr, the NHL's oldest player at 43, to try to make the playoffs for only the second time since 2000. He's one of the 10 greatest players, and he'll help their PP, but he's probably a third-line player now (why shouldn't he be at that age?) and his footspeed is problematic.
jmatheson@edmontonjournal.com
Follow me on Twitter: @NHLbyMatty
——
Edmonton Journal hockey writers Jim Matheson and Joanne Ireland, and sports columnist John MacKinnon, talk with sports editor Craig Ellingson about the upcoming NHL trade deadline; what sorts of moves the Oilers might make in the near future on defence with Jeff Petry likely to be traded,; the play of goalie Ben Scrivens, who is 'the man' in net for the oilers down the stretch with Viktor Fasth out of the lineup due to a knee injury; and on the performance of interim head coach Todd Nelson and where he stands with Oilers management now and in the future — will he earn the permanent job in Edmonton?
Download the latest Journal Oilers podcast via iTunes
Mobile users, use this link: soundcloud.com/edmonton-journal-sports/oilers-podcast-feb-27-2015
Recent podcasts from the Journal:
Oilers podcast: Injuries, trades and free agents (who don't want to play in Edmonton) … oh my!
Oilers podcast: Culture change brings more teamwork
Oilers podcast: Peering into the blueline future
Oilers road report: Recurring roadkill
Oilers podcast: Ongoing shuffles at the bottom
Source:: http://www.canada.com/sports/hockey/edmonton-oilers/trade+deadline+York+Rangers+Winnipeg+Jets/10855813/story.html