Netanyahu declares victory in Israeli elections, Herzog disputes claim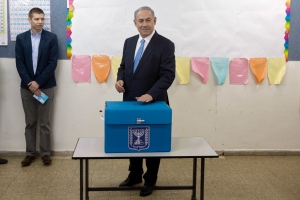 Israeli parliamentary elections ended Tuesday in a virtual deadlock, with Prime Minister Benjamin Netanyahu's Likud Party appearing to hold the upper hand in forming the next governing coalition.
Exit polls conducted by the country's three major TV stations late Tuesday gave mixed results, showing an extremely tight race between Netanyahu's Likud Party and opposition leader Isaac Herzog's Zionist Union.
All showed the centrist newcomer Moshe Kahlon with enough seats to determine who will be the next prime minister. Kahlon, a Likud breakaway, has not said whether he favors Netanyahu or Herzog.
The mixed results were sure to disappoint Herzog, who opinion polls had suggested could topple Netanyahu, and set off wild celebrations at Likud campaign headquarters in Tel Aviv.
Against all odds:a great victory for the Likud. A major victory for the people of Israel!
— @netanyahu
In a statement released on Twitter, Netanyahu said that "against all odds" Likud had won a "great victory."
"This is a great victory. It's almost a miracle," Likud lawmaker Ofir Akunis told The Associated Press. "For months, everybody attacked the Likud. And today is a beautiful day for the Likud. It sends a message that the people of Israel will decide for themselves."
Two polls showed the parties deadlocked with 27 seats each, and a third gave Likud a slight lead of 28-27.
Israeli Prime Minister Benjamin Netanyahu has called the election a 'great victory' for his party – though opponents said the question of who will form the next government is not yet settled. (Sebastian Scheiner/Associated Press)
Herzog, disputed Netanyahu's victory claim in Israel's election on Tuesday, saying "everything is open".
"This result allows us to return to power," Herzog told supporters at party headquarters in Tel Aviv.
"We will wait for the real results – everything is open," he said, adding that he intends to "make every effort to form a real socially-minded government for Israel" and that he had already spoken to some party leaders about putting together a coalition.
Since the parties all fall short of the required 61-seat majority in parliament, the country will now head into weeks of negotiations as they try to form a coalition.
Israel is divided between two major "blocs" of voters — right wing and religious parties that tend to take a hard line toward the Palestinians, and dovish parties focused on establishing a Palestinian state as part of a peace agreement.
The left wing appeared to have slightly more seats, but would rely heavily on a new Arab list that has said it will not sit in a coalition.
That gives Netanyahu and his right-wing allies the upper hand. But Kahlon, who has already demanded control of the Finance Ministry, is likely to drive a hard bargain before agreeing to join the government.
The vote was largely seen as a referendum on Netanyahu. While he focused his campaign almost entirely on security matters, his opponents, including Kahlon, turned their attention to bread and butter issues and the country's high cost of living.
Zionist Union Leader Isaac Herzog cast his vote in Tel Aviv. Voter turnout topped 70 per cent, the Jerusalem Post reports. (Ariel Schalit/Associated Press)
Stav Shaffir, a leader of the Zionist Union, called the results a "clear vote of no confidence in Netanyahu."
She said the Zionist Union would wait for the official results before declaring victory or defeat, but claimed Netanyahu's opponents "have a majority."
Channel 2 TV's commentator Amnon Abramovitch predicted Netanyahu would form a rickety coalition, and that "he will be a prisoner in his own government."
Source:: http://www.cbc.ca/news/world/israeli-election-benjamin-netanyahu-declares-victory-isaac-herzog-disputes-claim-1.2998727?cmp=rss