Morris pulls himself from Brier skipping duties, aiming to rally Team Canada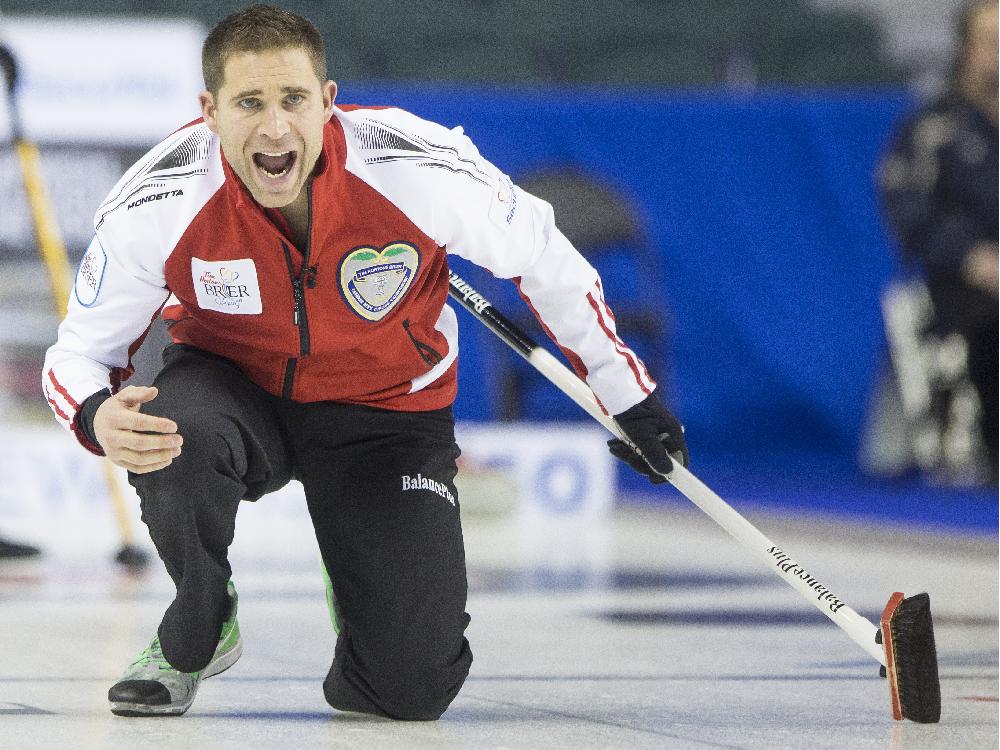 John Morris has been around long enough to know to trust his gut instinct.
And, after an uneasy feeling since the start of the 2015 Tim Hortons Brier, the Team Canada skip made the executive decision to pull himself from his duties and promoted third Pat Simmons for Tuesday's afternoon draw against Jamie Koe's rink out of Northwest Territories.
A rare sight, especially for an experienced group of curlers including Morris.
"You know what?" said the 36-year-old after Tuesday's 6-3 win over Jamie Koe. "I would play lead on a team if we knew we were going to be champions. You have to do that in curling sometimes. I've seen Pat throw, we used to play against him and he made some amazing shots against us.
"I feel we needed a bit of a spark out there and it felt great … I think this is our best chance right now. We're too competitive to not make playoffs here."
The catalyst was Monday's 8-4 loss to Saskatchewan's Steve Laycock, which put them in a dangerous position early on in the Brier. Morris had made two uncharacteristic blunders early on in the game and they didn't sit well.
So, he called a team meeting. The decision had initially caught Simmons off guard, especially less than 24 hours before the team's sixth and seventh games of the national championship tournament.
But the entire team — including second Carter Rycroft and lead Nolan Thiessen — agreed change was necessary.
And the sooner, the better.
"Obviously, it wasn't in the master plan, that's for sure," said Simmons, 40, after Tuesday's afternoon draw. "But, you know, sometimes you can't go by the book all the time. We felt we just need a spark or something. We were close in a lot of games, just kind of hanging in there. We had a bad one (Monday). We're all trying to win out here so we'll see what happens."
A change like this is a rarity at the national championship stage, especially halfway into the round robin competition.
Especially for a guy who hasn't skipped in five years.
Or for a guy who hasn't swept a rock in two.
"A little sore," he said, chuckling. "But it's curling and you have to do what you have to do. I'll sweep for seven games in a row if I have to in order to win this thing."
The last time Simmons, who is a chiropractor when he's not curling, skipped a game was the 2010 Players' championship when he was with Laycock's Saskatchewan foursome. Prior to that, he had been in the position since 2002.
In other words, it isn't Simmons' first rodeo.
"It's just a matter of finding those skip legs and maybe making a few draws under pressure," he said. "But the boys played really well (Tuesday)."
Truth be told, Morris said he felt like the group was missing something — evident from early in the season — and change was necessary.
"I thought our options were: keep doing what we're doing and go .500 at the Brier and sort of fade away into the sunset," he said. "Or make a change and try to win this thing."
So, they kept their shots simple. Played an uncomplicated game. And, after a slow start, they picked up a pair of scores in the sixth end and improved to 3-3 following the afternoon draw.
Which was a good warm up to Tuesday night's marquee matchup with Kevin Koe's Alberta rink.
"Whether or not I get my game under my belt is another story," Simmons said. "The fact of the matter is: (Alberta's) a great team. We'll have to play our best to have a chance in that game."
Tuesday's late draw was the biggest clash of the day — and, perhaps, the Brier.
Last spring, Koe had dumped three members of his 2014 Brier-winning outfit to form his current team of Marc Kennedy, Brent Laing, and Ben Herbert.
Those three members Koe parted ways with — Simmons, Rycroft, and Thiessen — now play for Morris.
Kennedy and Herbert, of course, were teammates of Morris and captured a 2010 gold medal together.
To add to the dramatics, both teams train out of the Glencoe Club in Calgary.
EXTRA ENDS: It was a tough day for Prince Edward Island's Adam Casey who lost 8-4 to Alberta and 11-1 to Brad Jacobs' Northern Ontario unit to fall 2-4 in the standings … Jamie Koe and Northwest Territories also lost both of their games, to Morris and an 11-3 decision to Manitoba's Reid Carruthers … Steve Laycock (Saskatchewan) bested New Brunswick 7-4, which later lost 10-2 to Brad Gushue's Newfoundland and Labrador outfit … B.C.'s Jim Cotter won 8-3 against Ontario's Mark Kean and lost 8-6 to Quebec … Outside of Jacobs' unbeaten squad (6-0), Saskatchewan (4-1), and Newfoundland/Labrador (4-2) were leading the charge heading into Tuesday's evening games … Yet to win a game? Northwest Territories (0-6).
kodland@calgaryherald.com
Twitter.com/KristenOdlandCH
Source:: http://www.canada.com/sports/curling/Morris+pulls+himself+from+Brier+skipping+duties+aiming+rally/10858843/story.html