Michelle Williams Covers Elle U.K., Admits Being a Single Working Mom Leaves Her "Feeling Pretty Exhausted"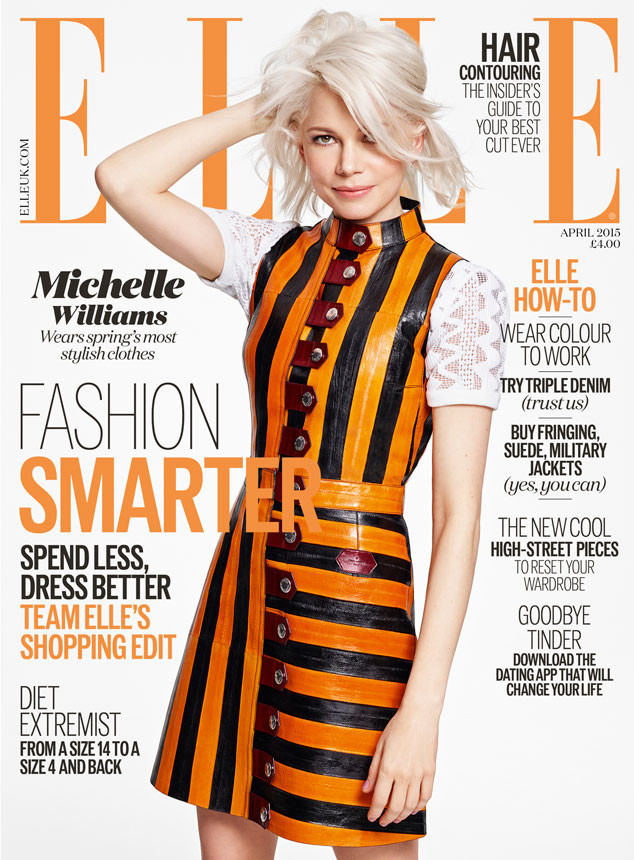 Kerry Hallihan/ELLE UK
Michelle Williams doesn't claim she's figured out a perfect work-life balance.
In fact, the 34-year-old actress tells Elle U.K.'s April issue that working and simultaneously raising 8-year-old daughter Matilda leaves her "feeling pretty exhausted."
"I feel like I'm so good at raising a kid when I'm not working," says the Cabaret star. "I don't forget anything. I've got everything covered. It's a real luxury to have a moment when I'm not scrambling. I feel like most of my life, I'm trying to do two things at once, both to the best of my abilities."
NEWS: Michelle Williams sells Brooklyn brownstone she shared with Heath Ledger
Kerry Hallihan/ELLE UK
Sadly, Matilda's father Heath Ledger passed away in 2008, leaving Williams alone to bear the brunt of parenting duties. The Dawson's Creek alum admits that being a single, working mom is tiresome—and sometimes puts a damper on her social life!
"I'm the person who falls asleep all the time," she tells Elle U.K. "You invite me over for dinner or to a party, and there's a whole scrapbook of pictures of me napping. I've even been given a nickname because of my snoring."
Williams isn't posting silly snaps of these snoozefests online, though. Reason being? She shies away from social media completely! Instead, the actress subscribes to a different type of alert, saying, "I get a poem of the day!"
PHOTOS: Remembering Heath Ledger
Kerry Hallihan/ELLE UK
"I love poetry because it's like a shot, like an attack, like a dose," she explains. "And for a person who doesn't have very much free time, it does its work very quickly. So I read poems on my phone when I wake up in the morning. It opens you up for the rest of the day, and suddenly your life becomes a little more observed. And when it becomes more observed, it can't help but start to become more beautiful."
For Williams' complete interview, pick up Elle U.K.'s April  issue, on stands Thursday, also available as a digital edition.
PHOTOS: Fashion spotlight on Michelle Williams
Kerry Hallihan/ELLE UK
RELATED VIDEOS:
Source:: http://ca.eonline.com/news/630990/michelle-williams-covers-elle-u-k-admits-being-a-single-working-mom-leaves-her-feeling-pretty-exhausted?cmpid=rss-000000-rssfeed-365-topstories&utm_source=eonline&utm_medium=rssfeeds&utm_campaign=rss_topstories