Lily James Says No CGI Used to Shrink Cinderella Figure: "I Naturally Have a Really Small Waist"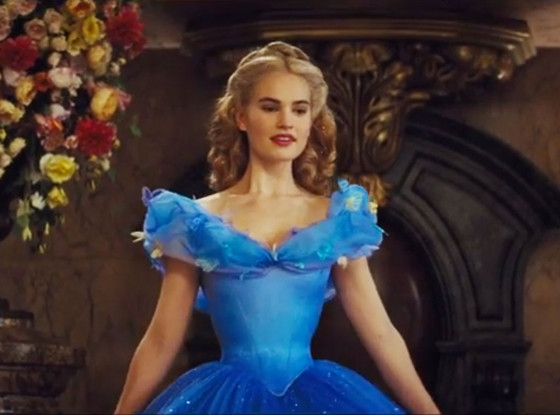 Youtube
With just 9 days until the release of Disney's live-action Cinderella remake, starLily James has been busy making the promotional rounds, and while much of their media tour has been smooth sailing, there is one question that has repeatedly come up which had nothing to do with the film's plot. 
Namely, was CGI used to slim-down James' super tiny Cinderella waist? 
In short, no. She worked hard and even went on a liquid diet to transform her figure, but the 25-year-old star didn't stop there when it came to shooting down the rampant speculation, revealing to the L.A. Times why she's irked by the inquiry.  
VIDEO: Lily James dishes on her Cinderella slippers
Kevin Winter/Getty Images
"I naturally have a really small waist," the actress explained. "The skirt's big and the corset pulls me in, and that's the point. That's the shape [costume designer] Sandy Powell created."
Earlier this week, James revealed to E! News that it was difficult to eat when she was wearing her corset. "When [the corset] was on we would be on continuous days so we wouldn't stop for lunch or a lovely tea like this—you'd be sort of eating on the move," she revealed. "In that case, I couldn't untie the corset. So if you ate food it didn't really digest properly and I'd be burping all afternoon in [Richard Madden]'s face, and it was just really sort of unpleasant. I'd have soup so that I could still eat but it wouldn't get stuck."
Still, in spite of her strict diet (and the current waist-cinching fad) the Downton Abbey star finds the corset questions unnecessary. "I think it's all very hypocritical, and they contradict themselves, and they're drawing more attention to it," she told the L.A. Times. "I think all that stuff's so negative, and you've got to let it wash over your head."
PHOTOS: Lily James' best looks
Getty Images
She added: "I'm so healthy. I've got hips and boobs and a bum and a small waist."
James' sentiments echo her earlier comments to E! News when she said she's not a fan of the super-skinny look and hopes to promote a healthy body image. 
"For girls growing up sometimes I think they get the wrong idea for what women should look like," she told us. "And I think it's so important to be healthy and confident and natural. And not put too much stress on trying to be thin—I don't get the thin, thin thing at all. I'm actually finding it really hard not to eat right now." 
PHOTOS: Lily James' big Cinderella premiere!
RELATED VIDEOS:
Source:: http://ca.eonline.com/news/632217/lily-james-says-no-cgi-used-to-shrink-cinderella-figure-i-naturally-have-a-really-small-waist?cmpid=rss-000000-rssfeed-365-topstories&utm_source=eonline&utm_medium=rssfeeds&utm_campaign=rss_topstories