"Life Itself" Available on DVD and Blu-ray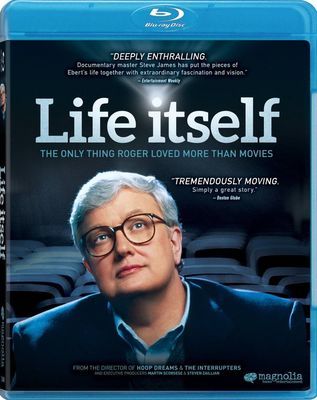 Critics from around the globe have given the Blu-ray and DVD edition of "Life Itself," director Steve James's documentary about legendary film critic Roger Ebert, an enthusiastic "Two Thumbs Up" ever since its Feb. 17th release. The home video release offers a variety of special features, including over 20 minutes of never-before-seen deleted footage. Highlights include a discussion on the origins of Roger's beloved film festival, Ebertfest; an interview with critic Jonathan Rosenbaum on Roger's talent as a science-fiction writer; Bill Nack on the epiphanies he had during Roger's Cinematic Interruptus sessions; and Roger's devoted wife Chaz recalling their first date at Chicago's Lyric Opera.
Purchase DVD/Blu-ray here.
Below are ten excerpts of reviews from various critics on the "Life itself" Blu-ray/DVD release. Click on each critic's name to read the full review.
Andrew Hudak, Punch Drunk Movies
"There is an old adage that reporters should just report the news and never get involved with or become the news. This is good advice most of the time. Then there are the times when exceptions must be allowed. 'Life Itself' is one of those times. I can't think of anything better than having one of cinema's greatest champions be the subject of one of the best documentary films of all time. The kicker is that if this were the plot of a movie, I'd probably say it's too on the nose. But in this instance, in real life, it's absolutely perfect."
J. Tonzelli, Cut Print Film
"Bolstering this profile is the narration by vocal impressionist Stephen Stanton, whose take on Roger Ebert is so uncannily spot-on that I had to match the publication year of Ebert's original memoir on which this documentary is based against when Ebert lost the use of his voice to determine if the filmmakers were perhaps depending on a self-recorded audio-book in order to preserve his voice."
Chaz Lipp, The Morton Report
"Continuing to work at a steady pace right up to his death on April 4, 2013, Ebert faced staggering adversity as the cancer claimed his body bit by bit. His spirit of positivity and perseverance is astoundingly inspirational, making 'Life Itself' is an absolute must-see. Yes, witnessing Ebert silently, painfully endure physical therapy is not easy. But imagine how he felt. James' beautifully crafted film leaves an indelible impression of Roger Ebert as a true hero."
Dustin Putman, The Blu File
"Acting as a celebration and eulogy of a person who lived fallibly, bravely and—most important—fully, the film flawlessly, heartbreakingly captures the transcendence of one's ever fleeting existence. […] Ebert had said many times that he was not afraid to die, that it was something that everyone eventually must go through, and Chaz's recount of his final moments are crushing, honest and indescribably beautiful."
Ben Broadribb, Film Intel
"James' film ultimately succeeds in striking the right balance between analysis of Ebert as professional writer, document of him as a cancer patient, and exploration of him as an individual. To focus too much or too little on one area could potentially have given 'Life Itself' an uncomfortable edge of hero worship, clinical deconstruction or mawkish eulogy. Instead, thanks to James' steady hand and Ebert's willingness to allow the director to make the film he himself would want to see, 'Life Itself' is a fitting and well-crafted chronicle of one of the important voices of 20th Century culture."
Frederic and Mary Ann Brussat, Spirituality & Practice
"At one point in his career, the critic defined cinema as 'a machine that generates empathy.' Many of his reviews were animated by this spiritual approach. […] Steve James has made a powerful, illuminating and heart-affecting documentary that does justice to Roger Ebert's fascinating life and career."
Gary Collinson, Flickering Myth
"Seeing Ebert in his final days before he succumbed to the cancer that caused his disfigurement and the loss of his speech is quite possibly one of the most inspiring examples of courage that you'll ever see, and it never hurts to be reminded about what is important in this thing we call life."
Garrett Conti, TribLIVE
"When it comes to documentaries, Steve James is one of the best filmmakers working today. The 'Hoop Dreams' director took on film critic Roger Ebert for his latest, and delivers one of the more personal pics of 2014. […] It's a sad ending, but James' memorable documentary does an honest job of keeping Ebert's unwavering spirit alive."
William Harrison, DVD Talk
"He appears here in the hospital and rehab, the tolls of his surgeries worn clearly on his face. Ebert's wife, Chaz, stands beside him throughout, and offers kind, candid, no-BS commentary. In another life, this film might have signaled a triumphant return to full-time writing for Ebert – it's most poignant scenes find the critic apologizing to James for his lack of energy and inability to give a good interview. There is something so raw about Ebert speaking through a voice box to a national audience. All pretense has been stripped away."
Guy Lodge, The Guardian
"A studious, large-spirited examination of the life, work and diligently fought death of Roger Ebert, America's most prominent film critic."
Get your copy here.
Source:: http://www.rogerebert.com/life-itself/life-itself-available-on-dvd-and-blu-ray